UCF's Top 10 Knights program is an initiative launched to recognize student academic achievement in high school and to provide Florida students and families with more certainty regarding the UCF admission process.
The University's commitment to all Top 10 Knights is to provide a healthy environment for student success and engagement, and to guarantee housing in our residence halls (if you submit a
housing application
by May 1).
Living on campus provides unparalleled university connections and supports a 10.2% higher graduation rate for those who live on campus at least one year versus those who do not.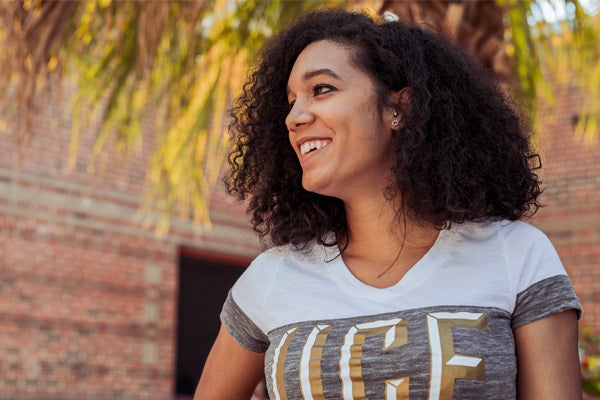 Requirements
To qualify for UCF's Top 10 Knights program, you must meet all of the requirements below:
You must currently attend a Florida high school.

You must have a numerical rank (e.g., #7 out of 100) in the top 10% of your senior class. You must report your numerical rank and the total number of students in your class on your SPARK Form. Rank will not be pulled from your Common App or transcript, if provided. If your school does not rank, or provides a percentile rank only, a minimum GPA of 3.9 (based on UCF's recalculated academic core GPA) is required to qualify.

You must earn a minimum score of 1100 (Evidence-based Reading and Writing + Math) on the SAT or a composite ACT score of 22.

You must submit a completed application, SPARK Form, and provide all required documentation to the UCF Office of Undergraduate Admissions by January 15.

You must have successfully completed at least 4 units of approved academic core math by the end of your senior year.

Admission to UCF is guaranteed* by meeting ALL of the above-mentioned requirements. Admission is not guaranteed to a specific semester, but will be granted to one of our three term options: Summer, Fall or Spring.
If you qualify for Top 10 Knights and apply for admission by the January 15 deadline, you will be notified of your admission to UCF by March 1.
*Consistent with university policy.
Apply to UCF