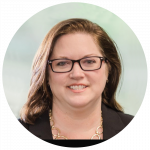 Misty Shepherd serves as University of Central Florida's Interim Vice President and Chief Operating Officer. In her capacity as the Interim Vice President, Shepherd provides executive-level leadership to the University's division of Administrative Affairs, which includes functional areas of Facilities Management, Campus Safety, Human Resources, Business Services, Parking and Transportation, and several Direct Service Organizations. As a member of the President's cabinet, she participates in operational strategy, analysis, and planning aligned with UCF's strategic plan. She is a champion of promoting UCF's missions and values and instilling them amongst her division. Shepherd also serves as a liaison to the Finance and Facilities Committee of the Board of Trustees, in partnership with the Chief Financial Officer. Shepherd also serves on a variety of different boards within the University. She currently is the Chair of the Central Florida Clinical Practice Organization as well as the Vice Secretary and Vice Treasurer for the UCF Finance Corporation, Stadium Corporation, and Convocation Corporation.
Prior to serving as Interim Vice President and COO, Shepherd served as Associate Vice President and Chief Financial Officer for the University of Central Florida Foundation. In her role as CFO, Shepherd was a key decision maker for the Executive Leadership team and oversaw the Foundation's operating and capital budget, as well as the management of the Endowment and Real Estate portfolios. Shepherd also staffed numerous Committees of the Board of Directors and provided high-level financial and operational information. Shepherd prides herself in showing complete financial transparency and in her commitment to always putting UCF's students first.
Before joining UCF in 2007, Shepherd served in both the public and private sectors. Her prior experience includes Tupperware Brands Corporation; Chastang, Ferrell, Sims & Eiserman, LLP; and the Florida Public Service Commission.
Shepherd holds a Bachelor of Science in Accounting from Florida State University and has been a licensed CPA since 2002. She was a first-generation college graduate and is steadfast in her support for the University of Central Florida's commitment to first-generation students.
Shepherd enjoys interacting with students and spending time with her family: husband Mike, daughter Sierra, and son Matthew. Her daughter Sierra is currently attending the University of Florida supported by Shepherd's strong belief in the importance of higher education. She and her husband Mike are avid football fans and enjoy cheering on the Knights in the Bounce House as well as their alma mater, the Florida State Seminoles.