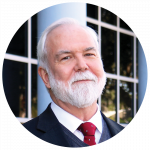 Dr. Michael D. Johnson is the provost and executive vice president for Academic Affairs at the University of Central Florida. As UCF's chief academic officer, his main responsibility is to further UCF's development as a major public metropolitan research university that is dedicated to the success of students of all backgrounds. He leads UCF's academic programs and initiatives across 13 colleges which serve more than 72,000 students and support more than 3,000 teaching and research faculty. He also oversees UCF's multiple campuses, research centers, and institutes. In addition, he manages UCF's academic operating budget in collaboration with the president's office, vice presidents, deans and other academic leaders.
Dr. Johnson joined UCF in 1990 and served from 2011 to 2020 as the dean of the College of Sciences, where he is a professor in the Department of Physics. His other roles at UCF have included chairing the University Budget Committee and Budget Redesign Committee, and serving on the UCF Master Planning and IT Strategic Governance Committees.
As a scholar, his research is in theoretical condensed matter physics, including nonequilibrium high-current transport in nanodevices, quantum statistical mechanics of integrable systems, fractional statistics, and pattern formation in complex fluids. He earned his Ph.D. in physics from the University of Virginia.