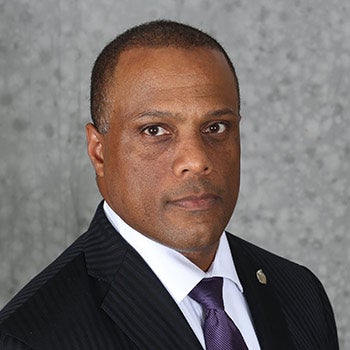 Gerald L. Hector
Executive Vice President and Chief Business Officer
Morehouse College
Download CV
Biography
Gerald L. Hector, CPA is currently Executive Vice President and Chief Business Officer for Morehouse College in Atlanta, Georgia. He also held similar positions in higher education at Cornell University, Ithaca College, and Johnson C. Smith University. His experiences span all aspects of higher education management that include, treasurer, debt management, controller's office, information technology, post award management, policy office, student accounts/bursar, facilities, grounds, business operations, auxiliary services, risk management, purchasing and procurement, legal, financial aid, campus safety, and public private partnerships. He has also served as a liaison with local elected officials for construction projects.
With over twenty two years of progressive leadership in finance and operations in higher education, he is known for his collaborative and focused leadership style that garners trust and builds confidence in his divisions and units to deliver on the mission of the institutions he serves.
In addition to being a finance and operations professional, he is an advocate for diversity, equity and inclusion after being thrusted into this work after racial tensions on college campuses across the nation in the fall of 2015. He hosted and appeared on national webinars, podcasts and other media to continue sharing the message that diversity, equity and inclusion are not only moral issues, but given the continuing changing demographics in the nation, they are economic variables that must be addressed in a comprehensive way for the future financial health and vibrancy of institutions of higher education.
He is a published author and has written several articles and white papers that are still must reads. His landmark white paper, "Navigating the New Normal, Financial Imperatives for MSI Effectiveness and Avoiding Financial Exigency" is still read extensively by MSI leaders and stakeholders. His first published book, "It's Easy Son, Quit Making Things Difficult" chronicles his journey from Kingston, Jamaica on a track and field scholarship to the varied roles he has occupied including Deloitte and UNCF. The book birthed a podcast of the same name, that features, corporate leaders, college presidents, Olympians, spiritual leaders and educators. The show airs every Wednesday at 8pm on the HBCU Nation Radio Network and garners an international audience.
He is a sought-after speaker on matters of higher education finances and operations and continues to give back to the industry by offering his services as a peer reviewer with the Southern Association of Colleges and Schools Commission on Colleges (SACSCOC).
He is a honors graduate of Howard University in Washington DC where he majored in Accounting, and holds a master's degree in Christian Thought from the Gordon Conwell Theological Seminary in Charlotte, NC (where he currently serves as the Treasurer of the Board). He is known for his quick wit, and constant reminder to everyone working with him that, "we can't fix what we won't face." A reminder that applies to finances, operations and culture.
He is married to his college sweetheart, Sharon-Kaye, and their union produced three beautiful and accomplished children; Joshua, Timothy and Kezia. He is an avid reader, golfer, and writer who blogs on his own website at https://geraldhector.com/. He is currently writing his second book about the nuances of higher education institutions from the perspective of a senior executive at both Predominantly White Institutions (PWIs) and Historically Black Colleges and Universities (HBCUs). His research focuses on how both impact and shape the future of our nation and the world.