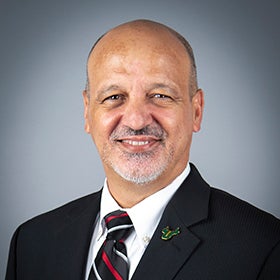 Paul Dosal, Ph.D.
Vice President for Student Success and Professor of History
University of South Florida
Download CV
Biography
Paul Dosal is the Vice President for Student Success at the University of South Florida. In this position, he manages a consolidated unit that combines Enrollment Planning and Management, Student Affairs, and Undergraduate Studies. He is responsible for coordinating university-wide efforts to raise retention and graduation rates, boost student satisfaction, minimize financial indebtedness, and prepare all students for success in their careers or graduate and professional schools.
Thanks to a collaborative "movement" involving all colleges, campuses, and units, the university has made remarkable gains in undergraduate student success, increasing the four-year graduation rate from 27% to 62% while also eliminating or narrowing the achievement gap by race, ethnicity, and socio-economic status. To advance the university's student success initiative, Dr. Dosal has implemented or championed a wide range of innovative practices, including course redesigns in gateway courses; financial aid leveraging; living learning communities; professionalization of academic advising, peer tutoring and coaching; predictive analytics; curricular analytics; and a care management system that provides timely and coordinate support services to needy students.
Dr. Dosal is also a Professor of Latin American History at the University of South Florida, specializing in the modern history of Cuba and the Caribbean region. He is the author of four books, including Comandante Che, a study of the military career of the legendary Latin American revolutionary Ernesto Che Guevara, and Doing Business with the Dictator, a history of the infamous United Fruit Company in Guatemala in the early 20th century.
Born and raised in Tampa, he is a fourth-generation descendant of Cuban immigrants who settled in Ybor City in 1889. He earned his B.A. in International Politics at St. Andrews College in Laurinburg, North Carolina. He received his M.A. in Latin American Studies and Ph.D. in History at Tulane University in New Orleans. Prior to joining the faculty at the University of South Florida, he taught for nine years at the University of Massachusetts at Amherst.