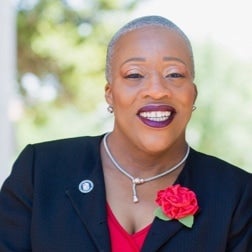 Carol Sumner
Vice President for Diversity, Equity & Inclusion and Chief Diversity Officer
Texas Tech University
Download CV
Leave Feedback
Biography
Dr. Carol A. Sumner is the Vice President (VP) for Diversity, Equity & Inclusion at Texas Tech University (TTU) and Chief Diversity Officer (CDO). As VP and CDO, Dr. Sumner reports directly to the president and serves as a member of the Presidents Executive Council. As VP she leads the Division of Diversity, Equity & Inclusion (DDEI) College Connect (K-8 pre-college programs and IDEAL); Mentor Tech; Military & Veterans Programs (MVP); First Generation Transition and Mentoring Programs (FGTMP); Office of Academic Enrichment (AVID); Dream Resource Center (DRC); Texas Tech Chess Program; University Interscholastic League (UIL); Office of LGBTQIA Education and Engagement; McNair Scholars Program; and the TRIO Student Support Services Program. She established the Office of Institutional Diversity and the following programs/initiatives: Student Intersectional Leadership Council (SILC); Males of Color Initiative; and the Office of Raider Education. Dr. Sumner serves on several university committees and task forces to support student recruitment, transition and engagement, and successful matriculation resulting in graduation.
As CDO, Dr. Sumner works across the university and community to identify and facilitate programs, resources, and services that support the educational, social, cultural, curricular, and co-curricular experiences of the Texas Tech University community. She supports colleges, schools, departments and other university and community partners to foster environments that support the engagement and success of faculty, staff, and others. This also includes working to identify opportunities as an HSI through research, scholarship, organizational affiliation, grants and awards. Additional efforts include providing funding, data and analytics, submission of applications for institutional designations and recognitions, participation in community and organizational collaboration and partnerships, and other opportunities that support the mission, goals, and strategic plan of the institution. She also works across TTU's campus sites and TTU system offices and sister institutions to advance DEI efforts.
Previously, Dr. Sumner served as the Sr. Associate Dean of Students at Arizona State University on the Tempe campus. The scope of her portfolio provided oversight for the engagement of students in the university experience. Her portfolio included: Student and Cultural Engagement (SCE), which supported and engaged with the 7 socio-cultural and identity-based Coalitions (the Council of Coalitions). The team also coordinated the following: four of the University Special Interest Convocations, Heritage Month Programming, [email protected], [email protected], Student Interfaith Efforts, and Sun Devil Civility. Additionally, her portfolio included oversight of university-wide international student support efforts and supervision of the International Student Engagement unit; university Liaison to the Council of Religious Advisors (CORA); Sun Devil Affinity; and serving as the incubator for new initiatives within the Dean of Students Office. Previous programs and units have included: TRIO Student Support Services (Disability) Tempe; TRIO Upward Bound; TRIO Veterans Upward Bound; Disability Resource Center (Tempe); New Student Orientation and Student Involvement; and Programming and Activities Board. Dr. Sumner served as the University Chair for the Committee for Campus Inclusion. She was a member of the ASU Commission on the Status of Women (CSW), ASU Martin Luther King Committee, and was the former campus advisor for the undergraduate chapter of her sorority, Delta Sigma Theta Sorority, Inc., Iota Kappa Chapter.
Her prior experience in higher education includes working at Washington University in St. Louis, (St. Louis, MO), at Illinois State University (Normal, IL); and at Wilberforce University (Wilberforce, OH). Dr. Sumner's employment has also included several positions outside of higher education.
Dr. Sumner currently serves as President, Big XII Association of Diversity Officers in Higher Education. She is a member of the Bipartisan Policy Center Academic Leaders Task Force on Campus Free Expression and the YWCA of Lubbock Board of Directors. She was a member of the ACE DEI Covid-19 Community of Practice and the APLU Rural Student Success Advisory Committee. She is a member of AERA, NAFSA, and NADOHE and has facilitated institutional memberships for TTU with Excelencia in Education, HACU, and AAC&U to name a few. She is a life-time member of Phi Kappa Phi, Kappa Delta Pi, the Order of Omega, and is a Diamond Life member of Delta Sigma Theta Sorority, Inc. Dr. Sumner earned her bachelor's degree in Public Relations (minor in Spanish) and her Master's in Education in College Student Personnel Administration from Illinois State University. She earned her Doctorate in Education in the Higher and Postsecondary Education from ASU.