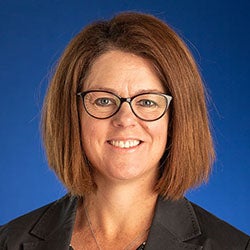 Cathleen Curley
Chief Information Officer for the College of Literature, Science, and the Arts
University of Michigan
Download CV
Biography
Cathleen (Cathy) A. Curley is the Chief Information Officer for the College of Literature, Science, and the Arts (LSA) at the University of Michigan. As the first CIO for the University's largest college, she is responsible for leading the technology strategy and the Technology Services organization. Cathy brought together four distinct departments to transform the college's technology services and simplified faculty, student and staff support, enhanced and added new services, and enabled professional development and growth for the technology staff.
Her people and team-first approach enabled the organization to improve service and support by implementing common service management and internal communication processes and platforms. In just over two years under Cathy's leadership, the technology services organization launched a new digital research and scholarship service, upgraded over 180 classrooms with lecture capture and streaming capabilities, transitioned hundreds of research faculty on to a new high-performance computing platform, and defined and created a balanced operating budget.
During the COVID-19 pandemic crisis, Cathy led her team in implementing new administrative applications and analytics to support operational, research, and teaching continuity. This included classroom density and cleaning preparation, training faculty on new classroom technology, remote teaching and assessment approaches, increasing equipment loan services for students and instructors, and partnering with departments to support student remote access to course required software. In addition to representing the University as a board member for the Specify Consortium, Cathy is an active participant in several higher education technology collaboration committees and organizations such as the Big Ten Academic Alliance and Educause.
Prior to her current position, Cathy was the Executive Director of Strategy and Planning in Information Technology Services at the University of Michigan. Reporting to the University of Michigan Chief Information Officer, she led the effort to create a university-wide IT strategic plan and developed and led the IT capital investment planning process. She continues to serve as chair of the Michigan IT Steering Committee to enable and support innovation, relationship building, and partnership across 2700+ technology staff at U-M. After over a decade in the university central IT organization, Cathy has developed extensive experience in IT governance, capital planning, shared services implementation, and program management.
Cathy was drawn to the technology industry for its emphasis on making an impact through working in teams. She started her career as an IT solutions consultant with james martin + co (Headstrong) where she consulted with Fortune 500 companies before she transitioned into the digital and interactive marketing industry as a Senior Project Manager for Giant Step (Arc Worldwide). Immediately prior to joining the University of Michigan, Cathy was the VP of Product Management at Katabat Corporation (Dominion Enterprises), a SaaS start-up focused on real estate.
Graduating from Alma College with a BA in Business Administration and Psychology, Cathy is a 2015 inductee of the Alma College Athletics Hall of Fame for her individual and team accomplishments on the Women's Golf team. ​With over 20 years of progressive IT leadership across higher education and industry, Cathy is grateful for the opportunity to build and lead high-performing teams to advance the higher education mission. Known as an innovative leader, Cathy's strategic thinking and ability to foster a collaborative work environment enable her organizations to deliver impact beyond the sum of their parts.
In between keeping up with two teenagers and a dog, Cathy and her husband Myron enjoy traveling, running half marathons, and cheering together for their favorite sports teams.