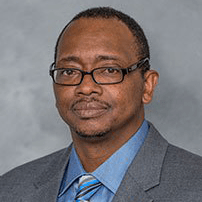 Fred Sudler
Associate Vice President of Information Technology and Associate Chief Information Officer
Michigan State University
Download CV
Biography
Fred Sudler is Associate Vice President of Information Technology and Associate Chief Information Officer at Michigan State University (MSU). Prior to joining MSU, he served as Director of Enterprise Systems at the University of North Florida, overseeing all enterprisewide systems. Also, while at UNF, Fred served as Assistant Dean for Technology in the Coggin College of Business.
Since joining the MSU IT team in 2011, he has served in multiple leadership roles, including: Interim Chief Information Officer; Chief Operations Officer; and Executive Director of Enterprise Applications. In that time, he successfully led the department through ERP Migrations; business strategic planning; as well as the unit's reorganization of people, processes, and platforms. In his current role, Fred oversees Michigan State University's IT strategic planning; cyberinfrastructure research support; the integration of distributed units; and the daily operations of MSUIT, a department of 700+ IT professionals with an operating budget of over $60M.
In his previous role as Interim Chief Information Officer, Fred provided organization leadership during a time of university transition. As Chief Operations Officer, he provided leadership for MSU IT's Project Management Office, Divisional Budget Office, Human Resources, Communications, Enterprise Architecture, Governance Committees and Business Analysis. As the Executive Director of Enterprise Applications, Fred led teams that supported implementations for majority education back-office and service applications at MSU (examples include student ERP suite, facilities management, advancement, CRM suites, credit card gateways, cloud integrations, security, data solutions, to mention a few).
Fred holds a bachelor's degree in computer information science and a Master's in Business Administration from the University of North Florida. Prior to his roles in higher education, Fred was a Technology Manager at Price Waterhouse in Jacksonville, FL. and served honorably in the U.S Navy, stationed in Mayport, FL. In his spare time, he enjoys spending time with family, teaching his sons and daughter how to fish, or hit that perfectly elusive "hole-in-one".