A native of Aguadilla, Puerto Rico, alumna Paola Luigi '18 '21MSW moved to Florida a decade ago to pursue new opportunities and follow her passion to find work in the human services field.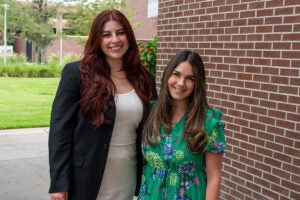 At UCF, she earned a bachelor's degree in psychology and returned to obtain a master's in social work (MSW). As an undergraduate research assistant, she studied language and emotions. As a graduate student and fellow, she worked under the mentorship of Assistant Professor Susanny Beltran in the Center for Behavioral Health Research and Training to conduct research focused on disaster management and emergency preparedness in Puerto Rico in the wake of Hurricane Maria.
While most MSW students pursue therapy as their profession, Luigi pivoted her passion for helping others into a non-traditional path — a corporate role with a financial services industry giant. Today, this young alumna lives and works in New York City, where she serves as a recruiter for Morgan Stanley. She builds networks with students and universities across the U.S. and Puerto Rico, and in particular Hispanic- Serving Institutions like UCF, to help secure top talent for the investment bank and financial services company.
It's a position she says draws from the transferable skills she obtained as a student and incorporates her interest in diversity, equity and inclusion.
"I knew I wanted a career that kept the qualities I was passionate about," Luigi says.
She returned to campus this fall to share her personal and professional perspectives with students in a social work class taught by Beltran. Here, she shares more about her cultural influences, her professional role and her advice to students as they ready themselves for the workforce.
How have your Puerto Rican roots influenced you?
The longer I am away from home the more I have come to appreciate how grateful I am to have grown up in Puerto Rico. It was a difficult transition in the beginning since most of my family still reside in Puerto Rico, but they have all continuously uplifted me since I moved away. I am so proud of where I come from. The culture is vibrant, authentic and welcoming. Everything is a cause for a celebration and a push for you to continue chasing your goals. Growing up in Puerto Rico has allowed me to build meaningful relationships, treat people with kindness and to remain focused. In my career, I have tried to emulate the energy I feel when I am home, which is to primarily treat others with the respect and authenticity that you would want to encounter when you meet someone.
Tell us about your role as a campus recruiter for Morgan Stanley?
To be candid, every single day is wildly different from the previous one. I sit on the Firmwide Campus Team. Our team primarily focuses on developing strategies and restructuring the operations of how we, as the broader campus team, will be approaching the recruiting season to engage with talent across campuses. On a day-to-day basis, my team plans and executes various events, we build partnerships with external organizations, analyze experience data from the recruiting process, and implement new strategies to increase our talent pipeline. We began the Hispanic-Serving Institution's strategy in Fall 2022; this has been one of the primary projects that I have been leading to engage with Hispanic/Latino talent.
What type of foundational and transferable skills did you acquire as a social work graduate student that have served you well in your career?
There are various skills that I believe I have been able to apply in my career. As each day is different in recruiting, I have pulled many skills from my social work background to best resolve problems and complete tasks. Notably, our capacity to engage with individuals and build rapport has been an asset in my profession. It's been crucial in how I build trust and a relationship with key stakeholders when collaborating on projects. In addition, the research skills I acquired during my MSW have been incredibly useful to analyze the efficiency of some of our recruiting strategies and programs.
What is the most rewarding part of your job?
My favorite part of my job has been connecting with students. It's immensely rewarding to meet with remarkable young talent and be a part of their journey as they reach their professional goals. I have met many of them in the beginning of the recruiting process and to see them thrive in their current roles is amazing. Another highlight has been being able to recruit in Puerto Rico. It's a project that is very close to my heart; to see it be executed for the first time this year and help students build their personal brands to tackle the recruiting process felt surreal.
What advice would you give students as they transition to their careers?
First, do a lot of research. Learning about the various fields, roles, and companies allow you to keep an open mind as you begin the recruiting process. Second, advocate for yourself. I empathize that stepping into your career can be intimidating (believe me, I was terrified), but you know your skill set better than anyone. If there is an opportunity that interests you, trust that you have the capacity to excel in that position and don't be scared to go for it. Lastly, show up as yourself. Pillar moments of my career I have acquired and maintained through building meaningful relationships. Authenticity is an asset as you navigate your professional career. We want to see your personality shine!