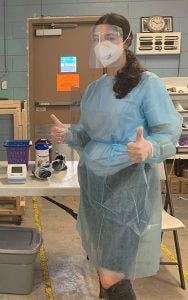 On Aug. 9, 2016, two days after her 16th birthday, Victoria Orindas and her family immigrated to the United States from the Republic of Moldova. The very next day, she started high school.
"Waking up in a whole new country and starting school the same day didn't really give me the time to experience culture shock," says Orindas. "We just kept on moving and figured out what we had to do by using the resources available to us."
Orindas' journey brought her to UCF, where she studied health sciences and excelled academically in the Burnett Honors College. As a dedicated student leader, she forged a community of like-minded peers and developed many service projects to help people who are homeless. This led to Orindas receiving many accolades, including the Order of Pegasus — the highest honor a UCF student can receive. After graduating, she plans to become a doctor to improve healthcare access for individuals who are homeless.
A Fresh Start
When she first joined UCF, Orindas started volunteering at the Hearts for the Homeless Orlando chapter, an international nonprofit that provides heart health educational events (e.g., electronic blood pressure machines) that serve individuals who are homeless.
"It doesn't elude me that that could have been my family," she says. "I realize how privileged my sister and I are that my parents found financial resources available for our family to live the 'American Dream.'"
By immigrating to the U.S., Orindas' parents were able to provide their daughters with better educational opportunities to succeed.
"Despite having several obstacles as an immigrant, any student, regardless of their background, can achieve their goals."
"Despite having several obstacles as an immigrant, any student, regardless of their background, can achieve their goals at UCF with the resources available," says Orindas, whose volunteerism led to her selection as one of the 2022 Clinton Global Initiative University (CGI U) Fellows. What's most important to me is giving back to the community by making time for an important cause."
As CGI U fellows, Orindas and her two teammates will dedicate a year of "commitment to action" by installing sustainable handwashing stations around downtown Orlando and co-partnering with local organizations that help individuals who are homeless. Orindas also helped launch the UCF chapter of SALT (Service and Love Together) Outreach, a nonprofit that serves the homeless population in Central Florida and was founded by UCF alum Eric Camarillo '16.
Connecting a Global Community
Orindas credits one of her many UCF faculty mentors for recommending the CGI U opportunity.
"UCF not only has diversity in its student body, but also diverse role models that motivate the younger generation to strive for their best; that's why representation matters," says Orindas, who is also the vice president of UCF's Russian American Student Association (RASA). As an eastern European country, Moldova shares some similarities with Russian culture.
Orindas learned the importance of relying on her community during challenging times and saw the need to connect with other first-generation immigrant students on campus through RASA.
"Students should not feel compelled to lose their authentic self when they join a new place," she says. "UCF has created a diverse and welcoming environment where every student is encouraged to preserve their culture and traditions while educating others about them."
Orindas' dedication to helping others has earned her over 20 awards and honors that include, WFTV News 6 'Getting Results' award. The honor highlighted her work during the onset of COVID, which was initiating a biweekly service project of handing out care packages to people who were homeless. She was also a UCF Think 30 scholarship recipient, Founders' Day honoree and a member of the UCF President's Leadership Council.
Planning for the Future
As a freshman, Orindas created a general outline of what her next four-years at UCF would look like and as she graduates, she reflects on how the UCF community enabled her to unleash her potential.
"I didn't do anything solely on my own," Orindas says. "As a LEAD Scholar, I found so many opportunities at UCF that would support my goal of helping others. That's the beauty of our UCF community."
"I didn't do anything solely on my own… I found so many opportunities that would support my goal of helping others. That's the beauty of our UCF community."
Orindas gained research experience as a Mayo Clinic Undergraduate Research Fellow where she assisted in researching the role of cerebrospinal fluid (CSF) and CHI3L1 gene expression on brain cancer (glioblastoma) malignancy. This research was presented at several different research conferences and received awards at the Great Minds in STEM (GMiS) 2021 Conference and the annual Biomedical Research Conference for Minoritized Scientists.
"By choosing health sciences as a major, I was able to customize it to make it meet my interests and structure it in a way that will meet the requirements to qualify for medical school," says Orindas.
As a certified nursing assistant and medical technician, Orindas' next step is to be a geriatrics doctor, but only after taking a two-year gap to volunteer at Hearts for the Homeless International as their deputy of Internal Affairs. She will be working with the organization's chair of Internal Affairs to support national chapters with the resources to better support people who are homeless.
As a future doctor, Orindas hopes to one day open her own mobile clinic to help individuals who are homeless.
"It's surprising to learn how many people who are immigrants are homeless," Orindas says. "Volunteering even after I earn my medical degree will help me work towards improving healthcare treatment and access for individuals who need it the most."