Reina Castellanos '16MFA wants you to wipe your dirty hands on their art.
The School of Visual Arts and Design graduate has been tapped for a new partnership with Bounty Towels, in which their art is a featured design on the paper products. Bounty's Inclusive Artist Project seeks to provide a platform for artists to showcase their work while brightening homes across the country. The initiative has also donated $100,000 to the Huenited Collective, funding scholarships for emerging artists.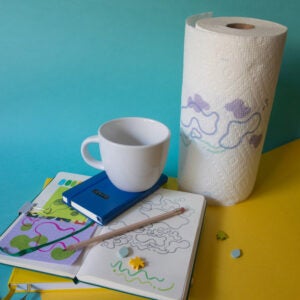 "It's been such a privilege to partner with Bounty Prints to create a collection for the Inclusive Artists Project Initiative alongside two amazing artists, Shadé Akanbi and Kingsley Nebechi," says Castellanos, who earned an MFA in emerging media from UCF. "There's always a big responsibility when it comes to creating work for a project at this scale, but I felt confident in my personal vision for these patterns once I realized that there is no wrong way to celebrate my culture when approaching the work from a place of respect and authenticity. I always want to honor my influences from Venezuelan art through my work and hope it resonates with people regardless of their backgrounds."
Castellanos' work has been highly visible while at UCF and in the years since graduating. As a student in 2017, they designed the logo for the university's annual arts festival, UCF Celebrates the Arts. In 2021, Castellanos was featured in episode eight of UCF's podcast Knights Do That: Using Culture to Create to discuss their collaboration with Target for their Latino Heritage Month collection.
Castellanos' art takes influence from their experience as an immigrant in the U.S. Through art, they hope to, "offer others a space to examine and experience their own curiosity and emotions." You can follow Reina Castellanos on Instagram.