Like several of the people in your Twitter timeline, Dominique Allen Lawson '14 spent a part of his Thanksgiving holiday watching Hulu's "Happiest Season". The only difference is that when Lawson watched the movie, he saw himself in the film playing the cheeky, ambitious, side-eye-giving character of Levi.
Finding His Footing
Lawson, who grew up in Jacksonville and was homeschooled until coming to University of Central Florida in 2010, first got into theatre at his sister Miranda's urging. After she literally dragged him by the hand into his first community theatre audition, he was hooked.
"I feel very fortunate that I landed feet-first in the career I was going to have my entire life at such a young age," Lawson says. "It never occurred to me to do anything else."
Once he arrived at UCF in 2010 to pursue his BFA in musical theatre, Lawson quickly made friends with the other theatre students in his class. In fact, fellow UCF alumna Jerusha Cavazos '14, who made her Broadway debut in 2019, is who helped him record his audition tape for "Happiest Season".
"I very much rely on my UCF network," Lawson says. "The community of friends and actors that I built there are like family. When you're in classes, shows, and voice lessons together for four years, there's a bond there that will stay with you forever."
In addition to the lifelong friendships he established during his time in college, he credits UCF for his depth of understanding of all the different approaches an actor can take with a role and his ability to discern which works best for him.
"I wouldn't know which style of acting I liked more unless I had the experience of being taught all of these different ways to approach the text and character," he says. "That's what I got from my professors at UCF — a wide range of approaches to the craft and the building of the world. And then as I went forward it was about incorporating what I learned and utilizing it to build my own process."
Landing the Gig
At this point in his career, Lawson's process seems to be working out quite well for him. Late last year, he recorded his audition tape for "Happiest Season," a movie that — at the time of his audition — there weren't a lot of details out about.
"When I was auditioning I didn't know how big of a deal it would be," he says. "Then I ended up getting it and the initial cast list came out and I was like, 'Oh, I'm going to get to tell people about this movie and see myself in it. This is going to be something.'"
And, given the sheer volume of anticipation and positive reception around the film's release, he was spot-on in his prediction that this movie was going to be something. Directed by Clea DuVall, starring Kristen Stewart, Mackenzie Davis, Dan Levy, Mary Steenburgen, Alison Brie, Victor Garber and Aubrey Plaza, the romantic comedy is not only studded with stars, but is also culturally important and a breakthrough movie for the LGBTQ+ community.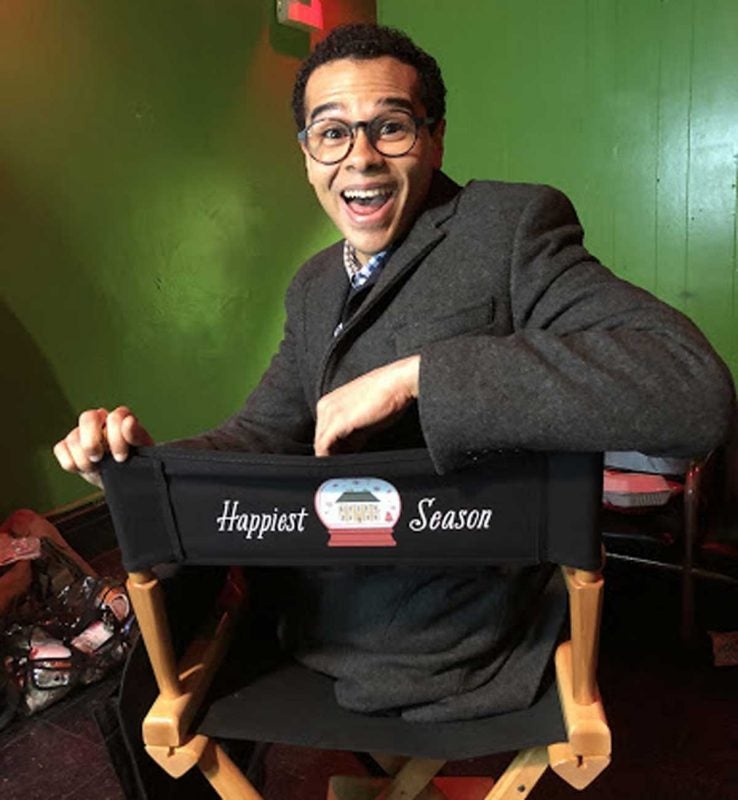 Cultural and Personal Impact
The story centers around a lesbian couple, Abby and Harper, as they head to Harper's home for the holidays. However it is revealed that Harper has not yet come out to her family and that Abby will be, without much say in the matter, acting as if she is Harper's roommate rather than her partner.
The movie touchingly tackles not only the story of coming out to your family as gay, but several different iterations of revealing your truest self and seeking unbridled acceptance from your loved ones.
"This is very much something that we in the LGBTQ+ community have been waiting for and have been very excited for it to happen," he says. "The normalizing and destigmatizing of a love between two women and the struggles that come along with that — as a member of the gay community I was very excited to be part of this movie."
Lawson says that his secret wish is that "Happiest Season" becomes the sort of quintessential movie that a generation quotes, knows every scene and beat of, and it becomes "suffused into gay culture."
The film has already garnered a ton of positive buzz and reviews. Plus, being the first big, studio-backed film covering this subject matter, "Happiest Season" certainly has the potential to make a long-term impact.
"I'm hoping that five years from now there are going be 30 rom-coms with a gay couple, or a lesbian couple, a trans couple, gender nonconforming. … I hope this kicks open the door for not just the G and the L of the LBGT community, but everybody," he says.
Already he has seen how this movie has significance in his personal life, appearing-in-a-popular-film-accolades aside. Lawson's father, who is, as Lawson describes, completely accepting of his son and his sexuality but was "not always that way," has been very supportive of and even "super into the movie." He has even joined in the chorus of people who have commented that perhaps Kristen Stewart's character should have ended up with a different character than she ultimately did.
"I never thought that I would compare notes with my 72-year old southern father on which lesbian couple in a movie should get together," he says. "I never thought that door would be opened, let alone that I'd be in the movie we'd be talking about."