UCF Alumni announced its Shining Knights Award recipients for 2022 — 11 winners celebrated for their commitment to the university in the categories of the Michelle Akers Award, Distinguished Alumni, Honorary Alumni, Young Alumni, Distinguished Student and the Champion's Award.
They will be honored in a ceremony at the Celeste Hotel on Thursday, Oct. 27 during UCF Homecoming week.
Michelle Akers Award
Bestowed to a UCF alumnus or alumna who has brought international acclaim to UCF through his or her accomplishments.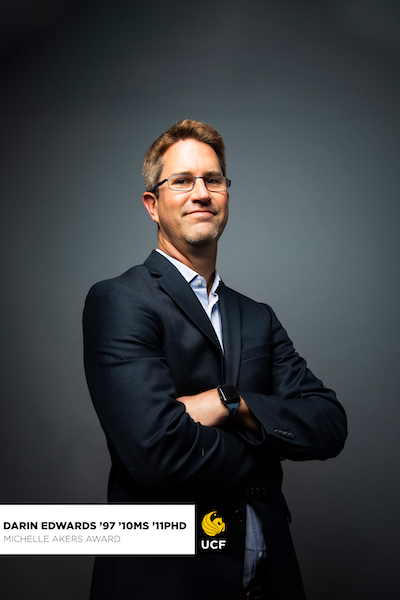 A three-time graduate of UCF, Darin Edwards '97 '10MS '11PhD, is the senior director of immunology in the Infectious Disease Research Group at Moderna. He led the team that developed and evaluated Moderna's vaccine for COVID-19, making a direct and positive impact on global health.
Distinguished Alumni Award
Highest annual award granted to a graduate of UCF.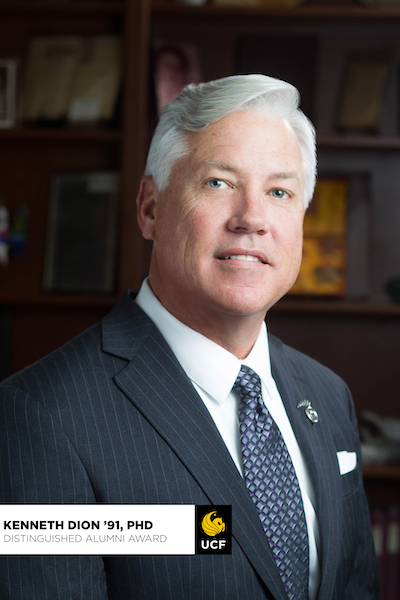 Kenneth Dion '91 is a 40-year veteran of the healthcare industry. He is the president for Sigma Theta Tau International, the international nursing honor society. He most recently served as assistant dean for Business Innovation and Strategic Relationships at Johns Hopkins School of Nursing. A member of the Dean's Advisory Board and the Millican Society, he is a loyal supporter of the UCF College of Nursing.
Kathryn "Kate" Kinsley '79MS '83PhD is a co-founder of Datawise Inc., a computer consulting company established in 1981 to specialize in microcomputers. In 1983, she became the first woman to earn a Ph.D. in computer science from UCF. A loyal supporter of UCF and an advocate for gender equality in STEAM, she has funded over 23 scholarships for deserving UCF students with her husband Joe.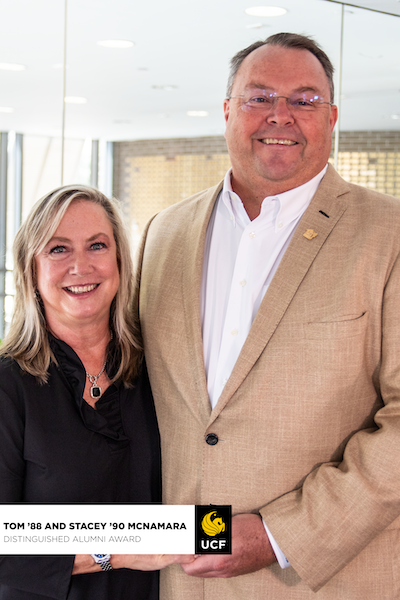 Tom '88 and Stacey '90 McNamara met at a UCF football game and have philanthropically supported UCF for over two decades. Together, they have built several businesses, raised three daughters — one a UCF student — and played an integral role in UCF's growth.
John C. and Martha Hitt Honorary Alumni Award
Highest annual award granted to a friend of UCF.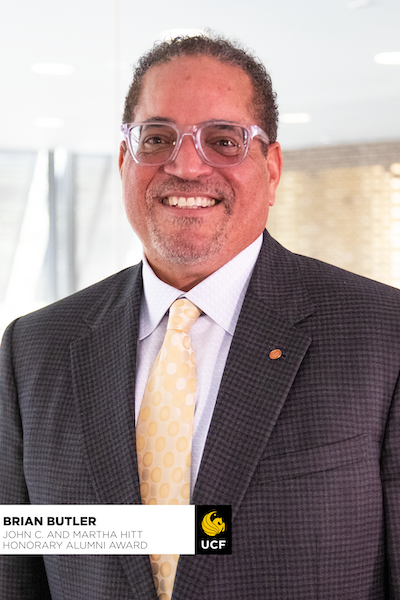 Brian Butler is the president and CEO of JCB Construction Inc., a 35-year family-owned company that has been involved in numerous notable projects in Central Florida. He serves on the College of Community Innovation and Education's Dean's Advisory Board and is the vice chair of the UCF Foundation Board of Directors. In addition to his support of UCF, Butler is an active contributor to the Central Florida community.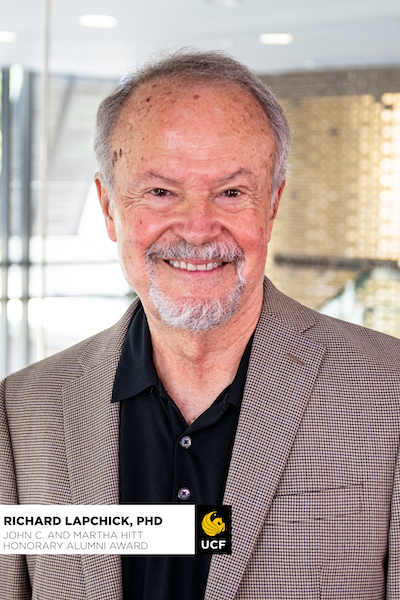 Richard Lapchick is an endowed chair of the nationally recognized DeVos Sports Business Management program at UCF. He is a human rights activist, pioneer for racial equality, scholar, author, public speaker and internationally recognized expert on sports issues.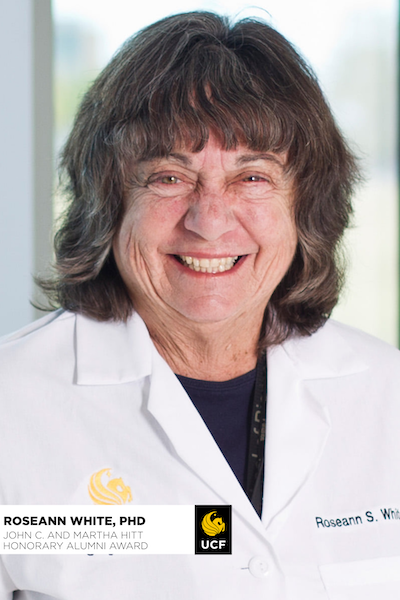 Roseann White was a founding member of the university and its medical school. She arrived on the campus of UCF — then known as Florida Technological University — on the second day the university offered classes and went on to play a key role in developing the curriculum for UCF's medical school. A beloved teacher, mentor, wife and mother, White passed away on Jan. 6, 2021. Her legacy endures through the Dr. Roseann White Memorial Endowed Scholarship, established by her family in her memory.
Young Alumni Award
Highest annual award granted to a graduate from the most recent class of 30 Under 30 Alumni Awards recipients.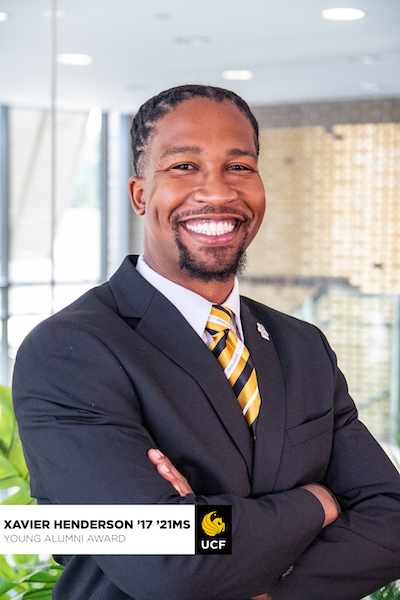 Xavier Henderson '17 '21MS is a senior systems engineer at Lockheed Martin and the co-founder and chief technical officer of Hydronomy Inc., an Orlando-based water sustainability company that aims to address the global water crisis. He mentors UCF students and young alumni and has organized annual scholarship awards for high school seniors.
Distinguished Student Award
Highest annual award granted to an enrolled Knight who is dedicated to maintaining a lifelong relationship with UCF, demonstrates outstanding academic achievement, inspires leadership within their co-curricular activities and positively impacts the UCF community.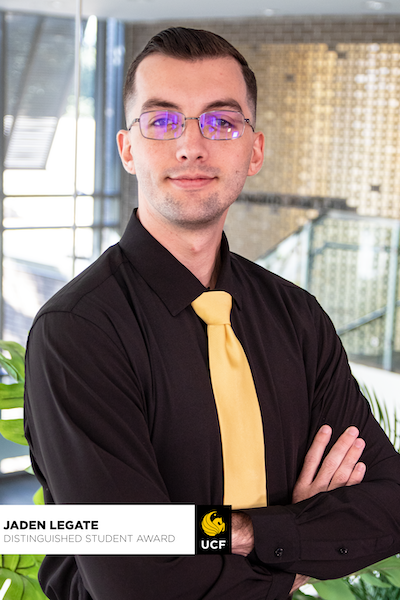 Jaden LeGate is a pre-clinical health sciences student and the vice president of the 4EVER Knights recruiting committee. He is a member of the Tau Sigma National Honor Society and the National Society of Leadership and Success, has 100 undergraduate research hours, and maintains a 3.944 GPA. LeGate also works in the Health First hospital system's emergency department as a medical scribe and volunteers with the Coalition for the Homeless.
Champion's Award
Granted to a corporation that is playing an integral role in supporting the university's growth and transformation and has consistently advocated and championed the cause of UCF and UCF Alumni.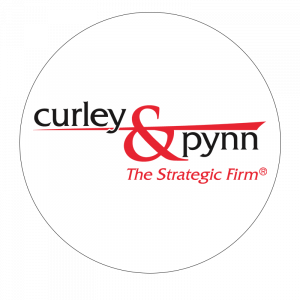 Curley & Pynn — The Strategic Firm is an award-winning public relations and marketing firm focused on the industries driving Florida's economic growth. Co-founded by Roger Pynn '73 and led by President Dan Ward '92, Curley & Pynn recognizes the importance of alumni engagement, institutional advancement, philanthropy, research and innovation, and community and economic impact and encourages its staff to become involved. Eight of the firm's ten employees are UCF graduates and have provided years of dedicated service to the university.