The next time you find yourself stuck in I-4's infamous traffic, be sure to look up — you just might have a chance to spot some incredible artwork by UCF artists.
On Jan. 10, the Downtown Arts District launched The Corridor Project Billboard Exhibition, a sky-high exhibition featuring the artwork of 30 Orlando-based artists on billboards located throughout the greater Orlando area. Each artist's work is featured on one printed billboard located in different areas of greater Orlando, and all the artworks will rotate on digital billboards along I-4.
Of the 30 artists selected for the exhibition, eight are UCF alumni — including a faculty member of UCF's School of Visual Arts and Design and a current student — and two other individuals are current students:
Ashley Taylor '12 (lecturer in printmaking and design)
Chris Robb '80
Christian Stanley '11
Daniel Harris '11 (known as DNL HRS, also a current electrical engineering student)
Justin Luper '08
Mauricio Murillo '07 (known as Crummy Gummy)
Ericka Sobrack '14 '16MFA
Gabriela Esteban (current studio art BFA student)
John Baker '96
Natasha Harrison (pending studio art BFA student)
Simona Wiig '21
If one of the billboards catches your eye while you're cruising down the highway on your morning commute, you can stop by CityArts' in-person exhibition for a closer look. Located in CityArts' Upstairs Signature Gallery, the exhibition will run through Feb. 13.
The Corridor Project Billboard Exhibition provides an incredible opportunity for the featured artists to have their work on display for countless Orlando residents to enjoy. The exhibition also increases visibility and awareness of what the Central Florida creative community has to offer, actively engaging tourists and locals as they explore the greater Orlando area.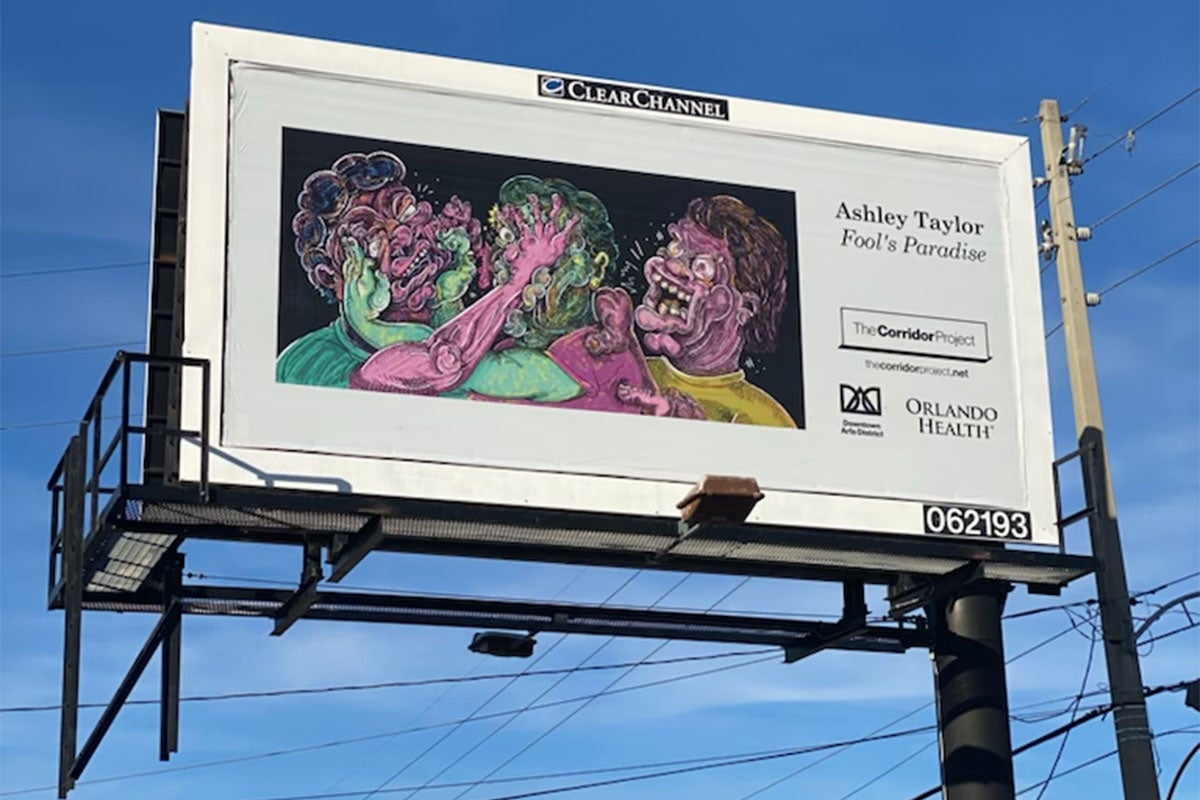 "This project showcases how creatives are starting to rethink how we interact with art," says Taylor. "This exhibition makes work usually on display in a gallery more accessible to the public. I believe it will welcome more innovative approaches to showcasing our creative community. I had always wanted to display work on a large scale and this ambitious project made it possible."
The Downtown Arts District (DAD) contracted Pat Greene, a curator and artist, to select artists and artwork for the exhibition. Greene founded The Corridor Project as a museum without walls, and he has been curating events for the project since 2012. This year, 11 artists were pre-selected by Greene; the remaining 19 were selected among 270+ applications through an open call facilitated by DAD.
"I'm imagining a scenario of a car full of people driving from I-4 to I-95 to some cosmopolitan city up north, and collectively saying, that was one of the best art shows I've seen," Greene says.
Simona Wiig '21, a graduate of the BFA studio art program, moved to Orlando with her husband when they were 19 and 20, respectively. While her husband worked late nights at a local pizzeria to make ends meet, she spent her evenings at downtown cafes, surrounded by people but still feeling alone — which helped inspire her work.
"I think that's the city experience for many — people so densely crammed together in apartment blocks but not a clue what their neighbors' names are," says Wiig. "I started snapping pictures whenever I sensed that melancholy, and that's where my paintings came from. When I heard about the billboard project, I thought, 'This painting is my Orlando experience.' I'm so thankful and honored to have had the opportunity to share it on such a large scale. I hope it makes people feel seen."
For more information about the project and billboard locations, visit thecorridorproject.net.