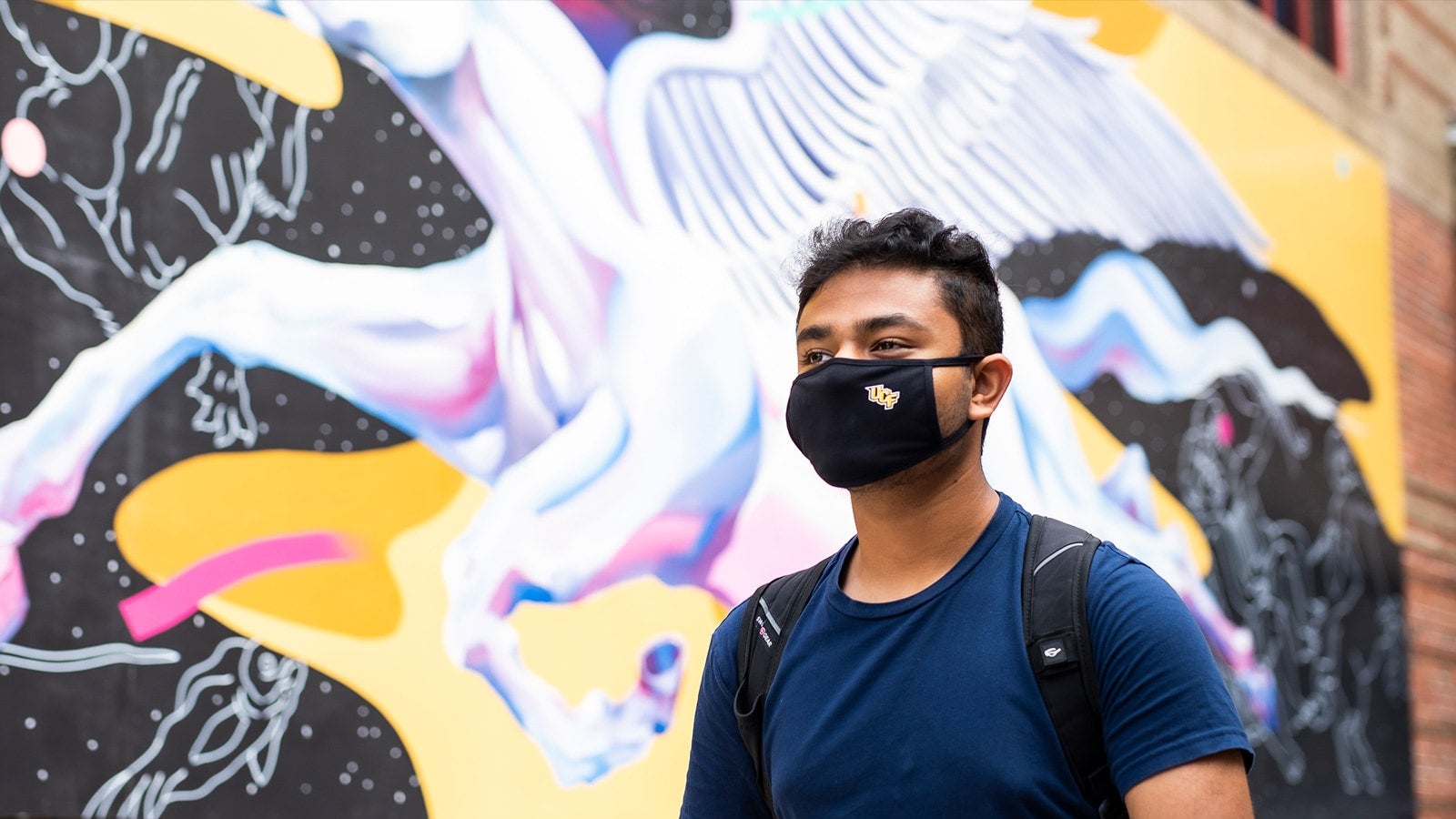 A look at the first few weeks on campus as the community continues to navigate life during the COVID-19 pandemic.
Fall 2020 | By Jenna Marina Lee 
While some elements of campus life have changed drastically this fall, others remain the same. The semester kicked off in early August as usual when 6,000 students moved into residence halls on the main campus. Though there are fewer on-campus residents, more than 80 people from across campus collaborated to optimize the move-in process and ensure the well-being and health of all involved. Additionally, in-person class sizes have become smaller while the caliber of students continues to increase. The Class of 2024 boasts an average GPA of 4.18, the strongest in university history.
---
This whole experience has shown that when we all come together to achieve a task of this magnitude, amazing things can happen.

April Konvalinka, executive director of housing and residence life
---
$120,445
Amount raised for the Student Emergency Fund since March, with $33,445 from sales of Rock 'Em Sock's UCF-branded face coverings as of September 30
30,000+
UCF-branded face coverings distributed to students, faculty and staff
1322
Average SAT score of UCF's incoming freshman class
450
Students who attended a physically distanced Knighting ceremony, a tradition officially inducting new students to UCF, on Memory Mall
40
Hours of hand-washing offered at portable sinks sponsored by UCF's Wellness & Health Promotion Services on the main and downtown campuses during the first two weeks of the fall semester
19
Average minutes for students to check into their residence halls, which included COVID testing
---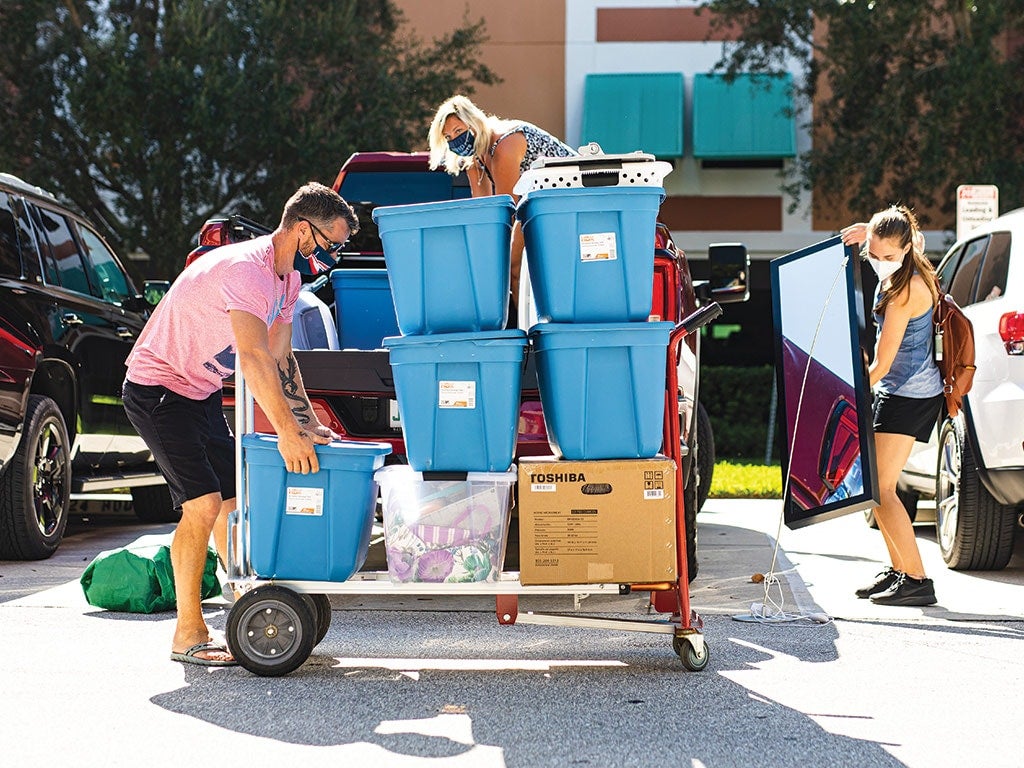 During move-in, students were allowed to have a maximum of two people assist with their move and everyone was required to wear face coverings.

---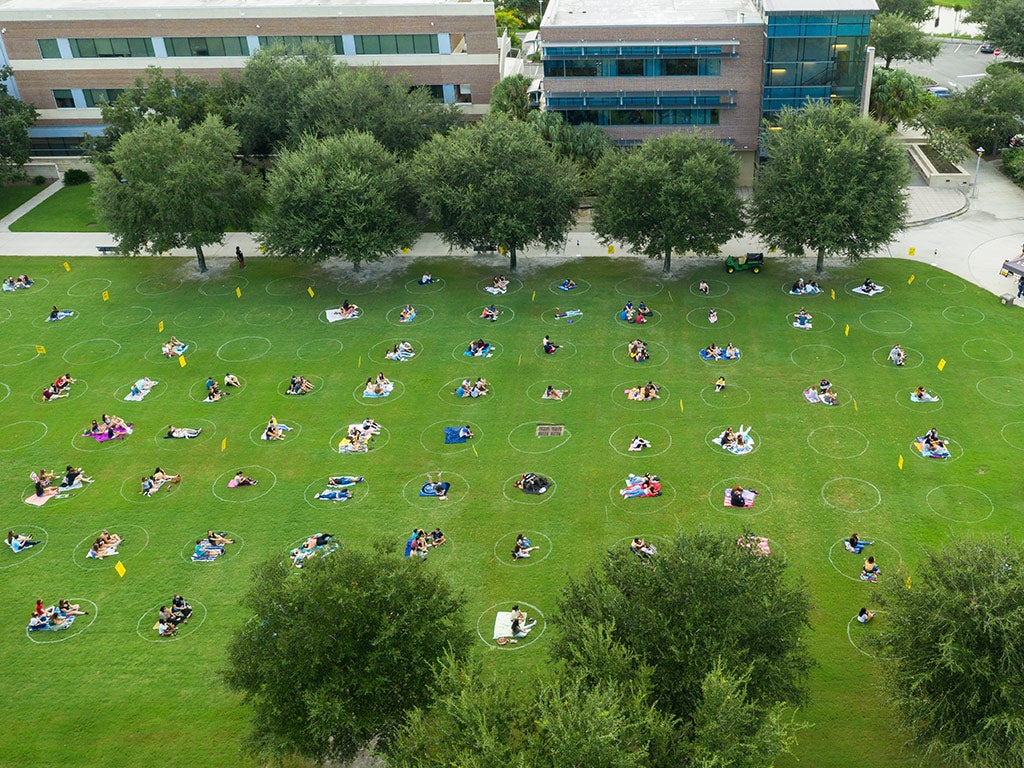 On Aug. 23, the Knighting was held on Memory Mall with physical distancing in place. The event is traditionally held in the campus arena.

---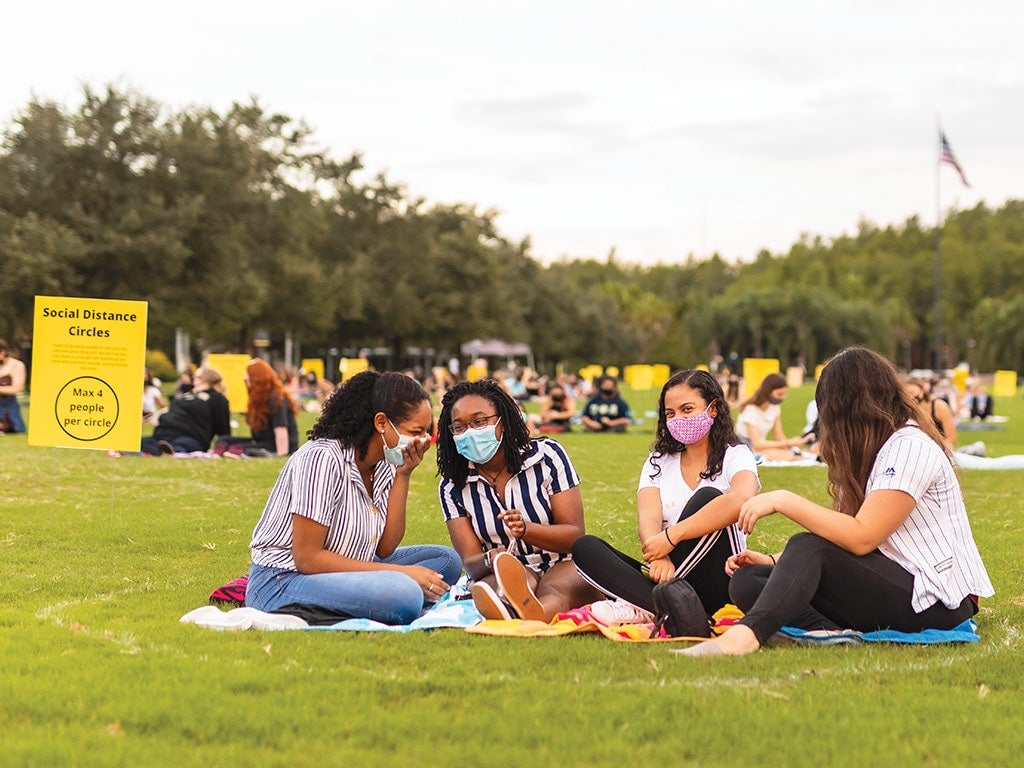 By Armoring Up, Knights take care of themselves and others.

---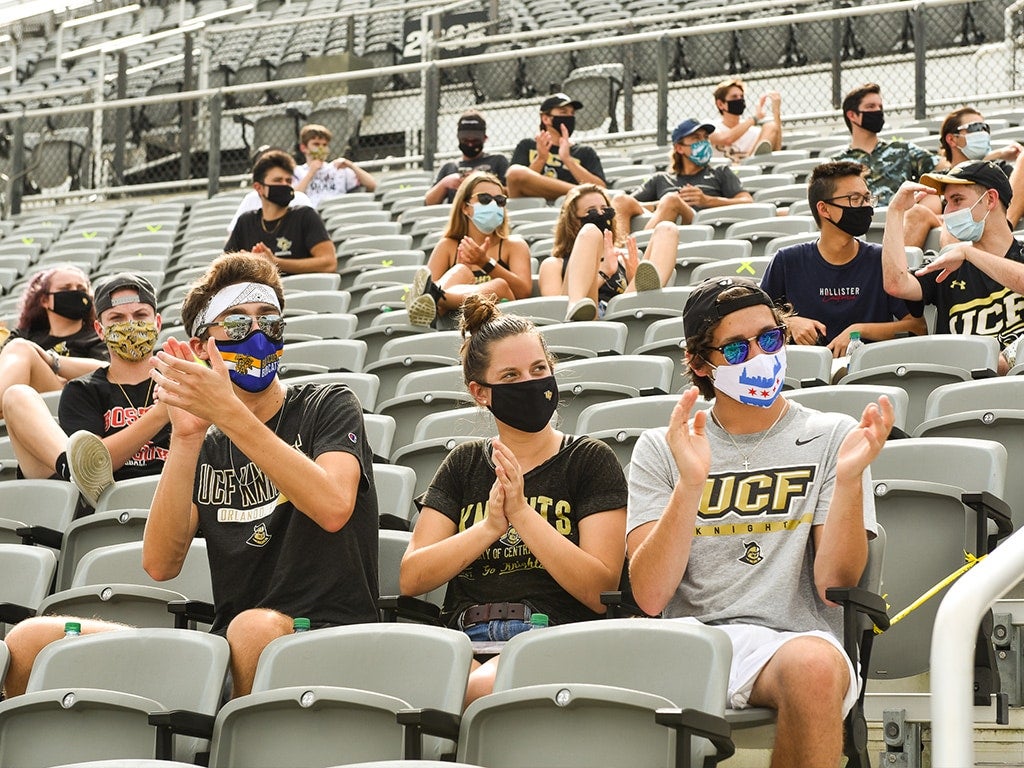 Students cheered on the UCF football team during a physically distanced watch party held at the Bounce House for the Knights' season opening win at Georgia Tech.

---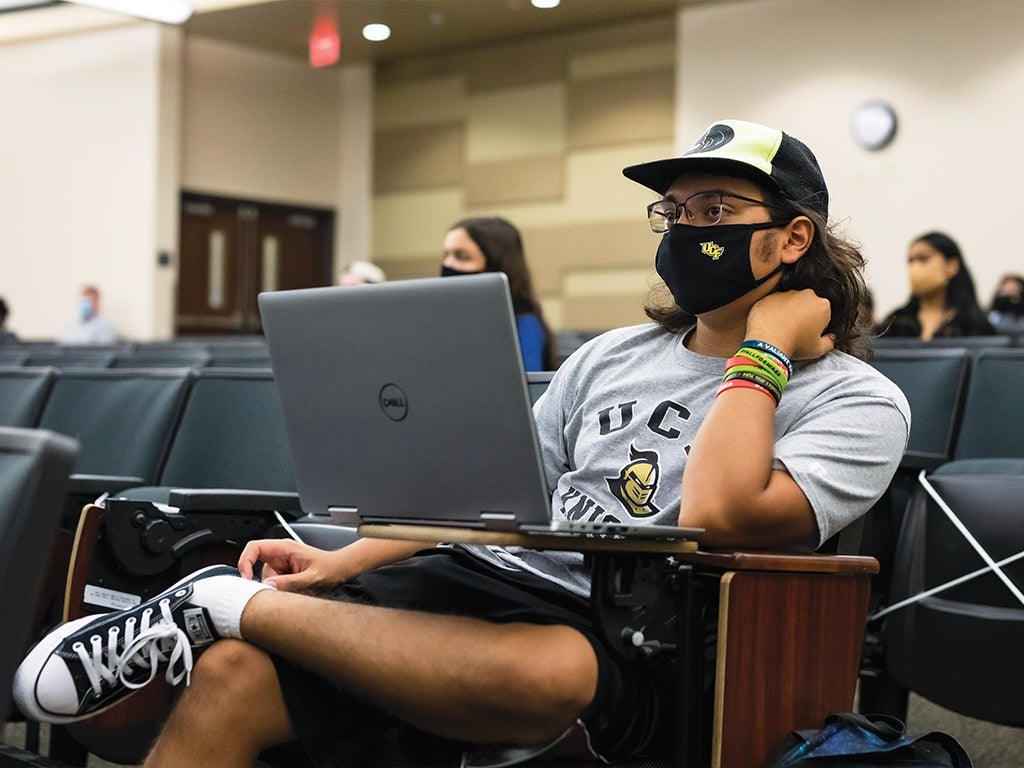 Although most classes are held online this fall, some face-to-face instruction was offered on campus. In preparation of welcoming back students, architects and engineers examined each of the university's 267 classrooms across its main, Downtown and Rosen campuses to develop plans for new seating arrangements that comply with CDC guidelines.

---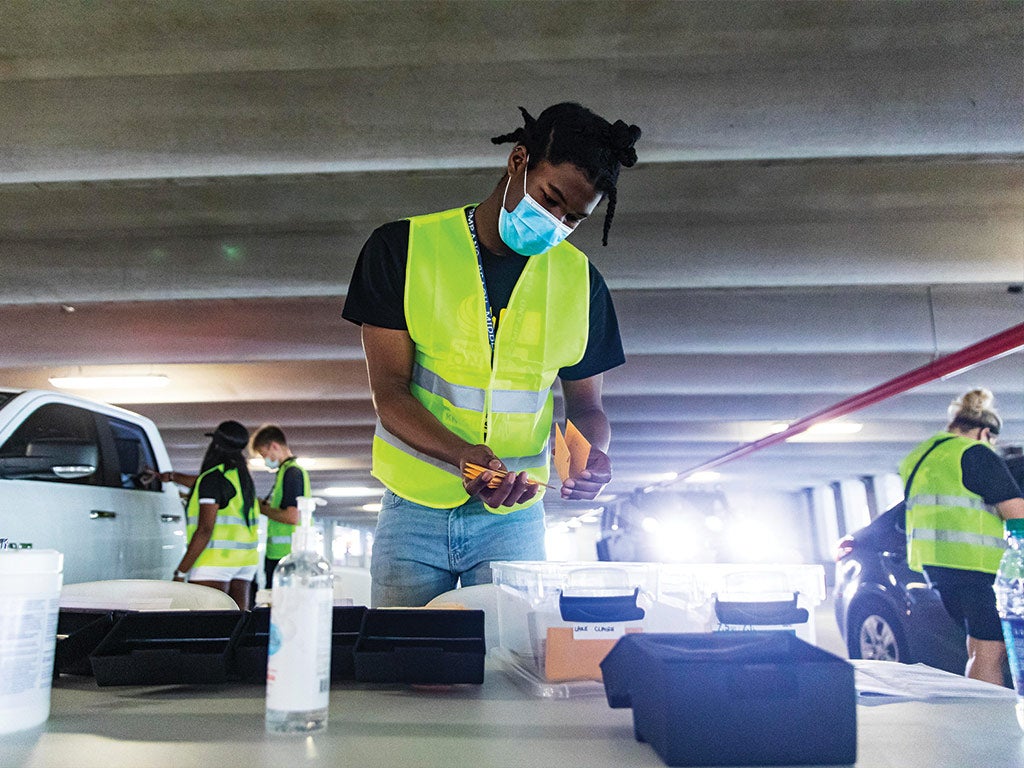 In partnership with Aventus BioLabs, drive-in COVID testing was conducted in Garage B on the main campus as part of the move-in process.

---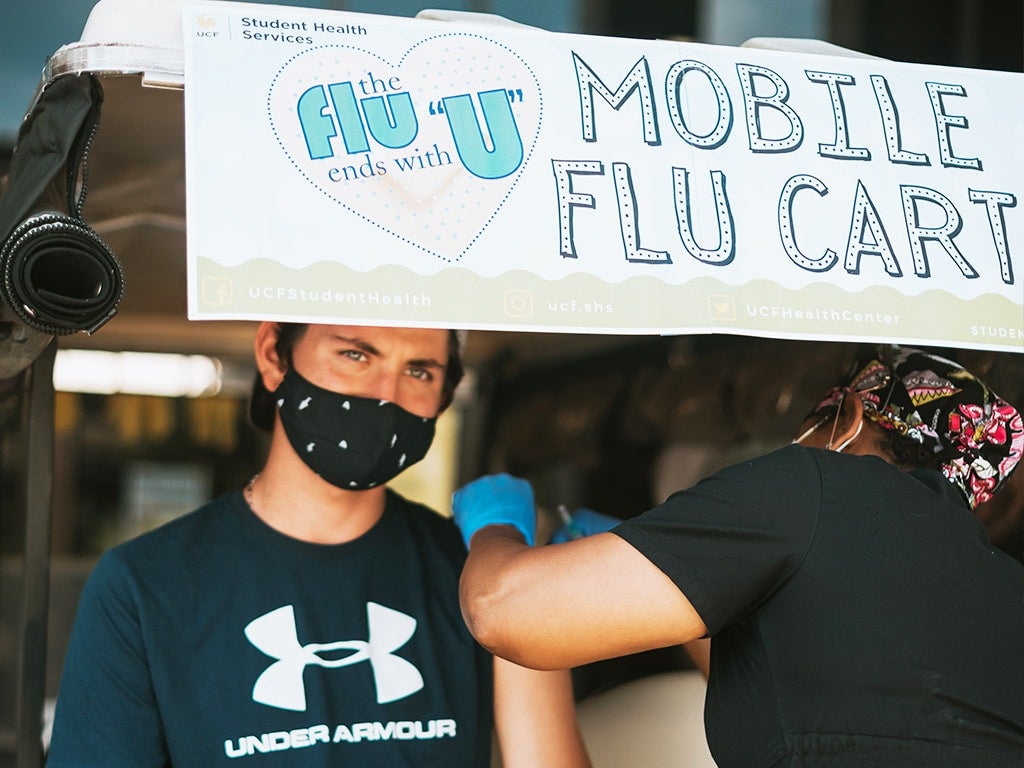 To make getting a flu shot as easy as possible, Student Health Services offered the vaccine to students, faculty and staff on the main campus via a mobile flu cart.

---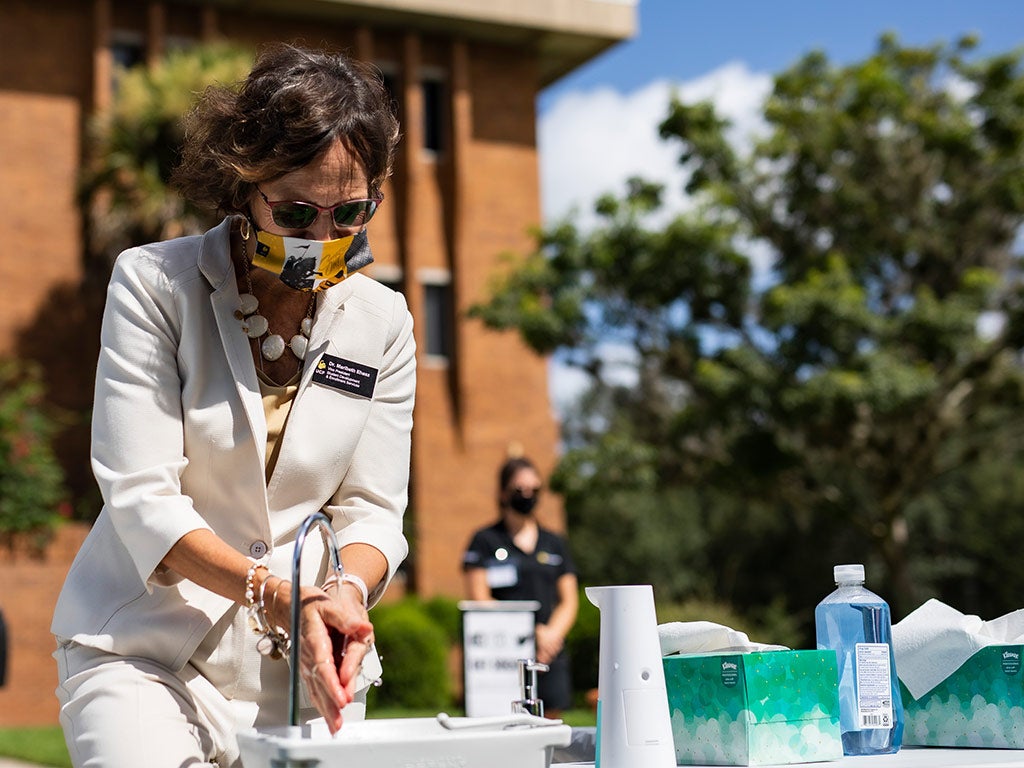 Maribeth Ehasz, vice president of Student Development and Enrollment Services, washes her hands at portable sinks set up near the Reflecting Pond during the first week of school.

---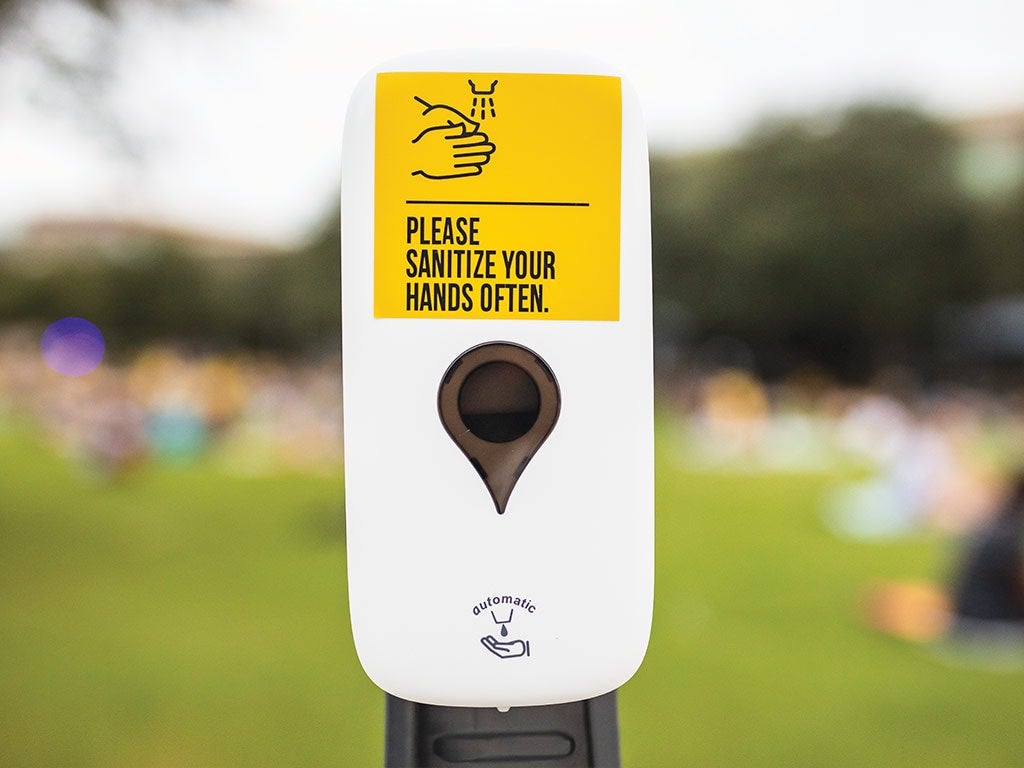 Motion-sensor hand sanitizer dispensers are available throughout UCF's campuses.