Housing move-in is often the first sign of the promise and excitement of a new school year on campus.
In a pre-COVID world, UCF's main campus is typically flooded during the course of a weekend with thousands of students lugging bedding, appliances, shower caddies and wall décor to their rooms at each of the eight housing communities.
But just like everything else in 2020, the pandemic changed the rules, and move-in for 6,000 students required a complex drive-thru process centralized in parking garages designed to maximize physical distancing.
Chick-fil-A Connection
When April Konvalinka, executive director of housing and residence life at UCF, realized this year's move-in would need to be especially creative, she looked to a friend — Chick-fil-A franchise owner and operator Jason Barnes — for some guidance. He is a member of the fast food chain's innovation team, which focuses on operating high-volume drive-thrus efficiently.
His advice helped shape some of the initiatives UCF implemented. Key among those was identifying the number of stations to help keep traffic moving, ensuring each worker had no more than two responsibilities at each station and a complete dry-run to test the process.
It was a starting point, but Konvalinka knew she was going to need more help in creating the detailed new protocols. So she turned to UCF's IT project management office, a team that provides management and business analysis services across the university.
Konvalinka's request for help turned into an ultra-collaborative effort spanning 10 departments and more than 80 people over the course of three weeks to revolutionize move-in at UCF.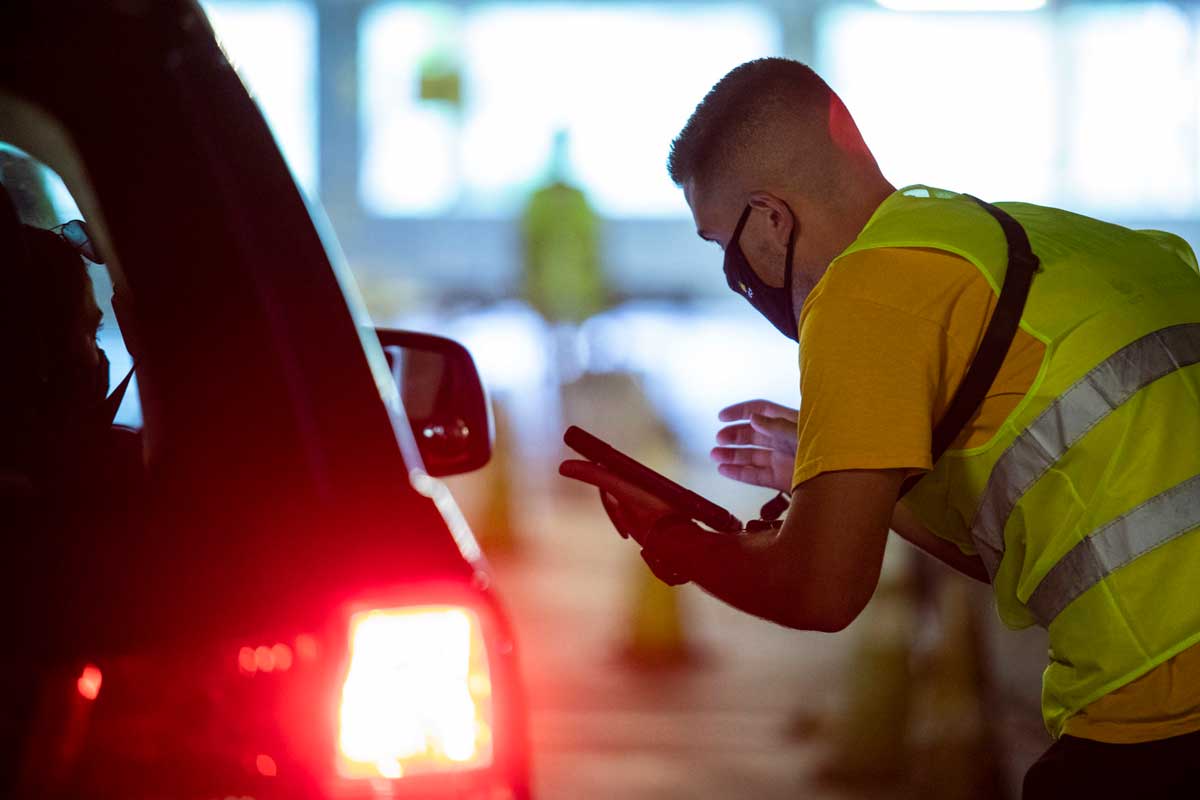 Team Effort
Lucrecia Krause, a business analysis manager for UCF IT who served as the project manager for the move-in, started compiling data to get a better understanding of what checking in 6,000 students on the main campus over the span of 16 days would look like.
Her initial projections estimated wait times up to six hours for a single student to complete check in.
"We always strive to provide the best experience for our students, and this wasn't it," Krause says.
Additionally, she knew she needed to resolve numerous unanswered questions: How many lanes should receive cars? How many staff were needed? How many PCs and iPads should be on hand to check in residents? What happens if someone arrives in a moving van, which doesn't fit in a parking garage? What way should traffic flow to prevent backups?
In order to address the issues and find ways to reduce wait times, Krause needed to get her hands on simulation software. After asking around the university, she connected with Assistant Professor Adan Vela, who teaches industrial engineering.
"This is sort of the bread and butter for our major," Vela says. "As engineers, when we perform a simulation analysis, it's usually to provide guidance, confirm feasibility and caution for potential pitfalls. Simulation analysis is a tool within the decision-making process, and we knew this was going to be a big endeavor, so we were more than happy to jump on board."
Engineering Students Pitch In
Vela offered five of his students – doctoral students Valeria Laynes Fiascunari '16 '19MS and Jorge Flavio Sarmiento Falla '16 '18MS and undergraduate students Miguel Angel Victoria, Sebastian Berdecia-Aparicio and Elsayed Gabara — to help with the project by running simulation scenarios.
Laynes says at first she thought it seemed like a fairly straight forward process to iron out, but once she and the team started learning of the many constraints from the numerous departments involved, it became complicated quickly.
The team used a software called Simio, which industrial engineering students are exposed to in their classes at UCF. Laynes says everything she learned in her simulation courses prepared her for this job.
Using Simio, they were able to account for numerous details that affected the speed of the experience.
For example, each resident initially was going to be slotted a two-hour check-in window. But research shows when you allow a two-hour time block, people generally arrive within the first 30 minutes, creating surges of traffic. By narrowing the window to 15 minutes for each resident, the team demonstrated how spreading out the appointments would help prevent the surges and backups.
Solving Real World Problems
The team presented regularly to key stakeholders, including members of UCF's police, parking, student health services and housing departments.
The group left each meeting with feedback to compute in order to present updated projections again the next day. The students, who were also juggling classes or teaching assistant responsibilities, met sometimes until 1 or 2 a.m. to complete the work but everyone felt it was worth the sleep deprivation.
"Having a real client, especially one as big as UCF with a lot of stakeholders in a lot of different departments, is a really rich experience that any industrial engineering needs on their resume," says Laynes, who worked for IBM for three years in between her bachelor's and master's degrees. "This project is as close as it gets to reality because this is a real-world job. We're really grateful for this experience."
For Krause, who spent hours collaborating with the team to review, adjust and then re-adjust models, she was confident everything would go according to plan on the first weekend of move-in appointments.
"This whole experience has shown that when we all come to together to achieve a task of this magnitude, amazing things can happen."
She and members of the planning team observed nearly 900 students arrive over a two-day period in anticipation of the new semester. The time to check in, which included a COVID testing in one garage and Housing check-in another garage, averaged under 30 minutes total, with some families going through the entire process — including travel between the garages — in an impressive 18 minutes.
A post check-in survey after the first weekend conducted by Housing and Residence Life confirmed student and family satisfaction with the new process. Of the 75 Knights who responded to the survey, nearly all (97.3 percent) were satisfied with their move-in experience and, of those who experienced move-in at another campus, 84.6 percent indicated their UCF experience was better.
"We have incredibly talented and dedicated staff at UCF, who are all willing to do their part to support the health and well-being of our staff, students and their families," Konvalinka says. "This whole experience has shown that when we all come to together to achieve a task of this magnitude, amazing things can happen."