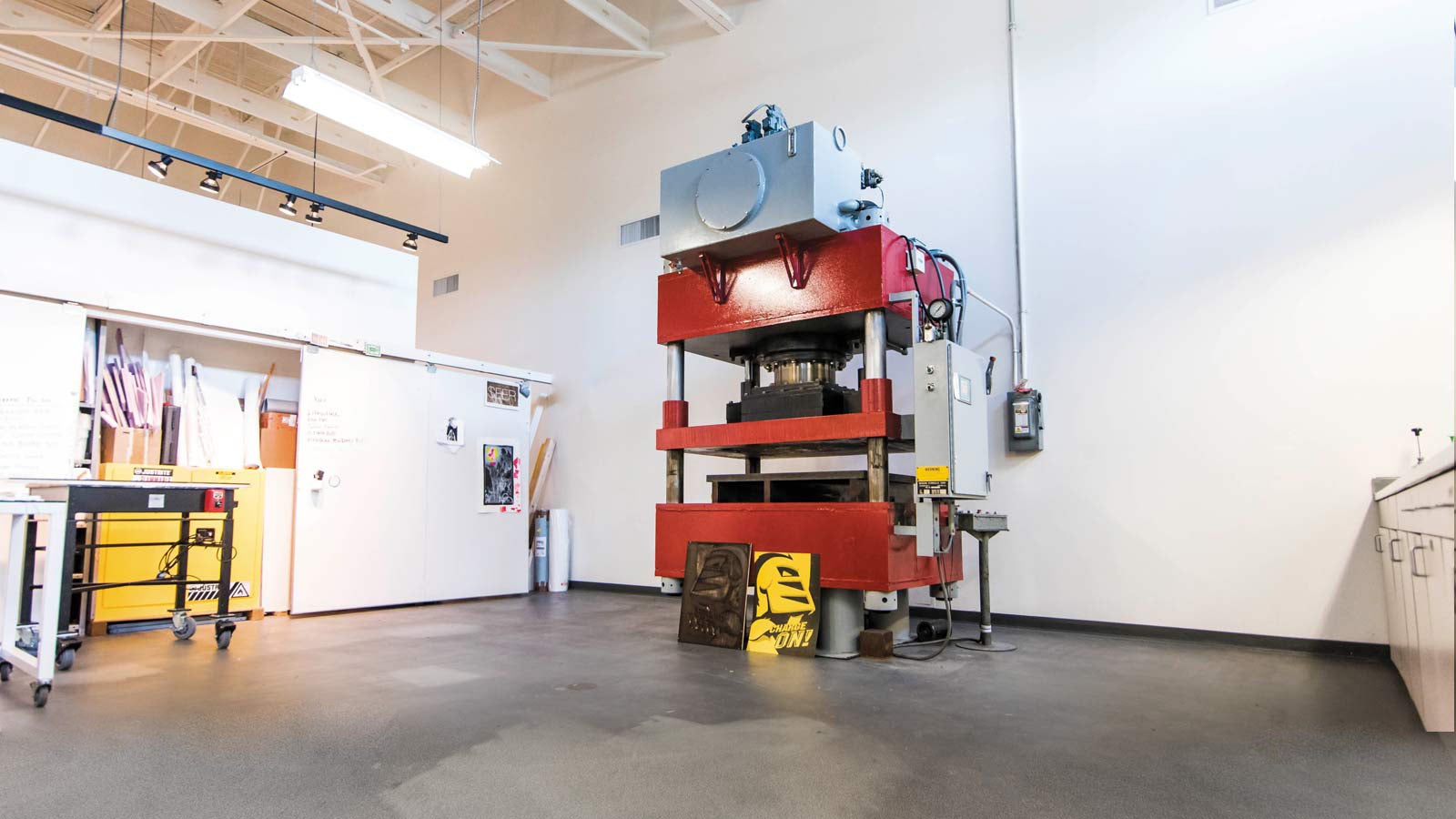 Artists come to UCF's Flying Horse Editions for serious printing power.
Fall 2016
Lurking in the corner at UCF's Flying Horse Editions printmaking studio is a hulking hydraulic press that seems more at home in a gritty factory. In fact, it could easily be mistaken for a sculpture among the fine art that adorns the austere, white-walled workspace. But the industrial machine is an important — and highly sought-after — tool for the rotating roster of international artists who come to the collaborative research workshop in downtown Orlando.
"It's really been an asset that adds to the capabilities of the studio because it can be used to make complex relief prints," says Theo Lotz, director of Flying Horse Editions, a nonprofit publisher of limited-edition prints, books and objects by renowned artists. "As a research center, we want to expand the creative possibilities for our visiting artists, and they always seem to find some new way of using it."
---
Here's what makes the press special: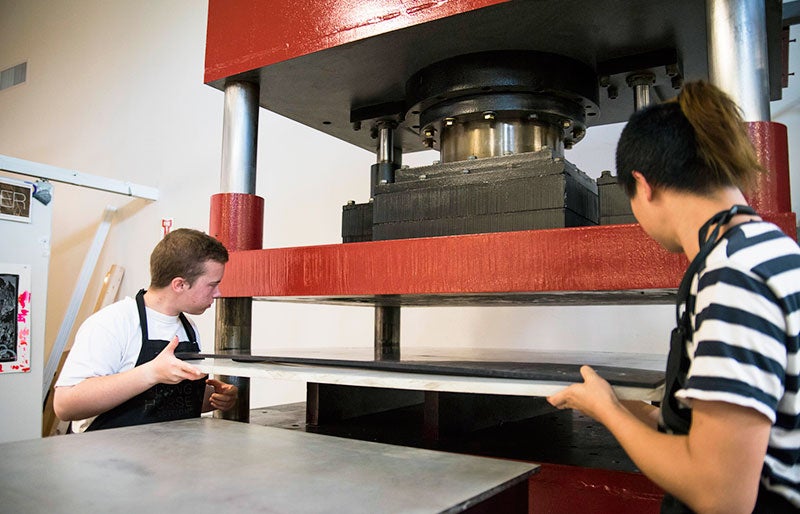 PRECISE POWER
Traditional presses, which use a traveling bed to apply a single color of ink, can be difficult to control and can create a blurry image with some kinds of printing processes. This press applies pressure straight down, enabling a more precise print with several blocks in multiple colors. "It can be a very fast and liberating way for an artist to work," Lotz says.
---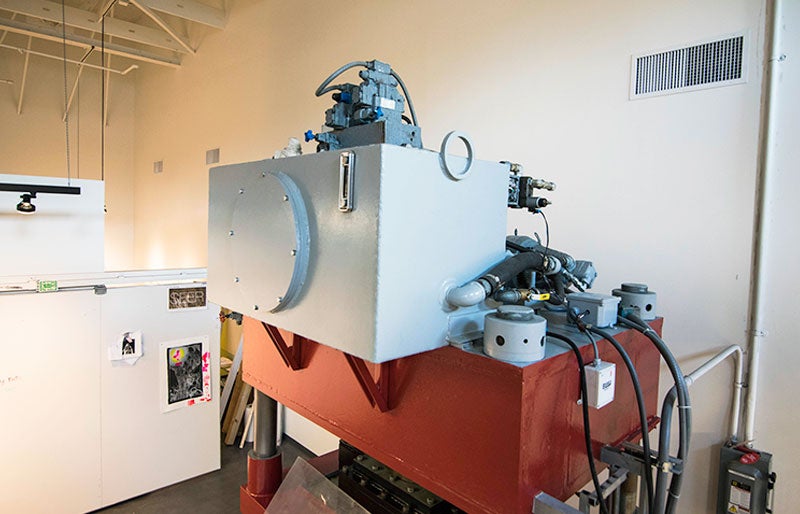 CRUSHING IT
The press uses a 90-gallon hydraulic system to create up to 300 tons of force through a single massive plunger. Lotz found the machine through a heavy machinery sales broker in Los Angeles. "It must have turned heads on the back of the flatbed truck on I-10," he says. "Then two huge forklifts picked it up off the truck and brought it into the studio. It was an amazing dance of heavy machinery."
---
CUSTOM CONTROLS 
Because the fine art printing process requires greater fine-tuning than the machine was originally designed for, Siemens offered to "trick out" the controls and donated a sophisticated electronic system valued at around $15,000. "We can set it so precisely now that we can print something onto an egg," Lotz says.
---
LOW-TECH SOLUTIONS 
The high-tech control system still employs a few key analog components, including an old-school pressure gauge and a measurement device that uses a delicate wire to help set the distance between the press and the paper. "This hydraulic press is really a very simple machine," Lotz says. "I was told that it was used to make metal light fixtures."
---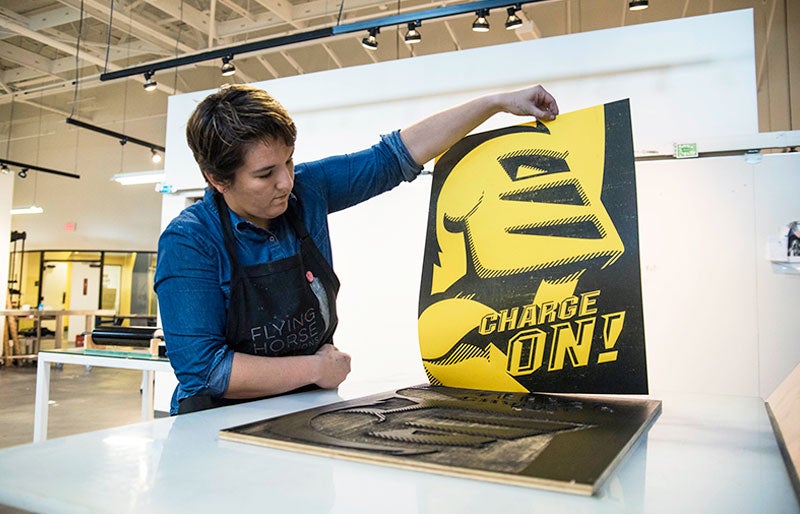 CREATIVE OPTIONS 
Artists typically use a woodcut, which can be created by hand or with a laser cutter, to hold the ink to create a print. However, some artists have been inspired by the machine's crushing capabilities and are using nontraditional materials, including Rolex watches. "Since this isn't a familiar piece of art-making equipment, artists are intrigued with what they can do with it," Lotz says.
---