Gain Valuable Experience in the State Legislative Process
UCF Legislative Scholars is a prestigious nonpartisan 2-semester Fall (Training) and Spring (Internship) program that will place students with state legislative offices, or lobbyist offices, full time in support of the Florida Legislative Session in Tallahassee, Florida Spring 2025.
Each selected intern will be assigned to a member of the Legislative Delegation or a lobbying group and will be expected to spend at least two months in Tallahassee (shared apartment provided and rent paid for January – early March), supporting the legislative office, or lobby office with research, constituent relations, bill tracking, and other duties required in the daily operations of a legislative office during the Session.
Stay tuned for more information about the 2024 Application Cycle. 
After applications are received and interviews are conducted, students will be notified and be provided the access to enroll in the LDR 3905 Leadership in State Government class for the Fall 2024 semester at UCF.
Students must complete and pass the prerequisite class LDR 3905 to participate in the Spring 2025 internship. 
LDR 3905- Leadership In State Government
Prior to interning in Tallahassee as a Legislative Scholar, accepted students must enroll for the Fall 2024, LDR 3905 course which will provide students with the skills, knowledge, and tools for success for the internship.
Students can select (0-1) credit hours for a Satisfactory/Unsatisfactory grade. A $200 fellowship is provided at the end of the semester if you complete the class and earn the satisfactory grade.
Function of Policymaking & Governance
The course is designed to introduce students to the fundamental aspects and functions of Florida's policymaking and governance structures with a specific focus on the role of the Florida Legislature.
It provides a comprehensive understanding of the legislative policy & bill-making process through:
Discussions
Lectures
Issues research
Exposure to actual players in the political process
Professional Development
In addition, the course has a strong emphasis on professional development, offering students the opportunity to develop essential skills that are crucial for success in policymaking and governance roles. Through hands-on activities such as:
Oral & Written communication
Role-playing exercises
Networking Practice
Students will gain practical experience and develop skills in several areas: such as effective communication, research, teamwork, and leadership.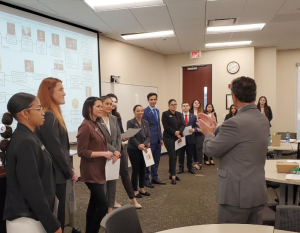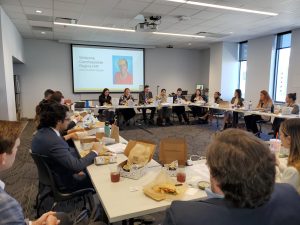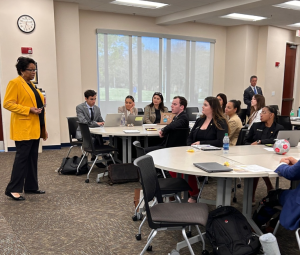 "This was an incredible opportunity! I only have positive things to say about this experience, it truly set me up for success and greatly altered the remainder of my time at UCF by allowing me to achieve things I didn't think possible. I highly recommend participating in this program, it will greatly improve your understanding of the legislative process at the state level and help you find job opportunities post-graduation."
— Meg Hall, Former Student Body President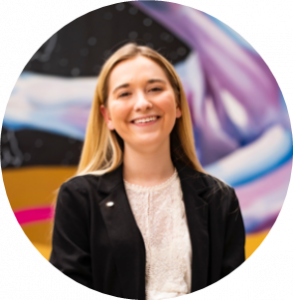 Become a Legislative Scholar!
Recruitment is currently closed. Stay tuned for more information about the 2024 application cycle. LDR 3905 must be completed as a pre-requisite in Fall 2024 before participating in the Spring 2025 internship.
Check out the application & tips button to review the resources provided to help you prepare the best possible application with tips from the selection committee and current members, as well as some of the benefits of joining.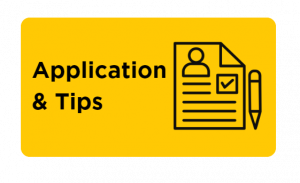 Legislative Scholars Coordinators
Legislative Scholars is coordinated through UCF's Office of Government & Community Relations. For more information about the program, contact any of the following: