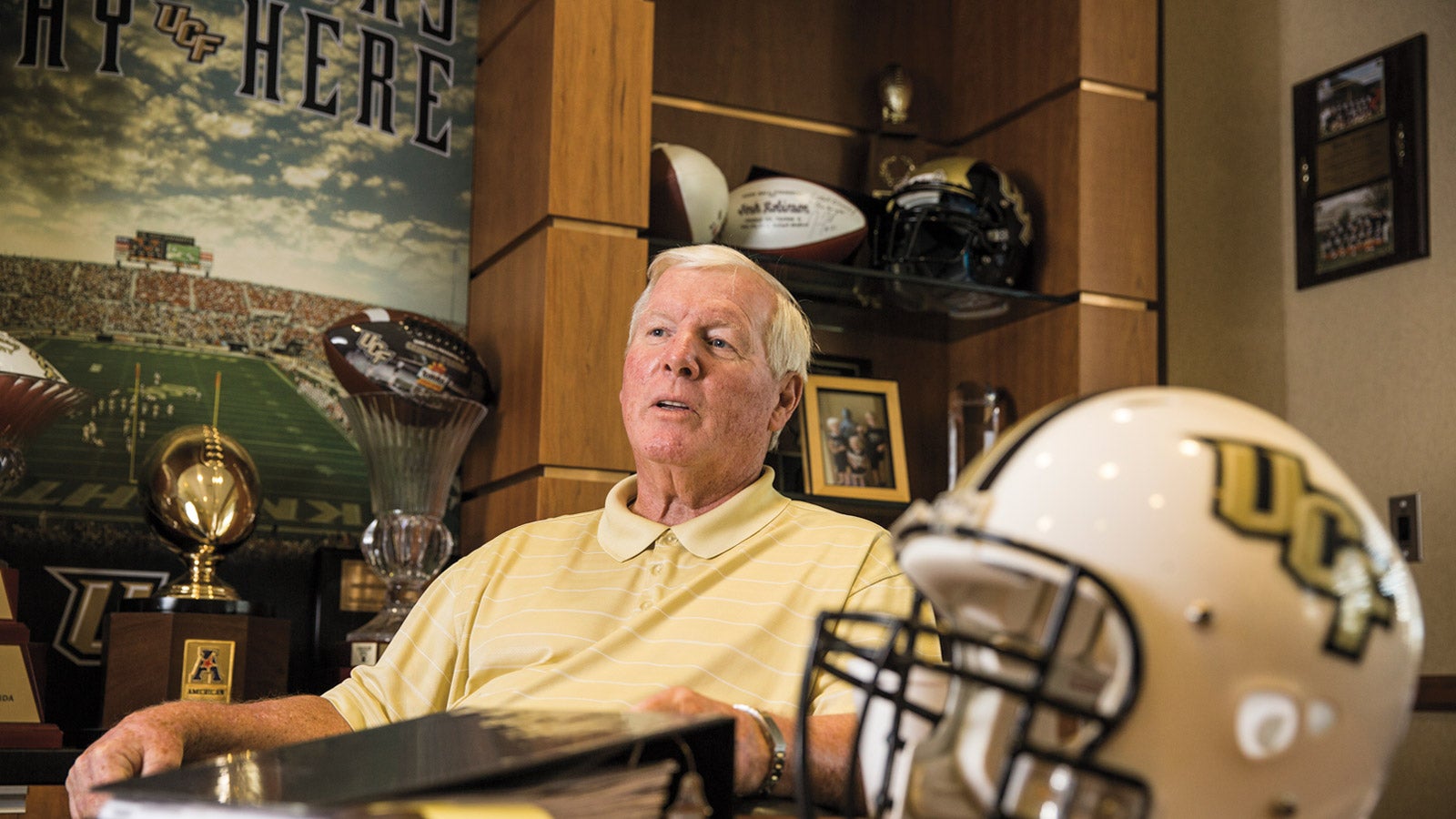 Debunking the myths of student-athlete academic standards.
Fall 2014
"The days of the dumb jock are over."
The discussion about the stereotype, however, isn't over — not when it comes to student-athletes. And UCF is unafraid to lead that discussion, even at a time when institutions are embroiled in academic scandals. So unafraid is head football coach George O'Leary that he is willing to open his books.
"Here, I'll show you," he says as he walks to his desk. He picks up a thick, three-ring binder and points to the tabs that delineate offense, defense and special teams. Equally prominent is the academics tab. O'Leary flips to that section and shows how each player's academic progress is tracked.
Let other schools perpetuate the running jokes that "student-athlete" is an oxymoron or that "dumb jock" is a redundancy. The Knights are on a different trajectory. "Academics come first here," O'Leary says.
Come Together
It's not just with UCF football though; the emphasis on academics is present in all 16 sports at the school. But to suggest that there is a simple program in place to ensure the academic achievement of UCF's student-athletes would not only be unfair, it would be an understatement.
"It's a culture," says junior Joey Grant, an offensive lineman. "We have high standards for student-athletes, and we instill that culture in each other. We compete against each other to get the best grades. Academics come first at UCF, and when I talk to some of my friends at other schools, I don't hear that same commitment. I think we're held to a higher standard than most other schools."
The numbers back Grant up. If you look at The Associated Press' 2014 final Top 10 standings, Florida State finished first in the nation on the football field and UCF finished 10th. But if you take those same 10 schools and rank them according to graduation success rate (GSR), the list shows UCF finishing first. Overall, UCF was fourth in the country with its GSR, trailing Notre Dame, Stanford and Duke.
2013-14 Bowl Championship Series
Academic Top 10
---
UCF ranked No. 10 in the final Associated Press poll, but when graduation success rates are compared, the results are much different.
UCF (83%)
Clemson (77%)
Missouri (74%)
Alabama (73%)
Oregon (72%)
(tie) Auburn and Michigan State (70%)
South Carolina (65%)
Florida State (58%)
Oklahoma (51%)
Source: UCF Institute for Diversity and Ethics in Sport
Not coincidentally, the UCF football program's GSR has trended upward since O'Leary arrived. In Fall 2003, the season before the O'Leary era began, the UCF football team bottomed out with an all-time low GPA of 2.018. In Spring 2014, the overall team GPA was 2.94. And for cynics who think football players are graduating with easy degrees designed to inflate the numbers, O'Leary notes that his 85 scholarship players are enrolled in 25 different majors.
UCF's academic culture permeates the entire athletic department. But as fans know, it's football that sets the tone at many schools. And at UCF, that starts with O'Leary.
The Guarantee
The head coach delegates much to his assistants, but the one thing he won't hand over is academics. "It's hands on," he declares. O'Leary gets weekly reports on his players' progress — how they're doing with tests, assignments, attendance, mandatory study halls and tutoring programs — all of which go into his three-ring binder.
"They miss class and it's like missing practice," he says. "Late is also [counted as] absent. Disrespecting a professor isn't tolerated. Players are also instructed to sit at the front of the class and not next to each other," states O'Leary, "It's not about your buddy."
Players say the worst feeling is knowing their name will be read off "The List" following a grueling practice. Players get on The List by violating any of the aforementioned rules of academic conduct, and the result is running wind sprints or doing another physically taxing drill, typically led by the strength coach.
O'Leary has also been known to quiz players early in the semester, asking: "What are your professors' names?" And if a player doesn't know, the coach says, "Then they better know the next time I ask. They better know how to spell it too. The days of the dumb jock are over."
It annoys O'Leary when he sees schools use athletes, sending them on their way after their college-playing careers are over without the academics to secure their way in the real world. He preaches that football is a means to an end. "People are concerned about winning, and you want to win," he says. "But you want to win the right way. You never want to jeopardize academics for athletics."
"I tell my coaches all the time when they're recruiting, 'If I can't graduate them, then I don't want them.' We're not going to just run these kids through the mill, use up their athletic ability, and then they're on the street."
All players attend mandatory study halls with available tutoring programs, which are provided by Academic Services for Student-Athletes (ASSA). And upperclassman football players often pull aside freshman teammates and tell them that when it comes to academics, O'Leary is serious. The message is that if you want an opportunity to perform on the field, then you'd better perform in the classroom first.
"Coach O'Leary always tells us that it's school first," says senior Brandon Alexander, a defensive back.
An Orlando native, Alexander joined the football team with the hope of one day becoming a scholarship player. He saw some playing time his freshman season, but he was struggling in the classroom. The athletic department, through ASSA, provides an almost minute-to-minute schedule for its athletes, guiding them through a day of practice, classes, study hall and tutoring. Student-athletes know that if they don't keep to the schedule, they'll fall dangerously, if not hopelessly, behind. In addition to academics, Alexander also struggled to maintain his schedule.
After the season was over, O'Leary called Alexander into his office. "Coach told me that I had to get my grades up," he says. "He told me if I didn't get my act together, he'd have to send me home. That got my attention."
By availing himself of ASSA's programs (mainly study hall and tutoring), Alexander brought his GPA up from the 2.3 he registered his first semester. That's when O'Leary called him into his office again, this time to tell him that he was putting him on scholarship.
"The first person I called was my mom," Alexander says. "She started crying. It was a big, big day for me. Coach O'Leary always preaches to us about getting our education. He tells us there is no guarantee we'll play, but he guarantees us we'll graduate if we make the commitment in the classroom."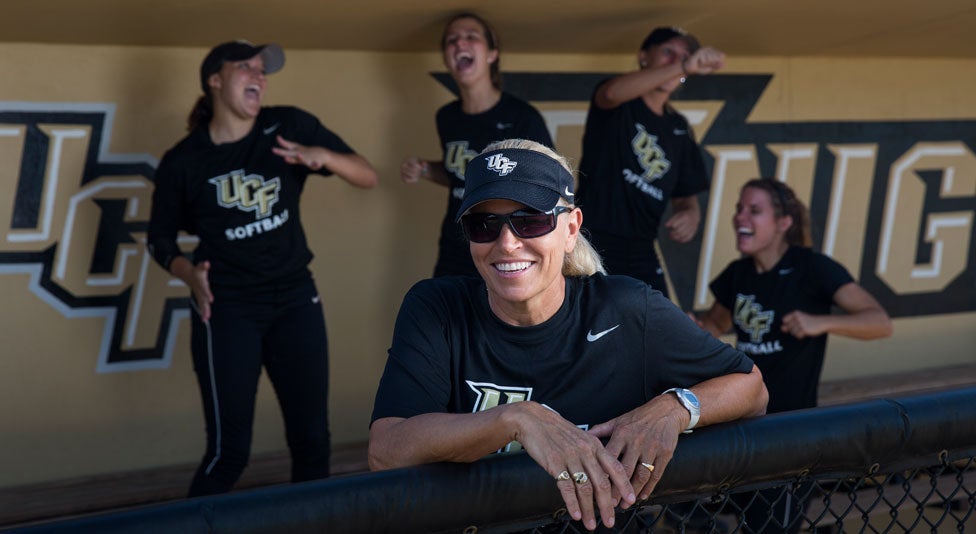 All In the Family
UCF softball head coach Renee Luers-Gillispie holds her student-athletes to high standards, especially in the classroom.
"Our No. 1 goal is to have our players understand that they don't come to UCF just as an athlete," she says. "It's a privilege to play a sport and earn a scholarship, but you're here to get an education."
To ensure success, Luers-Gillispie, who is entering her 14th season at UCF, reinforces teamwork in all aspects of her players' lives.
"We develop a family atmosphere — watch out for each other and have each other's back in every situation," she says. "It's very personal to me."
That dynamic has helped the team excel academically — 15 softball players were named to the American Athletic Conference 2014 All-Academic Team — but her goals for her players extend beyond GPAs and graduation rates.
"We're one of the few universities that actually has a program working to get our student-athletes in line for their next step — their careers," she says. "We give them the means to get everything they can out of this university, and once they graduate, we've been very successful with our players going on to good careers."
Bench Strength
Alexander, his teammates and other UCF student-athletes credit the assistance given by ASSA, which is headed by Director Kimya Massey.
"We keep spreadsheets on each student-athlete," Massey says. "We track and monitor grades. We track every test and every assignment. We get progress reports on every student-athlete twice a semester from their professors. We stay on top of it. We're very intrusive. We don't want any surprises."
"We want to succeed, and they want us to succeed," Alexander says. "It's a team effort, and it's really impressive."
Massey disagrees that student-athletes are given more academic assistance than traditional students. "The average student can have the same things if they want," he says. "They have a lot of resources on campus. They have individual tutoring, group tutoring, counselors and advisers."
What might be surprising, especially to those who cling to the dumb jock stereotype, is that during the 2012–13 academic year the student body average GPA was 3.01 while UCF's 450 student-athletes recorded an average GPA of 3.14. During the 2013–14 academic year, student-athletes compiled an average GPA of 3.08, the 13th consecutive semester that UCF's student-athletes have recorded a GPA of 3.0 or higher.
---
"The trend, is for our student-athletes to have a GPA that is at or above the student body."
---
"The trend," Massey says, "is for our student-athletes to have a GPA that is at or above the student body. It's the passion and hard work of our ASSA staff that makes this level of academic achievement possible."
Much of the success is due to a coordinated effort between academics and athletics, helping ensure that practice schedules, road games and the rigors of athletics don't hold student-athletes back from being what they primarily are — students.
In many ways, UCF is ahead of the curve as academic data is used more frequently as a recruiting tool. For instance, not only does UCF boast that its football players are in 25 different degree programs, but that its student-athletes are pursuing 67 different majors. UCF currently offers 91 majors.
While much of the recruitment process in the last 30 years focused on training and practice facilities, the trend is toward providing state-of-the-art learning centers. UCF is expected to open the Wayne Densch Center for Student-Athlete Leadership in Fall 2015.
"We're way past the point of wanting our student-athletes to just get degrees," Massey says. "We believe that if you're coming here to UCF, you're coming for a holistic experience. It's not just athletically or academically, but rather an experience that hopefully makes you stronger, a better person and prepared for life after college."
Toward that philosophy, UCF has begun tracking where its student-athletes are five years post-graduation, something Massey says is important to Todd Stansbury, UCF's vice president and director of athletics. Massey says this data will be among the most important statistics tracked by UCF.
Raving Rompza
A.J. Rompza, '12, may be in one of those studies. A former guard on UCF's basketball team, Rompza is 24 now, living in his hometown of Chicago after earning a degree in interdisciplinary studies. Today he helps manage his family's restaurant businesses, with plans to create his own niche in the industry.
"As soon as I walked into the program at UCF, I knew there absolutely wasn't going to be any slacking," Rompza says. "It was different from what I heard from my buddies who had gone to other schools. It was much more lenient where they were and they could get away with more things, like not having to go to class. UCF wouldn't tolerate that. If you were willing to work within the program, the people at UCF were willing to make sure you didn't fail. … They want you to succeed with what you want to do with your life."
Like other student-athletes past and present, Rompza described the academic environment as a culture.
"It definitely is," he says, "and the culture is amazing. There's positive peer pressure too. We were competing against each other, not just in our sport, but in the classroom. Being athletes, we're naturally competitive anyway."
Rompza recalls his days at UCF starting at 5 a.m. and lasting until the early evening.
"It's structured. It's demanding. But that's good," he says. "It's hard, but life is hard. It would annoy me when I'd hear other students say, 'Oh, you get everything handed to you. You get special treatment.' It wasn't that way at all. … They held us accountable. It instilled discipline in me. The whole experience, what it taught me, was priceless."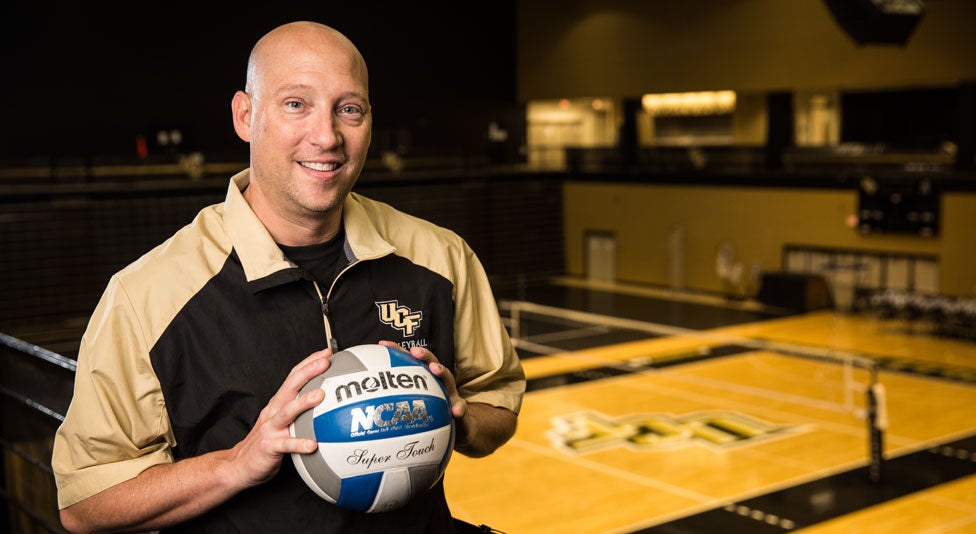 Healthy Competition
When Todd Dagenais took over as head coach of the UCF volleyball program in 2008, the team had won a single conference match in two years. It was the period of rebuilding on the court that spurred a positive side effect in the classroom.
"For any athletic team, the sense of pride [comes from] winning … and it was going to be awhile before we were going to have it on the court," says the former University of Southern California assistant head coach. "That's when we made it our point to win championships in the classroom."
The culture shift began with setting a new goal. "We wanted to go from having one of the worst GPAs in the athletic department to having one of the best," says Dagenais. "And when we did that, it started to instill that sense of pride."
The team GPA rose from a respectable 3.11 in 2008 to an athletic department best of 3.46 in 2013. The key to maintaining the trend of excellence has been the academic competition between UCF teams.
"There is really an interesting rivalry," he says. "We are all trying to achieve that best grade-point average award every year, and there is a healthy peer pressure where being smart and getting good grades is a badge of honor."
Higher Standard
Joanna Keough, '13, is one of those students who thought UCF's student-athletes were perhaps not held to the same standards as others on campus. "I heard the stereotypes, that grades are given to them, that they're not really here for school; they're just here to play sports," she says.
But then Keough, who is working toward a doctorate in physical therapy, began tutoring student-athletes. "I was pleasantly surprised," she says. "I saw right away that they were taking it seriously, that they were very hard workers with very busy schedules."
Not only has Keough, 23, continued to work with student-athletes, she's now ASSA's assistant tutor program coordinator and finds herself vehemently dispelling the disparaging stereotype of the student-athlete.
"I get offended now when I hear people say negative things, and I find myself having to educate people about what it's really like," she says. "I don't like that it's still a stereotype. We put in a lot of time and effort. I work hard, and the student-athletes work hard. We keep them to a higher standard than the rest of the student body. I know people like to say dumb jocks, but it's not that at all."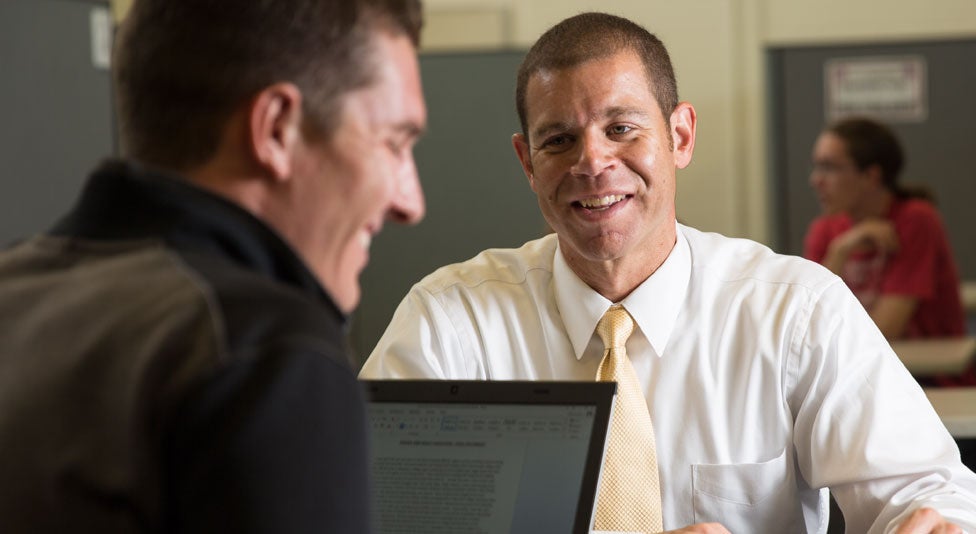 Support System
How UCF's Office of Academic Services for Student-Athletes contributes to scholastic success:
---
Academic advising:

Staff members work with student-athletes, offering academic counseling, advising, pre-assessment, evaluation and guest coaching programs.

Monitoring and tracking:

Student-athletes' grades are monitored to ensure they are meeting NCAA, American Athletic Conference and UCF benchmarks.

Academic support:

Approximately 50 undergraduate and graduate students are subject tutors. There are also study halls, mentoring and a summer bridge program.

Data and research:

Student-athletes are evaluated using NCAA benchmarks along with academic progress rate, graduation success rate and the federal graduation rate.

Training and development:

Personal, professional, time management and organizational skills are instilled.
Team Stats
Creating a culture of academic excellence produces results
Baseball
Twelve players received 2013–14 American Athletic Conference Academic All-American honors
GPA 3.04
APR 976
GSR 96
---
Men's Basketball
The team's perfect 1000 APR rating for 2012–13 was 36 points higher than the national average
GPA 2.78
APR 1000*
GSR 67
---
Women's Basketball
2013–14 American Athletic Conference Team Academic Excellence Award
GPA 3.31
APR 979
GSR 100*
---
Cross Country
2013–14 U.S. Track & Field and Cross Country Coaches Association All-Academic Team
GPA 3.2
APR 974
GSR 97
---
Football
2013–14 American Athletic Conference Team Academic Excellence Award
GPA 2.83
APR 994
GSR 90
---
Men's Golf
Two players named 2014 Cleveland Golf/Srixon All-America Scholars
GPA 3.37
APR 969
GSR 100*
---
Women's Golf
Two players named 2013–14 Women's Golf Coaches Association All-American Scholars
GPA 3.53
APR 1000*
GSR 100*
---
Rowing
Five players named Collegiate Rowing Coaches Association National Scholar-Athletes
GPA 3.21
APR 970
GSR 100*
---
Men's Soccer
2013 National Soccer Coaches Association of America Team Academic Award
GPA 3.0
APR 881
GSR 93
---
Women's Soccer
2013 National Soccer Coaches Association of America Team Academic Award
GPA 3.26
APR 974
GSR 100*
---
Softball
A school-record 15 players received 2013–14 American Athletic Conference Academic All-American honors
GPA 3.26
APR 989
GSR 95
---
Men's Tennis
2014 Intercollegiate Tennis Association All-Academic Team
GPA 3.46
APR 962
GSR 100*
---
Women's Tennis
2014 Intercollegiate Tennis Association All-Academic Team
GPA 3.55
APR 1000**
GSR 100*
---
Track & Field
2013–14 U.S. Track & Field and Cross Country Coaches Association All-Academic Team
GPA 3.27
APR 955
GSR 97
---
Volleyball
2013–14 American Volleyball Coaches Association Team Academic Award
GPA 3.32
APR 1000**
GSR 100*
---
* Perfect rating
** Perfect rating since 2009
GPA and GSR indicate academic year 2013–14
APR indicates academic year 2012–13
Glossary:
APR: "The Academic Progress Rate is a Division I metric developed to track the academic achievement of teams each academic term. A team's total points are divided by points possible and then multiplied by one thousand to equal the team's Academic Progress Rate score." — NCAA.org
GSR: "The NCAA Graduation Success Rate is designed to show the proportion of student-athletes on any given team who earn a college degree. Graduation-rate data are based on a six-year cohort prescribed by the U.S. Department of Education."— NCAA.org