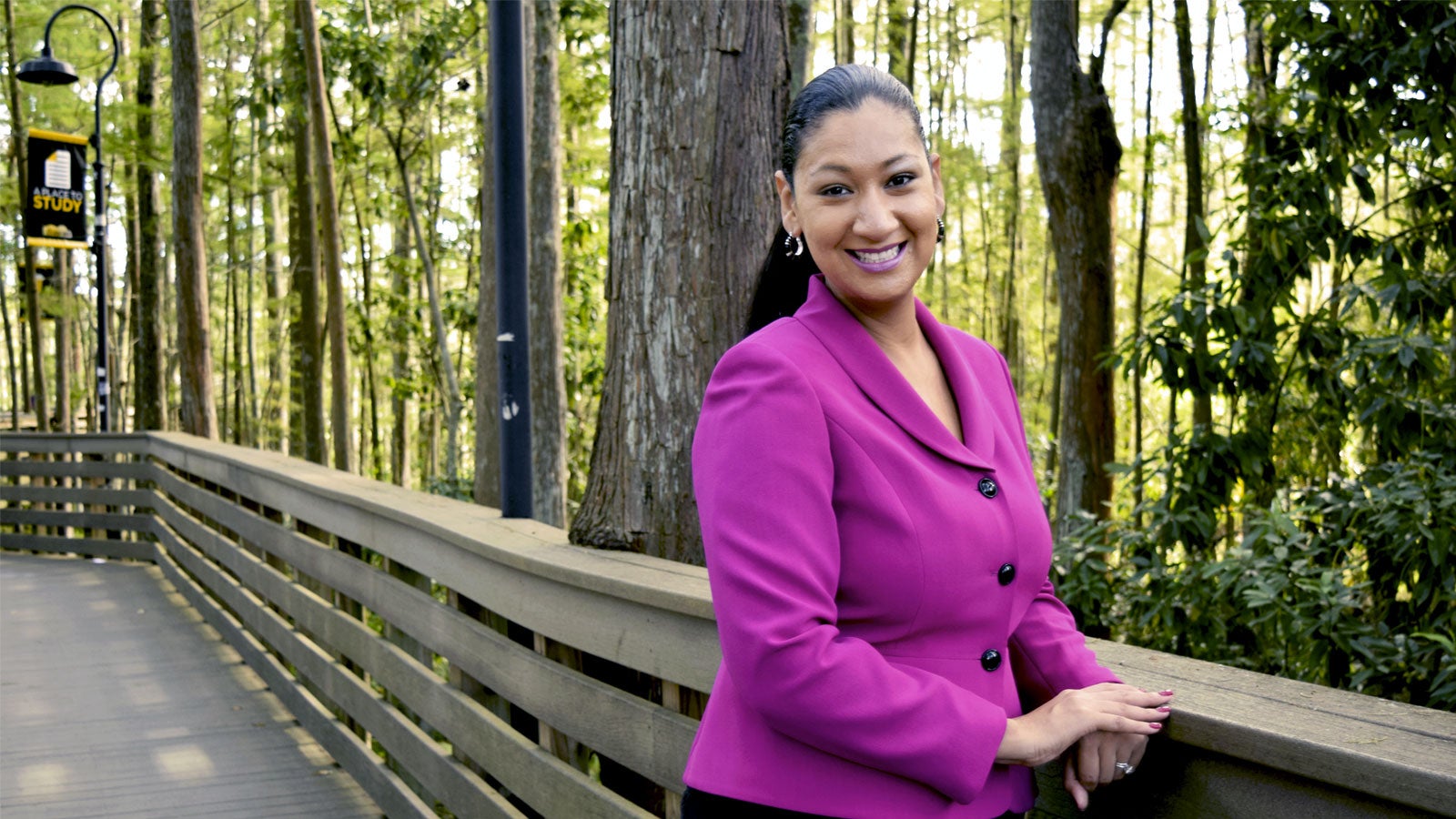 Cyndia Morales Muñiz '13EdD went from being the first in her family to graduate from college to being named a Top Latino Leader.
Fall 2016 | Story and photo by Deanna Ferrante
In the center of Brooklyn, New York, is the Bedford-Stuyvesant neighborhood. It's a historic area lined with brick brownstones, but nearly 40 years ago, it was a tough one, full of drugs and violence. To Cyndia Morales Muñiz '13EdD, assistant director for multicultural academic and support services, it was home, a place to share in the rich culture of her community.
Striving Toward Greater Things
Muñiz's parents immigrated to New York in the 1950s from Puerto Rico, looking for a better life. They spoke little English and lived in a low-income area, often using public assistance to make ends meet. All of her peers in the neighborhood public school qualified for free lunch.
She grew up just a few blocks away from Graham Avenue, a street that locals dubbed the "Avenue of Puerto Rico." Her community was a mixture of African Americans and Puerto Ricans, an environment that grounded her with a strong sense of identity.
"I am proud of where I come from and the lessons I learned in the 'hood,' " Muñiz says. "It keeps me humble."
The odds, she herself admits, were stacked against her. And yet, she became the first in her family to earn a college degree. She received a master's degree in sociology from St. John University and a doctorate of education from UCF.
Since graduating, she has been honored with the Orlando Business Journal's "Women Who Means Business" award and was included in the publication's "40 Under 40 Award." She's won a Women's Achievement Award in Diversity in 2015 from the Women's Executive Council of Orlando, an El Josco Award from the Puerto Rican Chamber of Commerce of Central Florida for her contributions to education, and was named one of the Top Latino Leaders in the U.S. by the Council for Latino Workplace Equity.
On Monday, October 17, Muñiz received the Diversity and Inclusion Impact Award during UCF's 17th Annual Diversity Breakfast for her work with multiple organizations, including the Hispanic Chamber of Commerce of Metro Orlando's Young Professionals Council and the Hispanic Heritage Scholarship Fund of Metro Orlando, and for founding the UCF Latino Faculty & Staff Association last year to advocate for the needs of the Latino faculty at the university.
---
"I pride myself on having changed the narrative and placed a small dent in the statistical figures that we often highlight when discussing challenges that impede success in the Latino community."

Cyndia Morales Muñiz
---
Her Key to Success
 From humble beginnings, Muñiz has cemented herself as not only one of the most accomplished leaders at UCF, but also in the entire state as well. The question many ask, she says, is how she made such a climb, which for many seems insurmountable.
"That's a question I get asked all the time, 'How did you do it? What was it that helped you, that pushed you, in a positive direction?' " she says. "I'm not exactly sure what it was, but I have always enjoyed doing well."
She recalls that in kindergarten she always earned "Student of the Month" and attendance awards. She had a drive to succeed and she carried that with her throughout her school years and into her professional career.
"I worked hard and I tried to take advantage of all the opportunities that came my way because I understood that they played a significant role in my future," she says. "And I wanted to have a good future."
It was more than a desire for Muñiz: It was a responsibility. She says that she was her toughest critic, motivated by a duty to repay not only her family, but other members of the Latino community that came before her.
"I felt like I was carrying my entire family and community on my shoulders — that I was their only hope. I put a tremendous amount of pressure on myself to do well and advance," she says. "When I didn't do so well, I was consumed with a fear of overall failure. The obstacles in college seemed endless, especially since there weren't too many students or professors that looked like me. I had to intentionally remind myself that I was capable and that I would succeed."
Her role models throughout her journey were her parents. She pushed herself so their sacrifices, the discrimination they faced because of what they looked like and how they spoke, would mean something.
---
"I love to see how [my parents] smile when they tell others that their daughter is a doctora."

Cyndia Morales Muñiz
---
Fostering the Next Generation
Now as a professional in higher education, Muñiz uses her position to support multicultural and first-generation students who are walking paths similar to her own. It is her job to make sure these students will be career-ready upon graduation. Helping this particular group of young adults is the reason why she took the position at UCF in the first place.
"The more things change, the more they stay the same," she says. "I still meet with multicultural students who feel the same way, who feel they have to be the trailblazers in their family. … Their families sacrificed a lot to come here for better opportunities, for a better life, and these students are the products of that, so they feel the same need to do well."
Helping these students find the resources they need to achieve their goals in life is what Muñiz says fills her heart with the greatest joy and purpose.
"I am most passionate about creating an equitable learning environment for all students. We must acknowledge that some of our students are fortunate enough to have been raised in well-to-do families that were able to provide access to resources that facilitated their academic success," she says. "Some of our other students hail from humbler beginnings that lack access to those resources. These students are also highly capable, but need additional information and guidance, so that they can move forward and live out their full potential."
---
Promoting a Proud Heritage
It's a passion that extends to helping the entire Latino community. As someone extremely proud of her Puerto Rican heritage, Muñiz credits her greatest accomplishment to representing all of the positive influences the Latino community has to offer.
"I pride myself on having changed the narrative and placed a small dent in the statistical figures that we often highlight when discussing challenges that impede success in the Latino community," she says. "The Latino community is strong and highly capable. We are a resilient people and we always find a way."
Members of the Latino community who have managed to make it, Muñiz says, now need to look back and help the next generation forge their own paths.
"Everything doesn't always go according to plan, but as a community in this country, we're only going to keep growing and continue making strides."