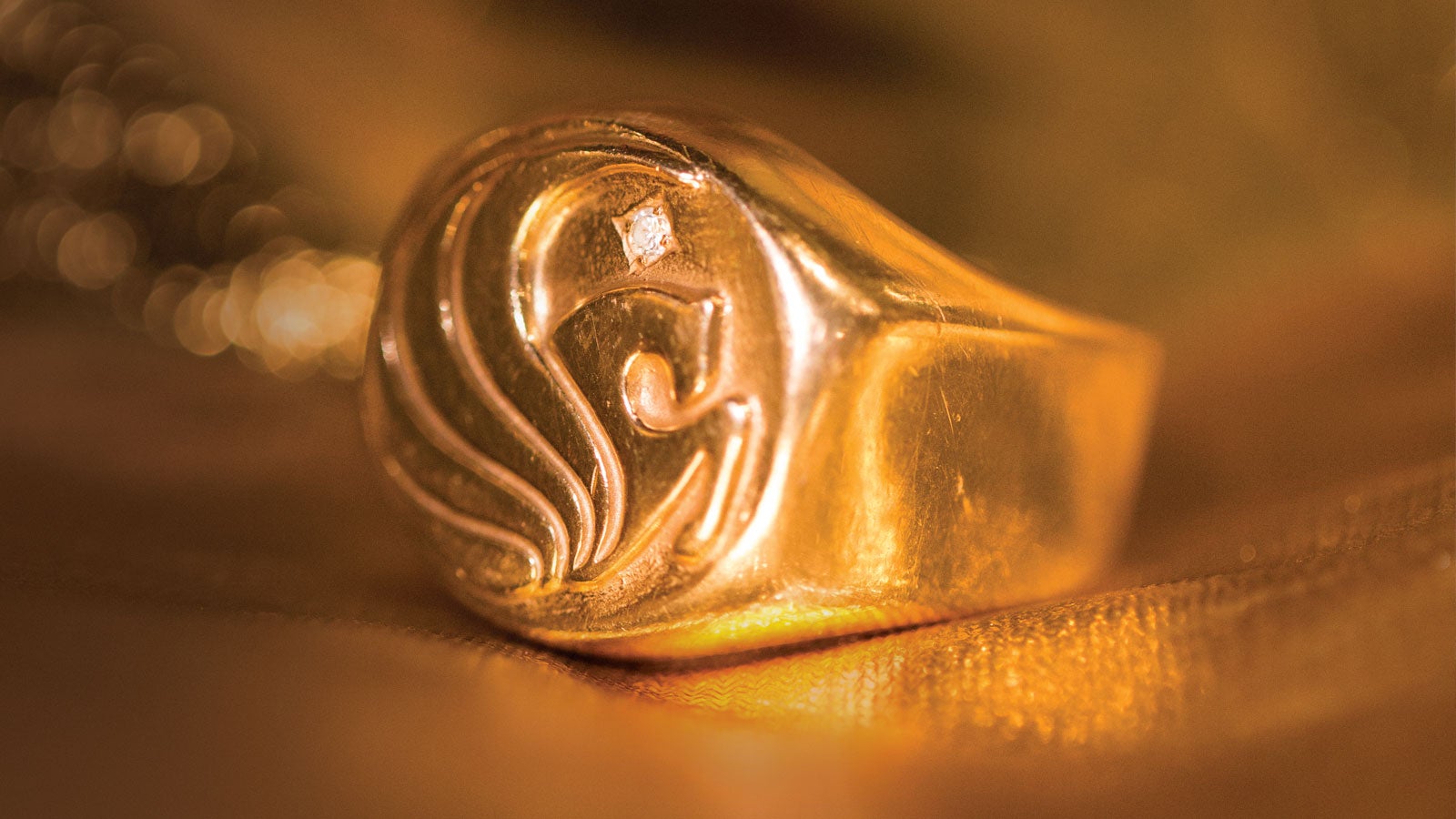 Much more than a shiny token, President Hitt's Pegasus ring represents a big commitment to UCF — and he's not the only person to wear one.
Summer 2018 | By Nicole Dudenhoefer '17 
From diplomas to the Student Union seal, the Pegasus symbol has represented UCF for 50 years. But there's another special place the winged horse can be seen — on the right hand of President John C. Hitt.
More than 15 years ago, Hitt came up with the idea for the Pegasus ring while brainstorming ways to honor people who have greatly demonstrated their loyalty to the university.
"I wanted something that we could give to individuals who served UCF well, in some really beneficial and conspicuous way," says Hitt. "I wanted to recognize people who just love the university and do all they can. It may not be someone with a whole lot of money, but anytime you call on them, they're there."
Here are some fun facts about the ring:
1. Reach for the Stars
Made of 14-karat gold, the ring features Pegasus, which has been UCF's official seal since the university's first president Charles Millican introduced it on April 5, 1968. The diamond represents UCF's motto of "Reach for the Stars." "We've tried to have the ring be something people would want and would be motivated to achieve," Hitt says.
2. Custom Made
Using his own money, Hitt commissioned Sanibel, Florida, goldsmith William Wilson to bring the idea to life. The first ring was made for Hitt, and "#one John Hitt" is inscribed inside the ring. "I liked it as soon as I saw it."
3. Recognizing Commitment
Hitt has given 33 custom-made rings to men and pendants to women. Recipients include Al Burnett, Frances Millican, Roger Pynn '73 and, of course, Martha Hitt. "It's neat when you sit down with a group of leaders in the community and you see multiple [Pegasus] rings and pendants," says Hitt. "That kind of lets you know the university is understood to be an asset that evokes pride."
4. Pegasus Takes Shape
Wilson designed the ring's unique mold from a simple JPEG, transforming the Pegasus seal into a golden 3-D masterpiece. "Bill [Wilson] did a lot of work where he produced a copy of a fish or a little crab, and it was remarkably good work, so we asked if he might be interested in doing this, [and] he thought it was kind of a fun idea," Hitt says.
5. Prized Possession
Thanks to a trusted routine, Hitt has never lost the ring. He puts it on every morning, and every evening when he gets home from work, he returns it to his dresser for safekeeping. "Certainly, the ring is the most precious piece of jewelry that I own — other than my wedding band," he says.