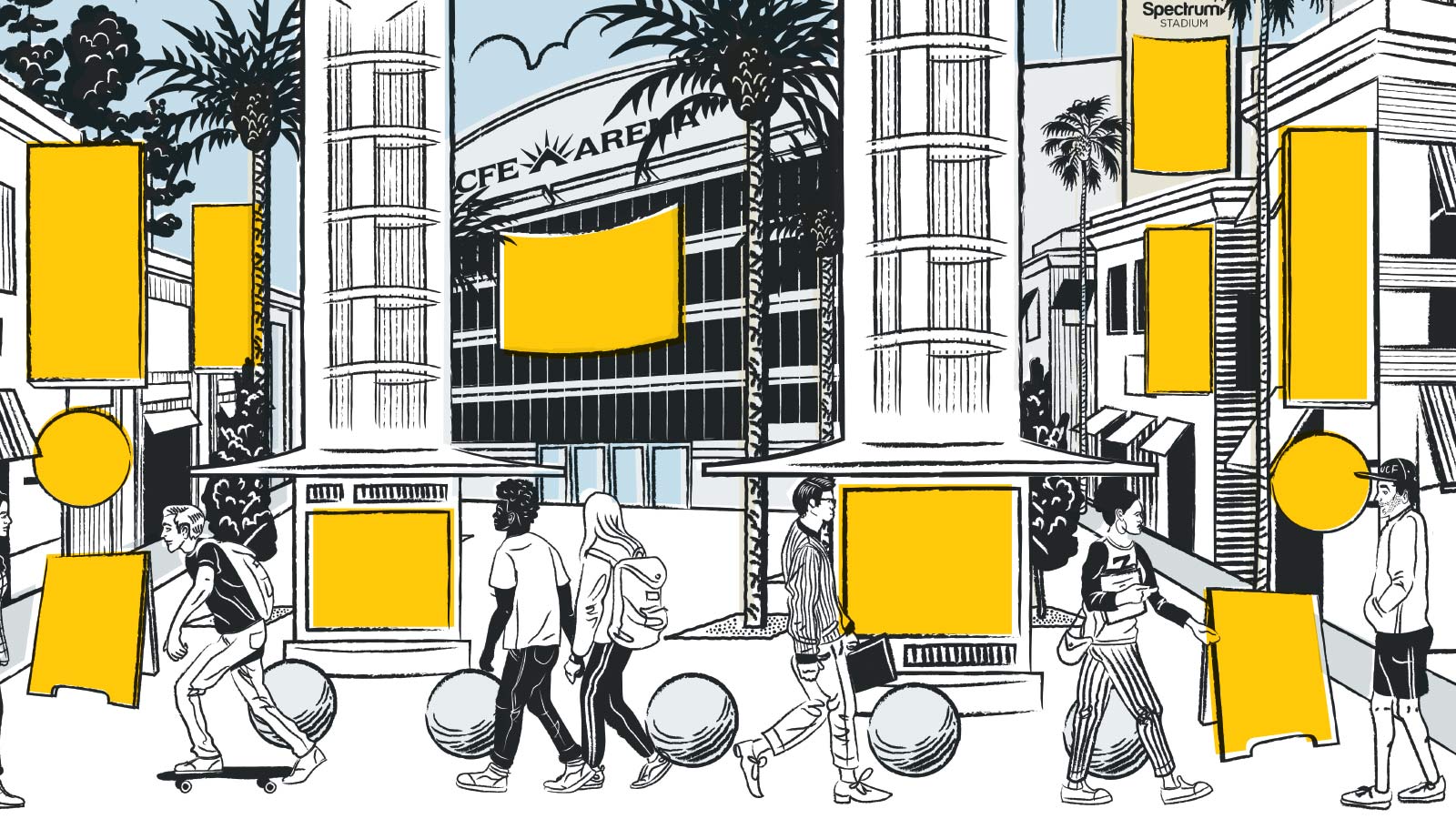 How President Hitt Built a Legacy
Over the past 26 years, President John C. Hitt has grown UCF in size, standing and scholarship. But Hitt's ability to guide growth extends beyond the university and into the entire Central Florida region. Here are a few of his major accomplishments.
Summer 2018 | By Nicole Dudenhoefer '17 and Gene Kruckemyer '73
March 1, 1992
John C. Hitt becomes the fourth president of UCF.
Enrollment: 20,302
1993
The National Center for Simulation forms with headquarters in UCF's Research Park.
Today: It is a $6 billion modeling and simulation hub.
1995
UCF's favorite tradition, Spirit Splash, happens by accident when student body president Miguel Torregrosa '94 is thrown into the Reflecting Pond.
Today: Considered one of the nation's best campus traditions
---
"Simply stated, I believe Walt Disney and John Hitt have done more to transform Central Florida into a vibrant, dynamic place than any [other] two people."

Jeb Bush, former governor of Florida
---
1996
The football team joins Division I-A.
Today: In January, the Knights defeated Auburn to win the Peach Bowl and end with a perfect 13-0 national championship season.
1998
On behalf of UCF, Hitt accepts the John Young Spotlight Award for outstanding achievement in bringing positive national and international attention to the community.
---
"I can truly say that I don't think there are too many university presidents in this country that have had as much effect on their university and their community as Dr. Hitt has in the past 26 years."

Buddy Dyer, mayor of Orlando
---
2004
The Rosen College of Hospitality Management opens its doors.
Today: No. 2 hospitality and hotel management program in the world (CEOWORLD Magazine)
2005
The Florida Interactive Entertainment Academy holds its first classes at UCF's Center for Emerging Media in downtown Orlando.
Today: No. 3 video game graduate school in the world (The Princeton Review and PC Gamer)
2005
For the first time, UCF receives $100 million in research funding.
Today: UCF has received more than $1 billion in research funding in the past decade.
---
"I think that what you all have there in Central Florida is the emergence of a fantastic world-class university that is very different from UF and FSU. John was the person that was able to pull that off. In a sense, he's building the modern 21st-century model."

Michael Crow, president of Arizona State University
---
2006
DirectConnect to UCF launches. It becomes a national model of guaranteed admission to a four-year university after earning an associate degree from a partner college.
Today: More than 45,000 students have graduated with a bachelor's degree from UCF as a result.
2006
The College of Medicine is established.
Today: 98 percent residency match rate for graduates, which is higher than the national average of 94 percent
2006 & 2007
Orlando magazine names Hitt as No. 1 on its list of "50 Most Powerful People" in Central Florida. He has made the list every year since.
---
"Dr. Hitt's pride and happiness at that 10th anniversary celebration for the National Entrepreneur Center really sums up what he has devoted his UCF presidency to — the creation of strategic partnerships, investment in innovation and the launch of a national model for excellence."

Teresa Jacobs, mayor of Orange County
---
2007
Bright House Networks Stadium (now Spectrum Stadium) and the CFE Arena open in the same month.
2008
The White House presents Hitt with the President's Volunteer Service Award for his outstanding service to the community.
2009
The charter class of UCF's medical school receives four-year scholarships that cover tuition and living expenses — the first award of its kind in the nation.
2013
UCF joins the American Athletic Conference.
Today: Student-athletes graduate at a higher rate than at any other public NCAA Division I school.
---
"Our colleges and universities need to be bigger and better. UCF has been a pioneer in showing how that can be done. I hope other colleges and universities will learn from its success."

Bill Gates, founder of Microsoft
---
2015
Washington Monthly names Hitt one of America's 10 Most Innovative College Presidents.
2015
U.S. News & World Report includes UCF among its list of Most Innovative Schools, along with Harvard, MIT and Stanford.
2016
The UCF Downtown campus, in partnership with Valencia College, is approved by the Florida Board of Governors.
It is scheduled to open in 2019.
2017
The UCF Lake Nona Medical Center is approved by the Florida Board of Governors.
June 30, 2018
Hitt will retire from the presidency.
Enrollment: 66,183
---
"One of his great contributions is that he's lived his entire career looking for ways to have more impact on the people and the communities UCF serves. His model of impactful leadership has been really powerful."

Sandy Shugart, president of Valencia College
---