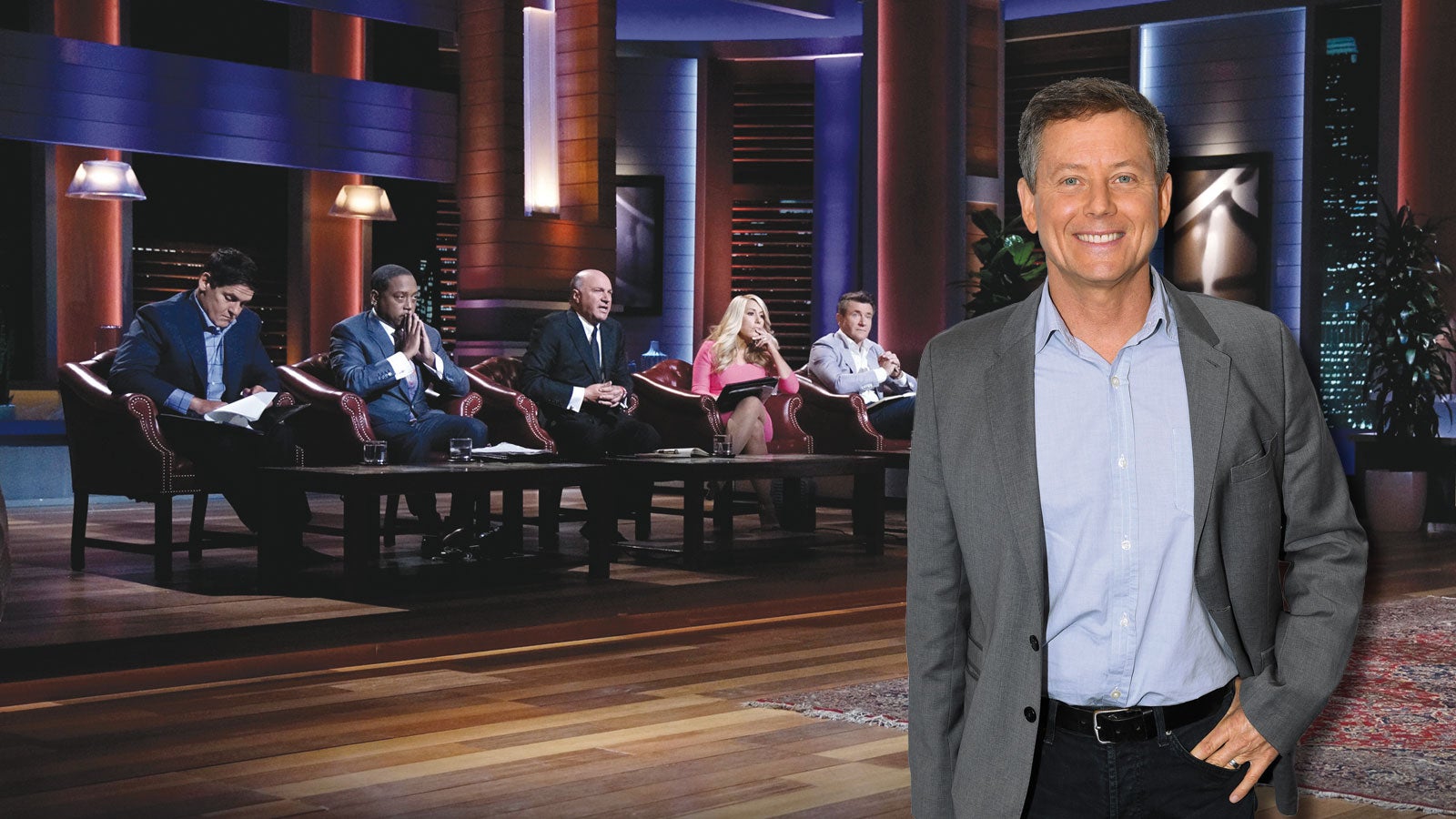 How to Sell Your Idea (and Yourself)
Six keys to pitching your idea from the executive producer of Shark Tank.
Fall 2017 | By Eric Michael '96
Clay Newbill '82 knows that two minutes can change lives. As the showrunner for ABC's Emmy Award-winning reality hit Shark Tank, he has seen hopeful entrepreneurs convince the program's financiers ("sharks") to fund their dreams — and it all starts with a 120-second pitch. It's a make-or-break moment.
"You've got one shot," Newbill says. "Don't blow it."
Newbill is helping Nicholson School of Communication students succeed in the harsh realities of business and entertainment by providing an unprecedented scholarship opportunity. Included is an offer to intern on his show, along with the funding to make relocation to Los Angeles feasible.
"I graduated with a double major in film and radio-television production, but couldn't get a job because I had no practical experience," says Newbill, whose credits include The Bachelor, The Bachelorette, Road Rules, The Real World, The Mole and Making the Band. "I wanted to make sure that students didn't make the mistake that I made by not doing internships."
The Clay Newbill Hollywood Scholarship Program, now in its fifth year, has brought more than 15 students to California to work on Shark Tank. And it's spawned a few success stories of former interns who now work in the industry.
"For a student pursuing a career in entertainment, there's nothing really that can compare to the experience," says Newbill, who attributes his involvement with UCF's Orientation Team, Interfraternity Council and cheer squad for developing his leadership skills. "For a student pursuing a career in entertainment, there's nothing really that can compare to the [internship] experience because it's not just what you know — it's who you know.
The same holds true for the Shark Tank entrepreneurs. And part of Newbill's responsibility as executive producer is to coach the contestants to make their best possible pitch.
"It's inspirational to see the growth of these entrepreneurs who spend weeks or months fine-tuning their pitch, then make that pitch to the sharks," says Newbill. "There's something magic about the blend of skill, faith and courage that can lift a person's dream to incredible success."
Here are Newbill's six keys to selling your idea and turning your dreams into reality:
---
Believe in Yourself so Others Will
"If you're trying to convince someone to buy your idea, they need to see that you believe strongly enough that they're convinced to believe too. You have to be relentless. On Shark Tank, after the initial pitch, sometimes the entrepreneurs are in there for an hour answering the sharks' questions and they walk out with a deal. It's not only an affirmation their dream is valid but also that they had the drive and the passion to convince five super-powered, super-successful business titans to believe in them."
---
Turn Courage into Confidence
"Confidence is one of the most important things that I talk about with the entrepreneurs when they're preparing their pitch. Make eye contact. Project your voice. Don't stammer. Don't mumble. Body language is really important too. By strengthening your poise, you won't lose your confidence."
---
Address Your Weakness
"Every big idea has an Achilles' heel. You know what yours is. Don't try and sweep it under the rug. Embrace it, so when somebody expresses concern about the flaw, you have an answer. Acknowledge the potential pitfalls. You need to be ready with an answer, and it can't just be, 'Oh, don't worry about that.' It's got to be a legitimate response of why it's not going to stop you from succeeding."

---
Focus to Maximize Clarity
"We make great effort to ensure that the sharks know nothing about the businesses beforehand. The entrepreneurs have to come in and quickly communicate their idea with clarity so the sharks can understand the opportunity and how the business works. I advise them to demonstrate the problem first, then present the solution their business provides. The most important element for a shark making a decision to invest is if they think a person at home — you or me — is going to need the business or product. Does it solve a problem or improve upon something that currently exists? Does it save people money? That's the clarity."
---
Practice … and then Practice Again
"You don't want to walk out of the pitch and think, 'Oh, wait a minute. I forgot to tell them this, this and this.' You can avoid that by practicing so you know it frontward and backward. You've only got one shot to impress someone. Whether it's the sharks or anybody else you may be pitching, you want to nail it. And you've got to practice to ensure that."
---
Persevere Until You're Successful
"You're going to have plenty of people tell you, 'This will never work,' or 'What are you thinking?' — even your friends. You've got to be thick-skinned. You've got to be willing to hear the noes. Rejection can't break you down. Failure is a fantastic opportunity to learn, improve and grow. A lot of entrepreneurs who come on the show take the sharks' advice and apply it — whether they get the deal or not — and have success afterward. Perseverance is not giving up on your idea just because someone told you no."