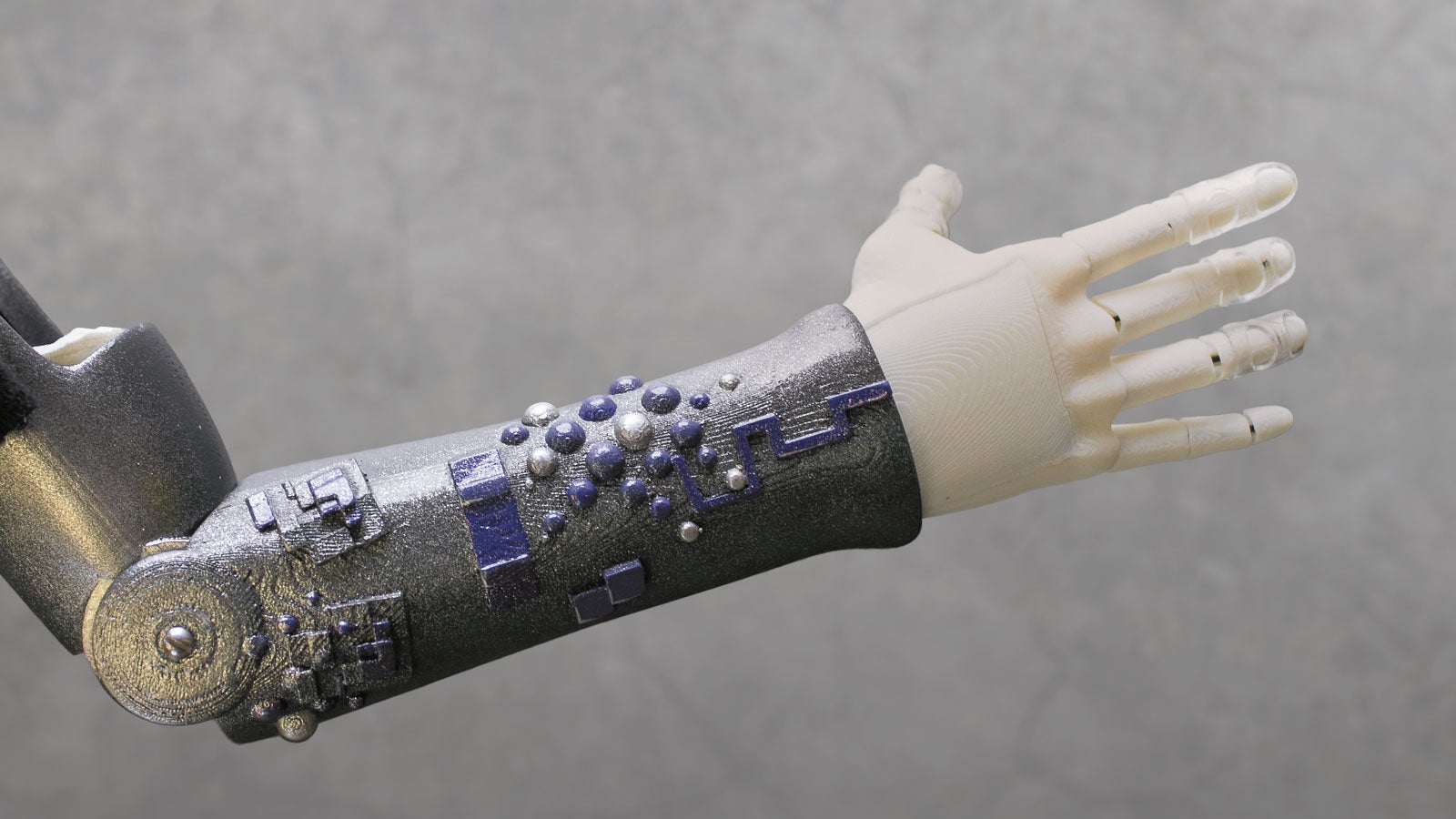 Limbitless Solutions' bionic arms highlight each child's passion and personality.
Summer 2017 | By Angie Lewis '03
Limbitless Solutions didn't start off with the colorfully detailed, custom designs for which they're now known — such as the Iron Man-inspired arm their first recipient, Alex Pring, received in 2015. It wasn't until the UCF student-run organization that creates free, 3-D printed bionic arms for children noticed Alex changing the colorful fingertips on the original arm he received that they realized how important it was to give kids arms that show off their personalities.
This creative customization is what inspired Stephanie Valderrama '16 to volunteer for the nonprofit. The graphic design major says she often found herself in the engineering building, admiring its innovative, fun spaces, when she came across a display of Alex and the work Limbitless Solutions was doing.
"I saw the [arm] sleeves and noticed that they were hand-painted," she says. "I like to paint, so I thought I would volunteer and start there."
After first putting her graphic design skills to use on one of the organization's Indiegogo campaigns, which helps to raise much of the money to create and build bionic limbs, Valderrama finally got to show off her artistic abilities, designing and hand-painting the intricate details on many of the arms.
Here's the inside scoop on Valderrama's favorite bionic arm:
---

The Reveal
Connor Moline was born with a partial left limb due to amniotic band syndrome. He was 12 years old when he received his Minecraft-themed arm as part of Limbitless Solutions' 12 Arms for Christmas project in 2015. "That was my first time seeing the reaction of a child getting my arm," Valderrama says of watching the family's home video. "He opened his wrapped box and said, 'It's my Minecraft arm! It's so cool!' He turned it all around and had this look of amazement."
---
The Theme
When beginning the design of Connor's arm, Valderrama had very little knowledge of Minecraft. And she had never heard of Connor's favorite character, the Endermen, who have long arms and purple eyes and leave behind floating purple particles when they teleport. "I decided to explore the video game realm and played some games to immerse myself," she says. "I took inspiration from the cubical form and colors for my sketches."

---
The Design
Valderrama knew the design would be tough since Minecraft is pixelated, much like video games in the early '80s. To achieve the look, she used spray, acrylic and metallic paints in designing this arm, which is made from the same plastic as Legos. "We had just bought metallic spray paint and never used it before," she says. "The sparkly texture made the sleeve all the more interesting, and it fit with the mystical character Connor loves so much."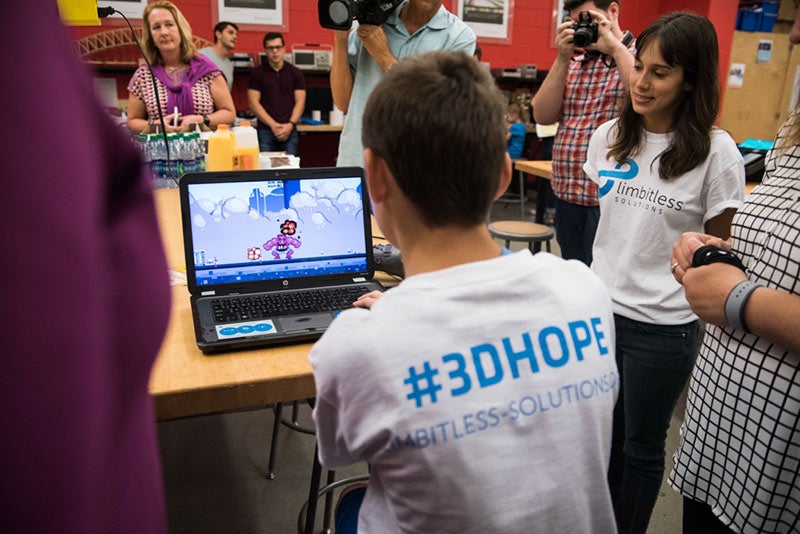 ---
The Ultimate Payoff
Connor's mom, Wendy, says he was most affected by "the fact that he was finally getting the opportunity to feel 'whole' for the first time in his life. He spent much of that evening testing out the arm and opening and closing the hand, trying to pick up small objects. Several times, I would notice his full hand holding the prosthetic hand. At first, I didn't think anything about it. Later on, I realized, he has never had his other hand to hold — and now he has one."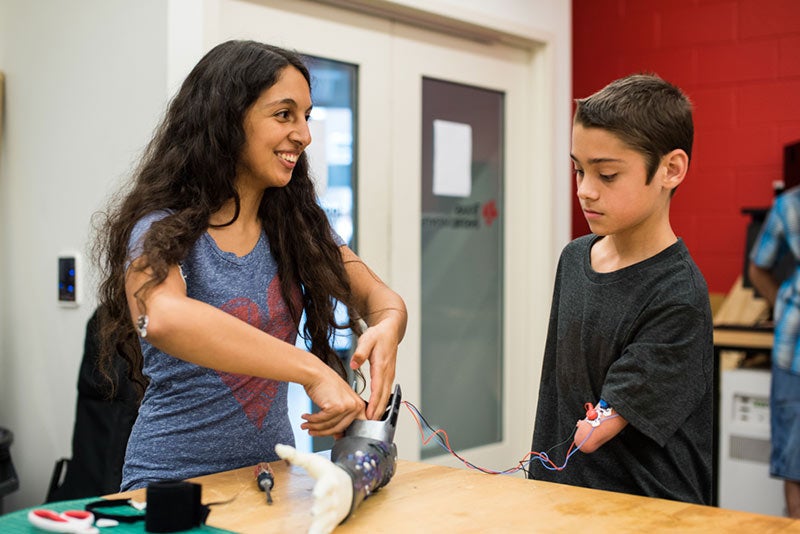 ---
The Reaction
For most kids, the real approval comes from their friends. And thanks to Valderrama's spot-on design work, Connor's Minecraft masterpiece received unanimous approval from all. "[Limbitless Solutions] did an outstanding job on the artwork of his arm," Wendy says. "His classmates at school thought it was a pretty neat design when he showed them. All of our friends and family loved the look of the arm, but beyond that, it was the smile on Connor's face that lit up the whole room."