UCF's 50th Anniversary Celebration: A Knight to Remember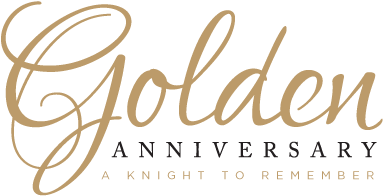 Saturday, June 8, 2013, 6:30 – 9:30 p.m., UCF Arena
Join us for a milestone event as we celebrate the University of Central Florida with a showcase of culinary delights prepared by local chefs representing area restaurants. A memorable evening of friends celebrating with food, fun, entertainment and a look back at UCF through five decades of history.
Join the Celebration
Please join us on June 8, 2013 for A Knight to Remember as we mark UCF's Golden Anniversary with a one-of-a-kind culinary experience.
This landmark event will feature stations of world-class cuisine from Orlando's top chefs and restaurants, as well as live entertainment from UCF's talented students and faculty members. Guests will commemorate UCF's past, celebrate its present and get a glimpse for its future.
The Central Florida community has supported UCF magnificently in its first 50 years. We need your continued support to create a celebration worthy of UCF's remarkable 50-year history.
There are a variety of ticket packages and sponsorships available for this event. There are also opportunities for food and beverage and in-kind partners.
Thank you for your consideration. I look forward to celebrating UCF"s Golden Anniversary with you.
Go Knights!
Helen Donegan
Helen Donegan
Vice President, Division of Community Relations
University of Central Florida
Pegasus Sponsor
Gold Sponsors
FAIRWINDS Credit Union
Florida Blue
Moss & Associates
SeaWorld Parks & Resorts Orlando
Siemens
Universal Orlando Resort
Walt Disney World Resort
Silver Sponsors
Bronze Sponsors
Bank of America
Bright House Networks
Duke Energy
Florida Hospital
GrayRobinson, P.A.
Lake Nona
OUC-The Reliable One
SunTrust
UCF Office of Research and Commercialization
UCF Research Foundation, Inc.
Wells Fargo
$5,000 Sponsors
ABC Fine Wine & Spirits
Barnes & Noble College Booksellers
Clancy & Theys Construction Company
Coca-Cola
Dean, Mead, Egerton, Bloodworth, Capouano & Bozarth, P.A.
Florida Distributing Company
Florida High Tech Corridor Council
Greenberg Traurig
Jack Jennings & Sons
Lockheed Martin
Lowndes, Drosdick, Doster, Kantor & Reed, P.A.
Orlando Health
Orlando Magic
Tupperware Brands Corporation
$2,500 Sponsors
Brown & Brown
Charles Perry Partners, Inc.
Fifth Third Bank
Ginsburg Family Foundation
JP Morgan Chase & Co.
Nemours Children's Hospital
Town & Gown Council
UCF Foundation, Inc.
UCF Office of the President
VALIC
Winter Park Health Foundation
$1,250 Sponsors
Cross, Fernandez & Riley
Gerald and Becky Cherney
Florida Business Interiors
Merritt Contracting Corporation
Orlando Sentinel
Regions Bank
Scott and Susan Rose
Tom and Penny Yochum
Tony and Julee Waldrop
UCF Alumni Association
UCF Athletics
UCF College of Arts and Humanities
UCF College of Business Administration
UCF Division of Community Relations
UCF Strategy, Marketing, Communications, and Admissions
UCF Student Development & Enrollment Services
UCF University Relations
Visit Orlando
Walgreens