Wedding Knights
The bride wore white, and everyone else wore black and gold.
Charles Norburn, '01, and I met at UCF in 2001, and we were married at UCF in 2004. My roommate, Kathy (Bagnall) Brosch, '01, first set me up with Charles' roommate, Ken Votapka, '00, but Ken and I were more like siblings than a couple. When Ken brought Charles to a party at my house, Charles' method of flirting was to sit on my motorcycle and ask for a ride. While I was initially shocked by his audacity, love prevailed.
When Charles proposed in a hot air balloon over a lake, I immediately decided to have a UCF-themed, on-campus wedding. I knew there would be obstacles to overcome, including the views of the traditional family I was marrying into, but it would be worth the challenge.
To say I love UCF is an understatement; much of what I own relates to UCF — my watch, our family Christmas cards, blankets, purses, jewelry, tailgate items, clothes and stationery. I have a Citronaut in my bedroom and a Golden Knight greets all who come through my front door.
Naturally, the wedding colors were black and gold. The bridesmaids wore black dresses and held bouquets of yellow and white gerbera daisies. The groomsmen wore traditional black suits adorned with yellow rose boutonnieres. Our wedding party consisted mostly of UCF alumni — Abigail Bell, '03; Amy Overman, '01; Nicole Phanstiel, '95; Robert Haas, '03; and Ken Votapka.
Our ceremony location was the Reflecting Pond, which was symbolic to both Charles and me. While I was a UCF student, I worked in Millican Hall and lived in Lake Hall, which are both near the Reflecting Pond. Charles currently works with Student Development and Enrollment Services, housed in Millican Hall.
Getting approval to hold the ceremony at the Reflecting Pond was tricky. I went all over campus trying to get the necessary approval signatures. Before I was unanimously denied though, I emailed President Hitt and shared my idea, and he responded with his full approval. That became my much-needed ticket in, and once I showed the appropriate people his email response, my ceremony location was approved.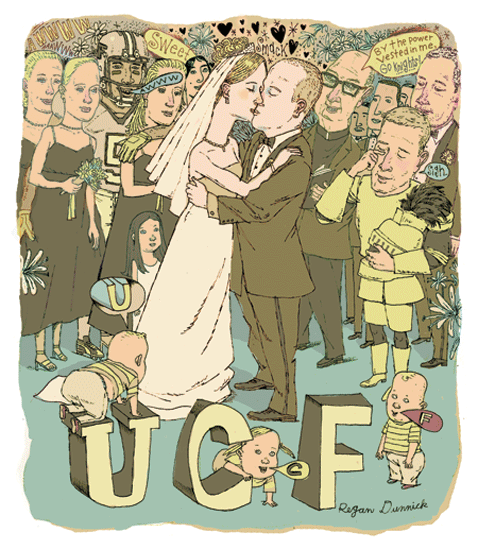 After taking our wedding pictures at The Burnett Honors College, I was escorted to the ceremony by Knightro on a golf cart decorated with aluminum cans. It was the unique entrance I had imagined! As part of a wedding surprise, we asked our best man, Robert Haas, to pretend to forget our rings. The audience gasped, first in panic, but then in excitement as Knightro (Mike Callahan, '05) raced out of Millican Hall bearing the rings and saving the day.
Since our wedding, there have been more than a dozen campus weddings, and many receptions at the FAIRWINDS Alumni Center.
A few years later, we welcomed our triplets, Charlie, Katie and Will, who each frequently don UCF attire. For their first few holiday photos, we even opted to take our pictures with President Hitt rather than Santa Claus. Some of our friends have joked that we had triplets just so they could spell out U-C-F! ✦