UCF's 50th Anniversary Celebration: A Knight to Remember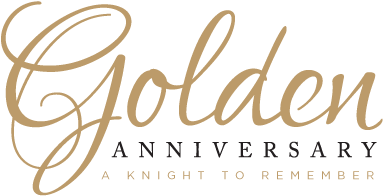 Saturday, June 8, 2013, 6:30 – 9:30 p.m., UCF Arena
Join us for a milestone event as we celebrate the University of Central Florida with a showcase of culinary delights prepared by local chefs representing area restaurants. A memorable evening of friends celebrating with food, fun, entertainment and a look back at UCF through five decades of history.
Food and Beverage Partners
Join us on June 8, 2013, to help us celebrate UCF's Golden Anniversary.
This landmark event features world-class cuisine from Orlando's top chefs, as well as live entertainment from UCF's talented students and faculty.
The UCF Arena will be transformed into a premier culinary experience for our guests, who will enjoy highlights from UCF's past, celebrate its present and glimpse plans for its future.
Best of the Best
We are looking for participation from our exceptional food and beverage partners to help make this evening unforgettable. Our goal is to bring together more than 30 leading Central Florida restaurants, caterers, dessert factories and bakeries in one spectacular evening.
We request that each partner donate signature culinary item(s) and have a representative on site to work a station. We encourage you to be creative with your space and to decorate it with promotional material.
Showcase Your Work
All of our partners receive two complimentary event tickets and recognition in promotional materials. Your generous support also will enhance UCF student scholarship opportunities.
In addition to supporting UCF, this is a special opportunity to promote your businesses to more than 600 community leaders, philanthropists and corporate executives.
If you are interested in participation please contact Shannon O'Donoghue at [email protected] or 407-823-6313.
Thank you for your consideration.
4Rivers Smokehouse
ARAMARK
Arthur's Creative Events & Catering
Barnie's CoffeeKitchen
Cinderella's Royal Table at MAGIC KINGDOM® Park
Cookie Cousins
Christner's Prime Steak & Lobster
Fleming's Prime Steakhouse & Wine Bar
FreshPoint
Hyatt Regency Orlando International Airport
Mitchell's Fish Market
Moore Fine Foods
Park Plaza Gardens
Pearson's Catering
P.F. Chang's China Bistro
Rix Lounge
Rosen Shingle Creek, A Land Remembered
Rosen Shingle Creek, Cala Bella
Ruth's Chris Steak House Orlando
SeaWorld Parks & Resorts Orlando
Tabla Bar & Grill
The Hyppo
Tibby's New Orleans Kitchen
Universal Orlando Resorts
Waldorf Astoria Orlando
The Yum Yum Cupcake Truck