Vice President and Director of Athletics Terry Mohajir and Head Football Coach Gus Malzahn talk about their vision for UCF as the future of college football and university athletics.
Support Student-Athletes
Your contribution of any amount makes all the difference for deserving students, both in the classroom and on the field.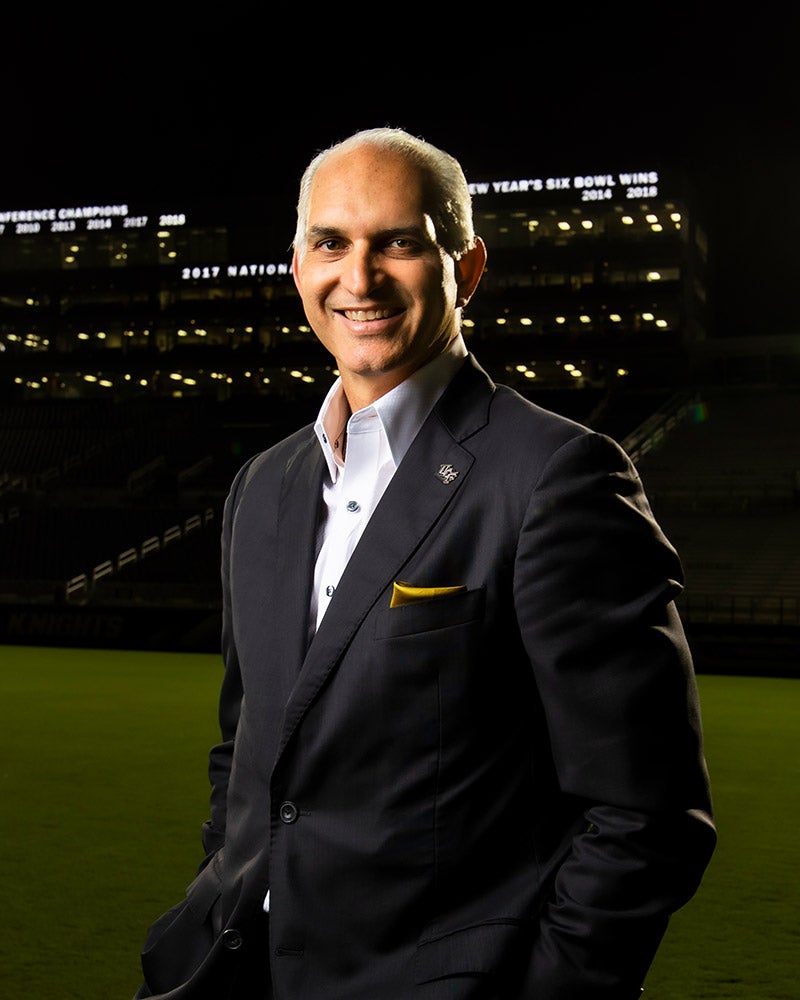 Meet Terry Mohajir
Age

50

Hometown

Overland Park, Kansas

Alma maters

Arkansas State University, B.S. in sport management
University of Kansas, M.S. in sport management/psychology

Playing time

1990–92 Safety, Arkansas State University

Résumé

1993–97 Assistant offensive line coach and game day special teams coach, University of Kansas
1997–2004 Assistant director of athletics/external relations, University of Missouri-Kansas City
2004–11 Senior associate athletics director/external relations, Florida Atlantic University
2011–12 Senior associate director of athletics/chief marketing officer, University of Kansas
2012–21 Vice chancellor for intercollegiate athletics, Arkansas State University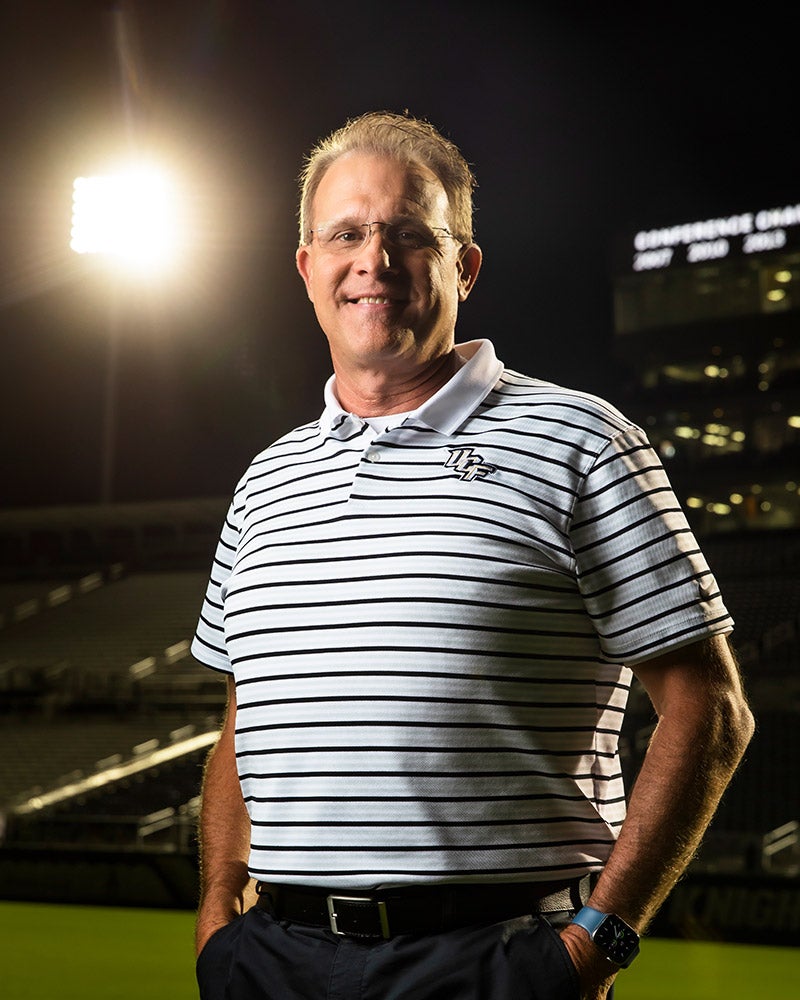 Meet Gus Malzahn
Age

55

Hometown

Fort Smith, Arkansas

Alma mater

Henderson State University, B.S. in physical education

Playing time

1984–85 Wide receiver, University of Arkansas
1988–89 Wide receiver and punter, Henderson State University

Résumé

1991 Defensive coordinator, Hughes High School
1992–95 Head coach, Hughes High School
1996–2000 Head coach, Shiloh High School
2001–05 Head coach, Springdale High School
2006 Offensive coordinator, University of Arkansas
2007–08 Assistant head coach, co-offensive coordinator and quarterback coach, University of Tulsa
2009–11 Offensive coordinator and quarterback coach, Auburn University
2012 Head coach, Arkansas State University
2013–20 Head coach, Auburn University
Excerpt from video interview
Terry Mohajir: Gus, do you remember the first time we met?
Gus Malzahn: You made a good impression on me. You had a lot of energy, a lot of excitement. You were excited to be [at Arkansas State]. That made me feel better.
TM: I remember we met in a hotel in Jonesboro, Arkansas. I was interviewing for the athletics director job at Arkansas State, and you were getting prepared to play Oregon, who was No. 5 in the country.
GM: That wasn't a good night.
TM: I could tell you were very focused.
GM: I had my game face on. But that was a tough road trip.
Why did you call me about this job?
TM: I know with your background and us working together before that you can help this program win — and win at a high level.
GM: Right when you got hired, I told my wife, "If Terry calls, we're going." It was probably about 30 minutes later, you called.
TM: Why do you think UCF can be the best program in the country?
GM: The foundation has already been laid — the great players, the great coaches, the great teams. You're talking about a program that has played in three New Year's Six games in the last eight years. I felt like for a long time if the right guy would ever get here and stay here and build it, it could be the best program in college football. That's really what my thinking was in taking the job. Now that I'm here, I believe it even more.
We've talked about having a chance to be the best football program in the country. How about the rest of the athletic programs here?
TM: I think we have the resources to win a national championship in every sport we have. As we continue to build our vision for the facilities and for what [President] Alex Cartwright wants from an academic mission standpoint — we have the best coaches, I believe, in the country. They are already here and are committed to build this program. We've just got a lot of dedicated people that really believe that we can be one of the best athletic programs in the country.
A lot of people ask us, how do we define success? I'll let you go first.
GM: Success to me is having a goal as a team and a dream … and doing everything you can to achieve it. The second part is preparing for life. It's kind of a two-part thing for me that really kind of goes hand in hand.
TM: Everybody starts out in different stages of their lives, and if someone can maximize their potential while they're here at UCF — whether it be on the athletic fields or in the classroom — at the end of the day it's about getting an education, getting a degree, getting a job and becoming great alumni of UCF. … We get to help produce outstanding alumni for UCF.
When people ask us, "What's your greatest failure?" I don't think we look at any one moment as a great failure. We look at it as a learning opportunity. So even though people may look at it on the outside, and say "Hey, that's a failure…," we can learn from it and say, "You know what? I'm going to be better because of that moment."
GM: From a coach's standpoint, probably my biggest motivation is from losses. I don't think about winning the past championships. I think about a couple of hard losses — even one from high school in the state championship game that I probably think about once a week. But it motivates me. I just try to use those learning experiences, those negative experiences for positives in the future.
TM: I can remember, when I was a player, we actually were playing UCF and I had an interception in my hand. It's probably at least once or two times a week I think about missing that interception. There are these moments in time, but do you get better from those times that you didn't have success? That's how I view failure or success.
Is there anything in your office now that when you look at it, motivates you or reminds you of why you do what you do every single day?
GM: Something I'm pretty proud of right there on my desk is the national championship ring [from Auburn in 2010]. It's also a good conversation piece for recruits. Recruits have dreams and the fact that we won a national championship — been there, done that — I think is a pretty special deal.
TM: Rings aren't so much about the championships. It's about the work that goes into the championships. From my previous [job at Arkansas State], I've got 25 conference championships [rings] from all the student-athletes and they're a symbolism of life: I always say be a champion on the playing surface, be a champion in life, be a champion as a citizen and represent your family well.
GM: I think you're right. We won a national championship and on the field, it was as good as you'd think. It was unbelievable. And I remember getting on the bus after the game and sitting down by my wife and [saying], "That's it." In my mind, I built it up. And then the phone rang, and I started recruiting for the next class. So it helped me understand you've got to enjoy the process of everything and achieving it. That's the fun part. That's what I told our coaches just the other day. I said, "Guys, we're going to win a national championship here. And right now, there's stuff we don't have that we're going to get. But the process — enjoy it. Don't take anything for granted."
TM: You've been at different places, whether it's been high school, Arkansas State, Auburn, Tulsa — isn't it amazing to [build] the foundation as opposed to just being the caretaker?
GM: That's what makes me tick, and that's what motivates me. This situation [at UCF] fits me perfect. I've got a chip on my shoulder, our program has a chip —
TM: Me too.
GM: You definitely have a chip on your shoulder. So that's why I think us all coming together at the right time just feels special and I think everybody around can kind of feel it and that's what's really exciting for me. … I want to win a national championship right here. That's what I want to do. We say the future of college football is here. That's not a marketing deal for me. That's real life.