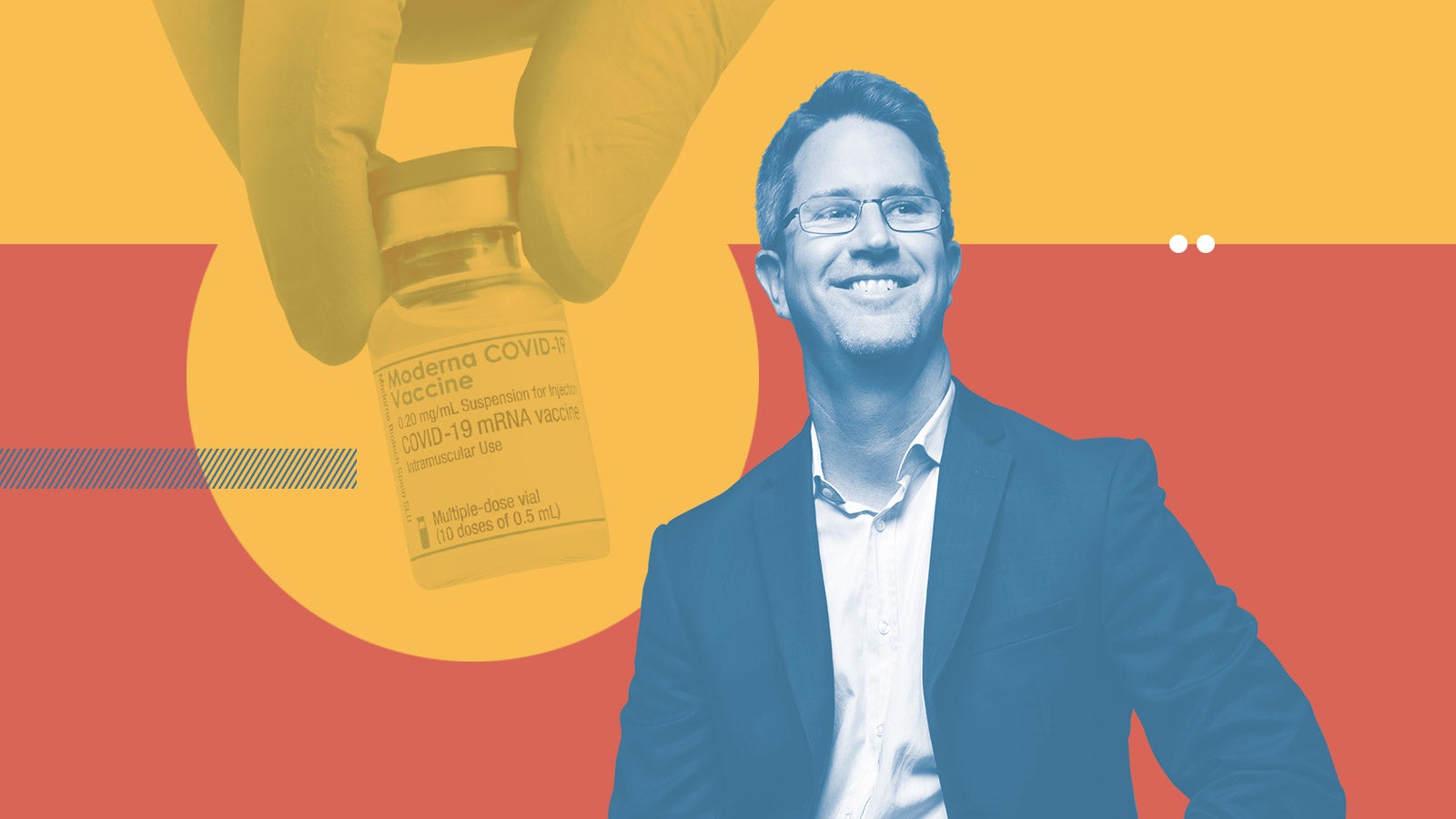 A UCF graduate led the charge to create Moderna's COVID-19 vaccine and opened up the possibilities for the future of medicine.
Summer 2021 | By Jenna Marina Lee 
In late December 2020, Darin Edwards '97 '10MS '11PhD was in the middle of another marathon work day from his home office in Boston when he received a text message from his sister in Orlando.
He gazed at the photos on his screen of his 80-year-old parents, whom he had not seen in a year, receiving their first doses of Moderna's COVID-19 mRNA vaccine — the very vaccine that he led the research and development for as director of immunology at Moderna.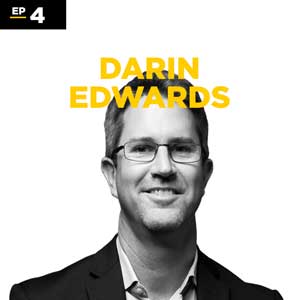 Hear what it was like working on the COVID-19 vaccine, the moment it was released and what Darin Edwards looks forward to most as we approach a return to pre-pandemic work and life.
Nearly every day in 2020, Edwards worked with the weight of the world on his shoulders, and always at the forefront of his mind was the promise of being able to hug his parents again. The day his sister sent those photos — and with it the knowledge that within 10 days after their first dose his mother and father's chances of dying from coronavirus were basically nonexistent — he wept.
"Honestly, it was one of the best moments in my life," says Edwards, who stirs with emotion even now at the memory. "I never expected to be involved in an effort like this let alone lead a critical aspect of it. When I think about what I'm going to remember most from this last year, it's that moment of satisfaction of knowing that my parents were going to be OK and knowing I helped protect people."
While this certainly wasn't the first time in history humanity faced a pandemic, it was the first time that we possessed the technology to change our fate while it was still happening. Edwards held the first vials of Moderna's vaccine in his hand two months before the World Health Organization declared SARS-CoV-2, or COVID-19, a pandemic. The real test is what came next: condensing an approval process that typically takes a decade into a year, and still checking all the boxes for safety and effectiveness along the way.
Yes, what transpired over the last year to get the vaccine made was nothing short of miraculous. But it was also the result of good science and hardworking people. Edwards wasn't just one of them. He was a leader who rolled up his sleeves and changed the world.
"Darin was critical for not just the overall direction of the work that's being done, especially now on the variants, but critical for organizing the work and making sure all the pieces and gaps were filled so the drug development process would not have any stuttering," says Barney Graham, deputy director of the Vaccine Research Center at the National Institutes of Health. "I would say now he's looked at as one of the leaders of this program. UCF should be very proud of him. He worked like a superhero last year. We all did."
Edwards moved to Orlando just prior to his senior year of high school. He received a full scholarship to attend UCF for his bachelor's degree in biology and — after working as a computer programmer for nearly a decade — went on to pursue his master's degree in molecular biology and doctorate in biomedical sciences, with an emphasis on neuroscience.
Edwards says what he most appreciated about his experience at UCF was the freedom he was given to explore independently, embrace curiosity and think critically to innovate and discover answers. He points to that time as the building blocks that helped him guide Moderna through the unprecedented process of developing and licensing a vaccine within 11 months without a road map.
"I had to pull from experience in the past in developing new approaches to situations that were part of a vaccine development process. Without that kind of foundation — that ability to explore and develop myself in the way that I did at UCF — I would not have been prepared encountering those situations," Edwards says. "It really established who I am."
His interest and expertise in vaccine development expanded when he accepted a position as a scientist for Sanofi Pasteur, one of the four major vaccine developers in the world. As he climbed the ranks in his nearly eight years with the company, he worked on a wide number of vaccine projects, including dengue, Zika, yellow fever, staph, flu and respiratory syncytial, which allowed him to learn every step of the process of creating a safe and effective vaccine.
"My passion really grew and developed, not only in the work but in the mission," Edwards says. "It's a really nice idea to develop something that when you give it to somebody, it will protect them from something they'll never know they would have been exposed to; to prevent them from ever getting sick. I always wanted to help people. That's been my goal and objective, and getting to the position I had while at Sanofi and now at Moderna, it's beyond what my expectations were in terms of making an impact."
While at Sanofi, he also gained a critical understanding of messenger RNA through partnerships with Translate Bio and Germany's CureVac, two mRNA vaccine developers. At the time, mRNA vaccine science was just breaking ground. Edwards worked closely with the companies in studying, developing and leveraging the same technology that years later would be a crucial tool to surmount an effective and swift response to the coronavirus pandemic.
In short, he had molded himself to be exactly the type of scientist we needed when the world came to a crashing halt in the spring of 2020.
"I preach to my students all the time, if you're in this lab, you are going to have the skills to be able to change the world," says James Hickman, a professor of chemistry at UCF's NanoScience Technology Center, where Edwards worked as he pursued his doctorate. "All I have to do now is point to Darin as proof."

Today, Moderna is a household name. But in June 2019 when Edwards accepted a position as an associate director of infectious disease, few outside of the field knew about the small startup that began in 2010.
He says his first six months were relatively normal — weekends were still his own. And then rumblings of reports from China about a mysterious respiratory illness started surfacing.
"We started talking to NIH immediately, and the theory was it was likely a coronavirus," Edwards says. "We already had the idea that there might be a need for a vaccine even before January 2020."
Edward Holmes, a professor at the University of Sydney in Australia, posted the virus' genetic sequence online on Jan. 10, 2020, on behalf of a consortium led by Fudan University Professor Yong-Zhen Zhang in Shanghai. Halfway around the world, Edwards woke up the next morning to the revelation, a meeting was convened with his collaborators at NIH, and the sprint to create the vaccine began.
Traditionally, most vaccines use weakened or inactivated versions of the virus to stimulate the body's immune response to create antibodies. In contrast, mRNA vaccines — such as Pfizer and Moderna's COVID-19 vaccines — take advantage of the natural process that cells use to make proteins in order to make a virus protein that triggers an immune response, building immunity against the virus.
In other words, Moderna didn't need to have the actual virus to get to work. Edwards says within 48 hours of reviewing the sequence that was shared online, Moderna had designed its vaccine and started the process of making it.
In those early weeks, he says the project felt more like one of their research activities. In March, the stakes elevated when the United States began implementing stay-at-home orders to flatten the curve, a global pandemic was declared, and Moderna and NIH started their phase 1 clinical trial.
"The mindset shifted," Edwards says. "It turned into 'There's a global need. There's something that has to be done or else people are going to continue to die. Businesses are going to continue to be closed.' It became an all-consuming endeavor where there was no sacrifice too big or too small that we were willing to make personally in order to make this happen."
---
"[W]ho would we be as scientists, as researchers, as global citizens to not give whatever had to be given in order to make [the vaccine] happen?"
---
His team committed themselves to the mission and were prepared to do whatever was possible to make the vaccine as rapidly — but as comprehensive and as perfect — as they could because all three of those aspects were required to make the effort a success.
When he says do whatever was possible, he's not understating the undertaking. There was a period of six months when Edwards worked 13 to 16 hours a day without a single day off. When he visited his parents in May this year, it was just his third day off since the vaccine project started.
"I think my head hasn't stopped spinning since then, but you can't say no if it means we could cut a day or a week or a month off our developmental process in order to get what was needed globally," Edwards says. "There were several times when we were all daunted. But we were not stopped. No matter how many moments where tears were shed, we pushed forward, and we made it happen. Because we knew we had the solution, and we knew that people needed that solution. So who would we be as scientists, as researchers, as global citizens to not give whatever had to be given in order to make it happen?"
On the days when the pressure was too much to handle, his 9-year-old son or 7-year-old daughter would pop into their dad's home office for an extra hug; his wife would offer a hand to hold.
Prior to the start of the pandemic, Moderna employed less than 1,000 people. By comparison, the staffs of Johnson & Johnson and Pfizer ranged from 75,000 to 100,000 people. There were certainly challenges in being the small startup in this race.
Moderna needed to scale up their manufacturing process to meet the future demand at a commercial level. They needed to bolster their clinical and regulatory affairs team because prior to the pandemic, Moderna hadn't needed a robust one.
But in other ways, Edwards says, their small size was an asset. He can pick up the phone and call his CEO at any time. As a project team, they're able to debate and identify a course of action quickly.
"The people that I work with are without exception incredibly brilliant, talented and motivated," Edwards says. "Having that unique motivation, talent and drive through an effort like this enabled a small team to do what should have taken a much, much larger team."
Moderna's partnership with NIH was critical to make the process quick and comprehensive. The two formally entered a research collaboration agreement on pandemic preparedness in 2017 and had previously studied another coronavirus — Middle East Respiratory Syndrome — which gave them a solid foundation of knowledge for their COVID-19 response.
When the pivotal phase 3 trial started in July 2020, Moderna reviewed the demographic data about those most heavily affected by the disease, namely members of the Black, Latinx and Native American populations. Moderna intentionally slowed the trial by a few weeks to make sure more people of color were included. In their trial group of over 30,000 participants, 20% were Hispanic or Latinx, 10% were Black and 5% were Asian.
The results were exactly what they hoped for.
The Pfizer and Moderna COVID-19 vaccines were found in the real world to be 94% effective against COVID-19 hospitalization among fully vaccinated adults ages 65 and older in the United States, according to a Centers for Disease Control and Prevention study published in April. Another study published in the New England Journal of Medicine found that among 417 employees at New York's Rockefeller University who were fully vaccinated with either the Pfizer or Moderna shots, only two of them (0.5%) tested positive for COVID-19 later.
"They've completely redefined the way we are going to do vaccines," says Stephen Lambert, professor of medicine at UCF who served as a mentor to Edwards. "If you look at when the polio vaccine was first made in the 1950s, improper inactivation of the live virus led to 40,000 children actually catching polio from the vaccine. With the mRNA technology, this is not even an issue. You could not have made a vaccine that fast using traditional methods. This technology has probably saved tens of thousands of lives. What they've done is a huge leap forward."

For all of the distress COVID-19 caused, it also broke down barriers that helped lead to those scientific breakthroughs.
"Everybody was willing to work with everybody else — competing companies working with each other or government agencies and commercial companies working together," Edwards says. "That's the biggest lesson learned in this experience — that we can really do a lot more in everything if we can just keep those barriers at a minimum."
Edwards says arriving at the finish line first with an approved vaccine would have been the cherry on top for the sacrifices he and his team made. But make no mistake, when Pfizer presented to the U.S. Food and Drug Administration a week before Moderna for approval of emergency use authorization, Edwards says he was absolutely rooting for his competitor.
"I'm sure they were rooting for us just as strongly," Edwards says. "I worked directly with Dan Barouch, who led the team that designed the vaccine for Johnson & Johnson, and as soon as the committee was over I called him up and said, 'Congratulations, great work.' We legitimately were rooting for and continue to root for the other companies because no one company can make 7 billion doses of the vaccine."
Right now, Moderna's main focus is still on the pandemic and responding to the virus' evolution. Edwards is helping develop potential booster shots that may cover the variants of the virus that popped up after the initial vaccine was greenlighted for distribution.
Graham also stresses the importance of getting the vaccine distributed in developing nations.
"As a relatively new technology and as something that didn't really have a supply chain developed for high-scale manufacturing, it's still relatively expensive compared to some other technologies," Graham says. "I'd like to figure out how to get the cost down or at least get the technology exported into the developing world, so we can get more of this made in more places."
Last spring, in an effort to help address that very issue, Moderna announced it would not enforce vaccine patents during the pandemic.
Although mRNA vaccine technology had been studied for decades before the pandemic, the COVID-19 vaccine was the first to make it through the FDA's approval stage for distribution. Last year has proven the technology's safety, viability and possibilities.
Edwards says he looks to grow Moderna's infectious disease team and resources to enable the development of more vaccines against more targets and extending to therapeutics, cancers and other rare diseases. For instance, Moderna has already received positive interim data for a cytomegalovirus (CMV) vaccine candidate that is entering a phase 3 trial, and has a robust investigational clinical vaccine pipeline that includes a promising HIV vaccine, Edwards says.
Despite succeeding in his goals in the most challenging year of his life, Edwards still approaches each day of his job with a hunger to continue to do and be better.
And on the days when it's harder for him to believe he can make a difference, he looks at a small sign his wife gifted him that reads, "Don't forget how awesome you are."
"I tend to get down on myself and don't give myself credit," Edwards says.
He might not.
But now the rest of the world can.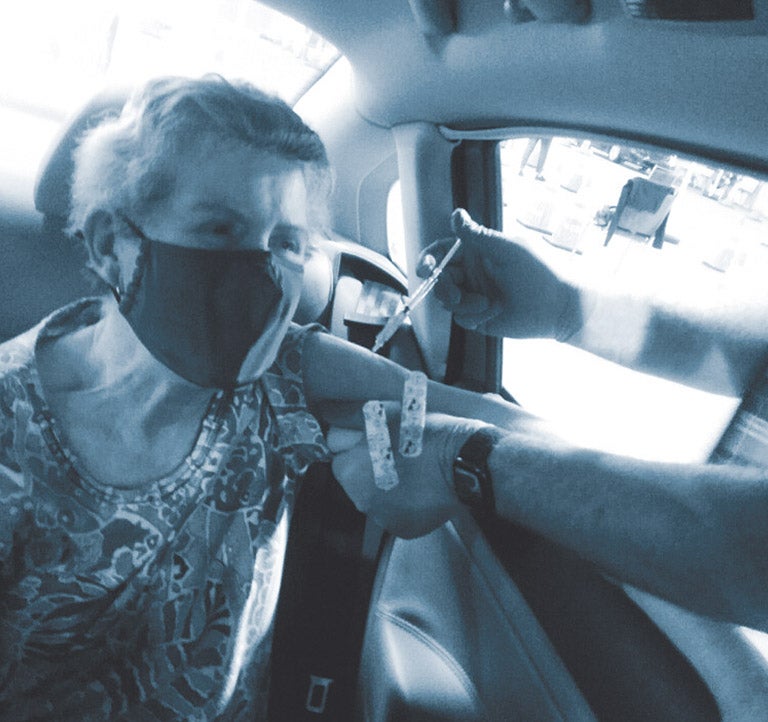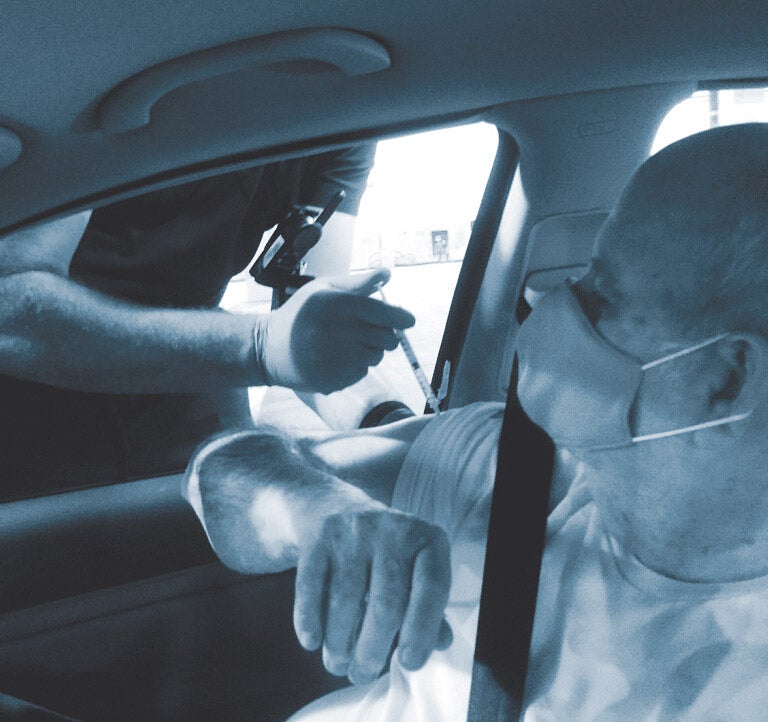 ---
"When I think about what I'm going to remember most from this last year, it's that moment of satisfaction of knowing that my parents were going to be OK and knowing I helped protect people."
---