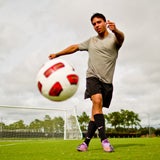 UCF has ingrained in me the desire to always live for every moment whether learning in the classroom or cheering my Knights at all the games. Forever Black & Gold!
Go Knights!
With every three-point shot, touchdown, goal
and award our players achieve, UCF Athletics scores points toward the national recognition it deserves. In everything they do, our players work to make UCF a better place to live, work and play. Start getting in on the action by visiting the UCF Knights Web site.
New places. New traditions.
UCF may be the only university to open two new venues in a single year. And that's just what we did in 2007. We're committed to bringing our students, alumni, friends and neighbors together to celebrate long-held traditions and to create new ones. It's all right here on the Orlando campus.
UCF Sports Venues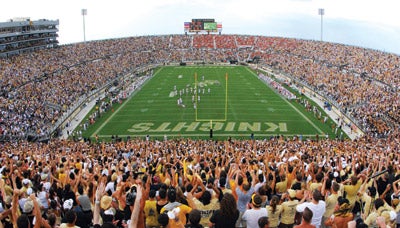 Football
If it's a no-holds-barred football game you're after, join 45,000 other fans, students and alumni at the Bright House Networks Stadium. Get into game-day spirit by being a part of the Knight Walk and singing the UCF fight song.
Basketball, Volleyball and more
The CFE Arena is home to the men's and women's basketball and volleyball teams. In addition to games and competitive tournaments, the Arena also hosts an array of exceptional show-stoppers, such as Elton John, Dave Chappelle and the Harlem Globetrotters.