Orlando's Hometown University
Looking for a university with campus locations designed to fit your needs? Look no further than UCF. With more than a dozen locations throughout Central Florida, we make it convenient for you to earn a high-quality education in and around Orlando — one of the fastest-growing metro regions in America. Multiple campuses, specialized colleges and online courses provide access to UCF's accredited, flexible degree programs no matter where you are.
And no matter how you like to learn — full-time or part-time, new student or nontraditional — UCF has the programs to fit your schedule and your budget.

Main Campus
The Main Attraction
As UCF's home since 1968, our 1,420-acre main campus in east Orlando is impressive in size and even bigger in potential. Modern facilities and state-of-the-art technology keep you connected to classwork and social communities, while 800 acres of woodlands, lakes and an arboretum help you reconnect with nature. Whether you're inside a classroom or outside exploring, our campus is an exciting place to learn — and an easy place to love.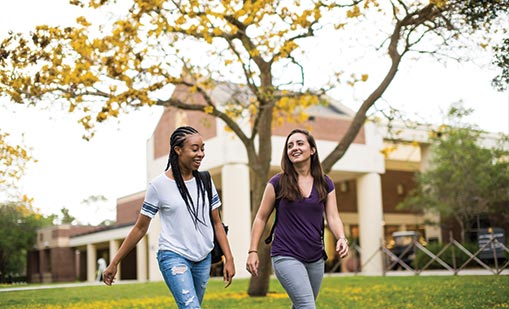 Academic Health Sciences Campus
Lake Nona's Medical City and Beyond
The UCF Academic Health Sciences Center is educating future doctors, nurses, healthcare providers and scientists in a new and better way for the 21st century. It's your destination for innovative health and wellness services. Plus, cancer patients from around Orlando and surrounding areas benefit from a one-stop research and treatment center, which opened in 2021. The new center houses cancer researchers, clinical trials and treatment for patients.
Our location in Lake Nona's Medical City, with esteemed neighbors including Nemours Children's Hospital, the University of Florida Research and Academic Center, the VA Medical Center and UCF Lake Nona Hospital, is unrivaled and ensures we'll continue to epitomize innovation and transform healthcare for generations to come.
Explore Further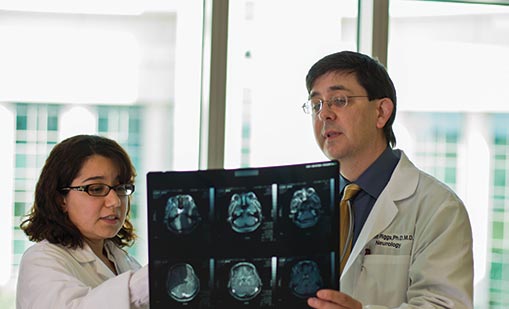 UCF Downtown
Big Dreams, Bigger Futures
UCF Downtown is a game-changing campus in the heart of our great city that offers the opportunity for students to live, learn and work in downtown Orlando. Opened in Fall 2019, the 15-acre campus incorporates innovative technology to create a 21st-century learning environment. UCF Downtown is the home base for a variety of degree programs, including those focused on civic engagement and government, safety and justice, community well-being, content creation, communication, and
digital arts and entertainment
.
Explore Further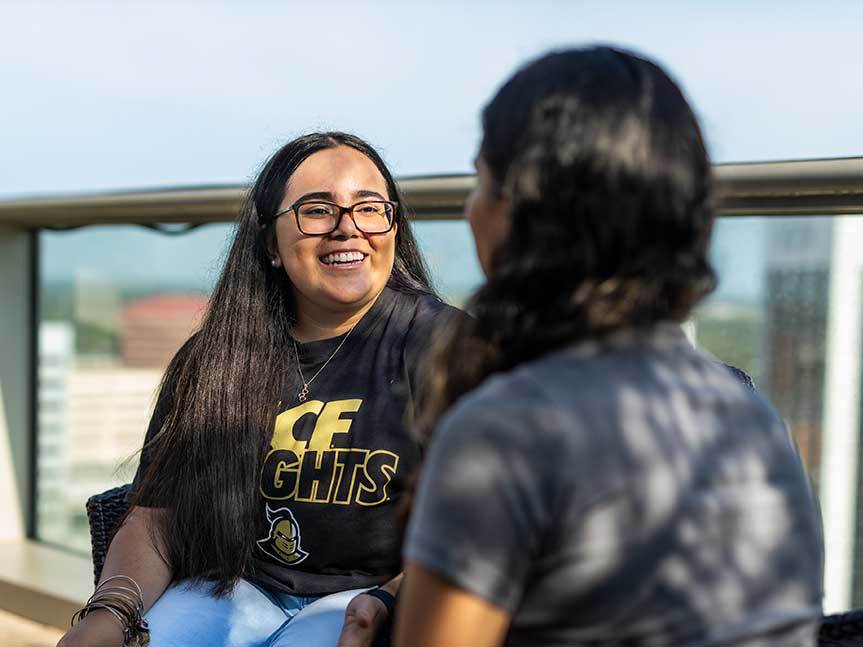 Rosen College of Hospitality Management
Let's Serve Together
Looking to start a career in hospitality management? Look no further than UCF's Rosen College of Hospitality Management. We're ranked in the top 5 among best colleges for hospitality and tourism in the world by CEOWorld magazine and in the ShanghaiRankings for research.
Located in the heart of Orlando's hospitality corridor next to world-famous attractions, resorts, restaurants and convention spaces, our 159,000-square-foot building is the largest and most advanced facility ever built for hospitality management education. And for good reason. With millions of visitors each year, Orlando is the nation's No. 1 destination for travel. So you won't just be learning in America's top hospitality and tourism district — you'll be immersed in it.
Explore Further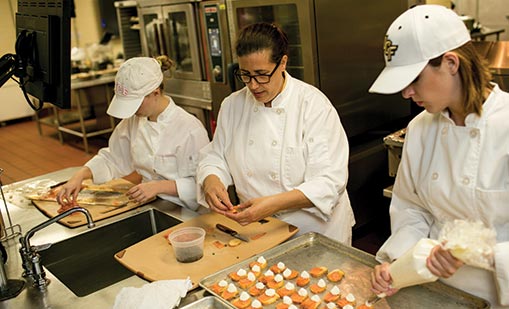 UCF Online
Attend UCF From Anywhere – Online Programs
Sometimes, going to class means not going anywhere at all. With UCF Online, choose from more than 100 programs available fully online so you can learn wherever and whenever it's convenient for you. Take classes from your home, or earn a degree on your lunch break. Access your courses and materials right from your fingertips.
With 25 years of innovation in distance learning, you'll get a high-quality education without ever having to find a parking space. Choose from a wide range of programs, including healthcare, engineering, hospitality, leadership and management, among many others. From online bachelor's, master's and doctoral programs to professional certificates, gain a competitive edge and achieve your dreams.

UCF Connect Campuses
Go Far, Drive Less
Dedicated to offering an education that fits your lifestyle and busy schedule, UCF Connect offers centers conveniently located throughout Central Florida. These extend our reach to neighboring communities, within an 80-mile radius of the UCF Orlando campus. More options and more opportunities ensure that you're able to get the same programs and services as UCF's main campus, plus smaller class sizes, personalized advising and expert faculty.
Another big benefit is DirectConnect to UCF, which accelerates your admission if you've earned an A.A. or articulated A.S. degree from a local partner college. This fosters a seamless transition as you advance from your associate degree to upper-level division work on a bachelor's degree. Find out more information by clicking on a location below.
Explore Further