Degrees
---
Discover what makes UCF exciting and engaging. With more than 240 degree programs, you have more than options here — you have opportunity. Find undergraduate and graduate degrees that are offered in-person, online and through innovative distance learning.
Achieve Academic Excellence
Immerse yourself in new challenges, explore groundbreaking research opportunities and enjoy a student-centered approach to higher education. At UCF, you'll do that and more. Experience everything from thought-provoking viewpoints to diverse cultures to lifelong friendships and life-changing opportunities. Achieve your dreams and set out to do more. By studying at one of the most innovative universities in the country, you'll graduate ready to make a difference in the world while pursuing a rewarding career.
---
UCF welcomed a freshman class with a 4.23 weighted high school GPA in Fall 2022.
---
Fifty-seven percent of first-time-in-college students graduate without any educational debt. It's one of the reasons Kiplinger, Forbes, The Princeton Review and U.S. News & World Report all rank a UCF education among the nation's best values.
---
UCF set new records for diversity in Fall 2022: 49.1 percent of students are minorities. With 28.2 percent Hispanic enrollment, UCF is designated a Hispanic Serving Institution by the U.S. Department of Education.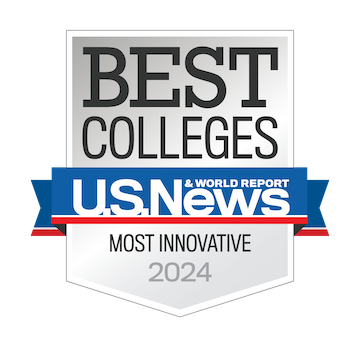 Top 20 Most Innovative U.S. News & World Report
For the sixth consecutive time, U.S. News & World Report ranks UCF as one of the most innovative in its annual list of best colleges.
Explore All U.S. News Rankings
Your Future Begins at UCF
With a core focus on academic excellence and an integrated approach to teaching and learning, you could advance your career and help make a lasting impact in your community and around the world with a degree from UCF. Explore our innovative majors, minors, graduate degrees and certificates.
Recently Searched Degrees
Learning Online
Whether you're taking just one course or pursuing your degree online, UCF has the instructors, resources and support for you to achieve your education goals online. Fully online students get one-on-one support from application to graduation by an online success coach — keeping you inspired and on track throughout your college experience.
Top 5
*Based on Enrollment
Top 5
*Based on Enrollment
Colleges at UCF
The University of Central Florida is home to 13 colleges with more than 240 degree programs that provide a path for you to embrace your talent and follow your dreams. Explore top-ranked colleges, schools and programs at UCF.
Undergraduate Degrees
Pre-professional Programs
Business Economics (BSBA) – Pre-Law
Pre-chiropractic
Pre-dental
Pre-medical
Pre-optometry
Pre-osteopathy
Pre-pharmacy
Pre-podiatry