Program at a Glance
Program

Bachelor

College(s)

Department(s)

Performing Arts, Schl of

4
years

Chart Your Path With a Strong Foundation in Music
The Bachelor of Arts in Music degree at UCF provides you with a convivial, supportive atmosphere of mutual respect, high standards academically and ethically, and faculty that are devoted to your learning and success. The program's liberal arts emphasis also provides a flexible curriculum, allowing you to explore a diverse range of interests through elective courses. Some electives focus on music, while others are non-music courses that complement your area of study courses, such as history, business, communications, humanities and much more.
While this degree track is not focused on performance, you'll have plenty of opportunity to perform — whether it's as part of a musical ensemble or our 350-person marching band, in recitals, operas, in student organizations or as part of our resident symphony orchestra. A capstone project at the end of your studies allows you to show what you've learned and perform or present it — applying the knowledge and skills you've learned during previous courses while designing something catered to your learning goals.
Job demand for musicians in Florida is one of the highest in the country. From theme parks and cruise lines to performing arts companies and schools, there's a number of industries for up-and-coming music professionals to explore.
Related Programs: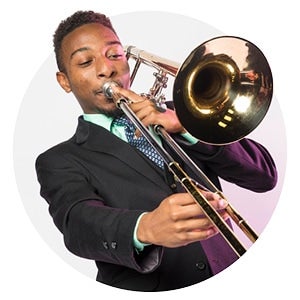 Highlights

UCF students have taught thousands of students tuition-free music education for 20+ years through A Gift For Music.

In 2019, UCF Celebrates the Arts celebrated its fifth year — showcasing students' creativity, innovation and collaboration.

Projected job growth for musicians nationwide is 14%.

Median earnings for musicians with a bachelor's degree is $67,000.
Undergraduate
Application Deadlines
Fall

May 1

Spring

November 1

Summer

March 1
Fall

July 1

Spring

November 1

Summer

March 1
Fall

March 1

Spring

September 1

Summer

January 1
Start Your Application Today
Ready to get started? Take the next step to save your spot at UCF.
2
Short on time? You can start your application today and come back later to finish.
Course Overview
Music Theory and Musicianship
Review studies in music theory, both written and aural skills, including musical analysis, model composition, sight singing, ear training and improvisation over a continuation of four courses.
Music of the United States
Discover music of the United States from pre-Revolutionary times to present, covering vernacular, jazz, popular and art music traditions indigenous to the country.
Music History and Literature
Study the history of Western European art music from antiquity to 1800. Then, in the second course, learn about the history of Western European art music from 1800 to present day.
Music Skills You'll Learn
Practice self-discipline and responsibility through scheduling and time management, staying organized and meeting goals to ensure projects are complete.
Experience how to adapt to various situations, whether you're playing with a new group, learning a new type of music or meeting shifting priorities and obligations.
Get a first-hand look at problem solving techniques — from working within a budget to lesson planning to communicating with different types of people.
Career Opportunities
Arts Administrator
Arts Writer
Entertainment Lawyer
Instrument Repair
Musicologist
Music Director
Music Publisher
Recording Engineer
---
University of Central Florida Colleges