Every Dollar Amplifies UCF's Impact
At UCF, we're committed to opening doors and removing obstacles. We're creating a culture of access, inclusion and achievement. We empower students of all backgrounds to rise to their potential and achieve their dreams.
You — our alumni, supporters and friends — also play a vital role in making a difference. Each dollar invested in UCF impacts lives and fuels discovery. Your generosity unlocks potential and inspires excellence. It expands access to higher education while keeping it affordable. Our resources are finite, but with your support we can keep reaching for the stars.
UCF Alumni
Find events and Knights near you, update your contact info, get career advice or transcripts. We're here for you.
Resources for You
Why Support UCF?
Giving impacts the lives of current and future Knights. Your generosity unlocks potential and inspires excellence. It expands access to higher education and helps make it affordable. Let's join together to improve the quality of life for today's students and tomorrow's leaders.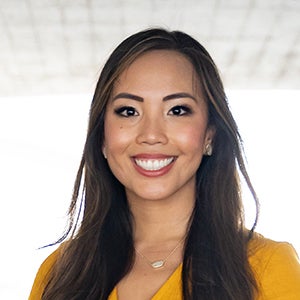 Kristina Merritt '12
"I found my voice and my passion for philanthropy through UCF and the student organizations I was involved in. If it wasn't for my parents, the Florida Bright Futures Program and UCF Scholarships, I wouldn't be here today."
Merritt was a first-generation college student and was named to UCF Alumni's 2020 class of 30 under 30.
---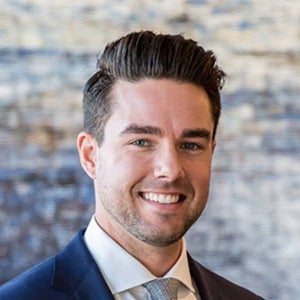 Kyle Simpson '11
"I benefited from the wisdom and encouragement of several mentors during my time at UCF. I knew I wanted to do the same for future UCF students."
Simpson established an endowed scholarship for future President's Leadership Council students.
Where the Money Goes
Help fund student scholarships. Give back to your academic college. Show your spirit through the athletic fund. No matter your reason for giving, we have a number of opportunities that you can contribute to. Support an area that's most meaningful to you.
Student Scholarships
Help remove financial barriers to achieving a degree. Student scholarships make it possible for students to continue their education when they may not otherwise be able to afford it.
Academic Colleges
Put your gift to work by supporting one of our 13 colleges. Ensure students have an engaging and exciting learning environment that drives their ambition and passion.
Campus Facilities
Meet the needs of a growing Knight population. Your gift will build a strong foundation for our future, including state-of-the-art facilities that fuel imagination to do great things.
Student Experience
Promote student involvement on- and off-campus. With 650+ student clubs and organizations, you can support experiences from career-focused clubs to life-changing trips.
Knights Athletics
Celebrate the momentum that our athletics teams have built. With your continued support, the best is yet to come. Keep student athletes charging on — inside and outside of class.
UCF Alumni
With more than 360,000 alumni, Knights make the world a better place. Stay connected with your community of alumni wherever you are. From volunteering to professional development to social events, there are plenty of ways to get involved. We're excited to meet you!
Strength in Numbers
As Knights, we're thinkers, doers and leaders. And with regional chapters and clubs spread out across the country, you're never far from others who share the same love for UCF that you do. Whether you're interested in fun events, fulfilling opportunities or a mix of both, UCF Alumni has all the resources you'll need.
Make new friends and catch up with old ones. Discover ways to stay connected with classmates and your alma mater by visiting the UCF Alumni website UCF Alumni website — because once a Knight, always a Knight.
Upcoming Alumni Events
Up Next
We invite alumni, friends and family to join us this October for Knights Give Back! Help us serve our local community by volunteering at the Central Florida Zoo for Boo Bash! Volunteers will help staff treat carts and activity booths throughout…
Looking Ahead
Pegasus Magazine
Pegasus, the official magazine of the University of Central Florida, is published two times a year and brings exciting, engaging stories of faculty excellence, student success and outcomes, and alumni achievements.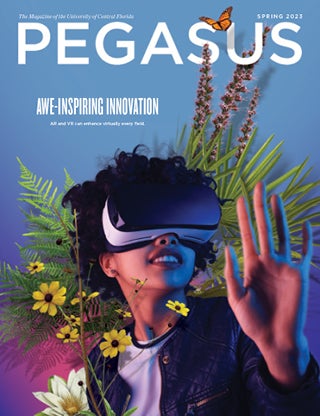 ---
Knight Your Ride
Did you know? UCF license plates are the top-selling custom license plates in Florida. Join the excitement and show your Black and Gold spirit.