The latest recording of UCF's Flying Horse Big Band is Good News!
Really, that's the name of the album – Good News! – and it has been in the top 50 on the three major jazz charts since it was released in July, even spending some time at No. 1 on the Roots Music Report's chart. The band's sixth album under Professor Jeff Rupert is charting higher than recordings by Van Morrison, Mike LeDonne and other notables.
The success of the band, made up of students in the university's jazz studies program, is simple. "We work at promoting good music and artistic endeavors," says Rupert, a tenor saxophonist.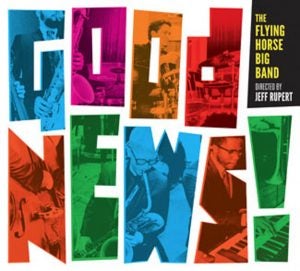 Selections on the album include the works of Miles Davis, John Coltrane, Antonio Carlos Jobim and others. The Good News! title comes from one of the songs on the album, which was composed by one of Rupert's former teachers 30 years ago, Bob Mintzer.
This is the band's first recording collaboration with the UCF Studio Orchestra, which joins on several songs. Other collaborations on the album are with The Jazz Professors (Rupert, Per Danielsson, Richard Drexler, Bobby Koelble and Marty Morell), and guest vocalist Jeff "T-Bone" Gerard.
Rupert, director of UCF's jazz studies, also is conductor of the Florida Symphony Youth Jazz Orchestra and founder of Flying Horse Records.
All sales from the album benefit the jazz studies program. CDs are available from UCF's Performing Arts Box Office and CDBaby, digital downloads are available at retailers, and the album is available on streaming platforms.
The band's previous album, The Bat Swings! (2018), hit the top three national jazz airplay charts, reaching No. 1 on both the Roots Music Report and the North American College and Community Radio chart, as well as No. 29 on JazzWeek.
The band also will have an album of Ray Charles songs coming out in January. Rupert has spent some time in New York producing the vocal component of the album.
"Now we have the top writers and musicians collaborating with the band," Rupert says. "It's a great time at UCF."