Information about resuming guided campus tours will be posted on this website in the coming weeks. Please check back for details.
Virtual and Self-Guided Campus Visits
UCF is calling. And while we've had to suspend guided tours for now, we're bringing campus to you. Get a sense of what we're all about through our virtual tours and info sessions. Check out the sights, talk with counselors and current students, and get answers to your questions. Until we're able to give you a big, warm welcome in person, we're here to help and show you all there is to love about UCF.
Interested in exploring campus on your own? No problem! Review the COVID-19 resources and guidelines for visitors, then use our self-guided tour map to check out campus highlights.
Experience UCF at a distance
Our live-hosted panels, presentations and meetings are held at a safe physical distance through Zoom.
For questions that are personal or require individual attention, sign up for a one-on-one counseling session with an admissions representative.
Prospective Student Info Sessions
When

Mondays at 6 p.m. EDT
Wednesdays at 4 p.m. EDT
Thursdays at 5 p.m. EDT
Fridays at 3 p.m. EDT

Where

Duration

60 minutes
Registration is required.
---
Register for an info session
---

Prospective student information sessions are led by a UCF admissions counselor. They're a great way to learn about the application process, admission requirements and merit scholarships, with some time for Q&A at the end of the session. Stick around after the presentation for a photo tour of campus with the UCF Admissions Ambassadors.
Livestreamed Campus Tours
---

Follow along as our enthusiastic and knowledgeable student tour guides show you around campus. Virtual tours are livestreamed on Instagram. Have questions? Go ahead and ask! We'll answer them live.
Admissions Application Workshops
---
Watch as our admissions counselors present workshops on navigating the UCF application and the Self-Provided Academic Record for Knights (SPARK) Form. We'll show you how it's done and provide tips for submitting a problem-free application and SPARK Form.
Panel Discussions with Current UCF Students
---

In these open forum-style sessions, talk with current students about what life is really like at UCF. From campus life to housing, activities to academics, no topic is off limits here. Panels are moderated by an admissions counselor, and you'll have time to get answers to questions that you may have. Stick around to the very end for a chance to win UCF merch.
"Transfer to Be a Knight" Transfer Info Session
---

Transferring to UCF starts with preparation. The "Transfer to Be a Knight" information session is designed to make your transition to UCF as smooth as possible. Led by a UCF admissions counselor, you'll learn about all things related to transfer students: applying, admission requirements, credit review and more.
Virtual & In-Person Meeting with an Admission Counselor
When

Weekdays (varies)

Where

Online & On Campus

Duration

30 minutes
Registration is required.
---
Register for a meeting
---

Due to COVID-19 and for the safety of our students, faculty and staff, you can schedule either a virtual or in-person appointment with an admissions representative to discuss the UCF undergraduate application process or troubleshoot your admission status.
In-Person Appointments: UCF Emergency Policy EP-20-1.3 requires that all campus visitors abide by general health and hygiene rules (including wearing a face covering and maintaining at least six feet of physical distance between individuals). All visitors must also complete a COVID-19 symptom checker each day that they come to campus. The symptom checker is available HERE. If the symptom checker returns a result of "NOT CLEARED TO BE ON CAMPUS," an individual should not come to campus. A screenshot, printout, email or other verification of clearance to be on campus will be requested prior to meeting with any staff-person. Failure to comply with the Emergency Policy will result in cancellation or rescheduling of your in-person appointment.

Take a Virtual Tour of Campus
There's a lot to see and do at UCF. And being familiar with our campuses — whether you're taking classes at the main campus, Rosen College of Hospitality Management or UCF Downtown — helps you take advantage of everything we offer. Find out what it's like to be a Knight.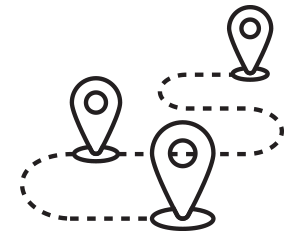 Starting Points
Become familiar with the places you'll immediately need to know.
Heart of Campus
Hang with friends, access resources or grab a bite in these spaces.
Recreation and Academics
Connect with others at our recreation area, Greek housing and academic buildings.
Athletics Village
Here are the spots where our biggest and most exciting gatherings happen.
Health and Wellness Resources
Access help and stay healthy through dedicated departments.
Housing, Fitness and Safety
Get a look at housing options, our expansive gym and police department.
UCF Downtown
View the campus, classrooms and services offered at UCF Downtown.
Rosen College of Hospitality Management
Tour the facilities and services offered at our Hospitality Management campus.
View the Information Session Video
From admission and application information to scholarship opportunities and deadlines, learn all you need to know about becoming a Knight.
Virtually Tour
UCF Housing
Take an online housing tour to explore the features and amenities offered in each of our on-campus housing communities.
Browse housing tour videos