UCF will be closed between December 20 and January 1 for winter break.
UCF is calling. And the best way to get to know us is to visit. Take a tour of our campus — in-person, livestreamed or self-guided — to get a sense of all there is to love about UCF. From our state-of-the-art classrooms to our recreational facilities, 80-acre nature preserve and sporting venues, you'll discover how much there is to see and do here.
However you choose to experience UCF, we're ready to make an unforgettable first impression. We can't wait to meet you and give you a big, warm welcome.

Explore Campus
In-Person Campus Tours

Weekday campus tours begin at the Duke Energy UCF Welcome Center with a 15-minute information session, followed by a 90-minute walking tour of the campus led by a UCF student ambassador. Campus tours fill up quickly, so sign up today.
Tours of select UCF housing communities are offered by the Department of Housing and Residence Life. Please visit their website to view available dates and times and book a Housing Tour.
Guided group tours of Main Campus are limited to high school groups of 50 or fewer students. If you are a school or a tour provider and would like to bring a group of students to campus, please email us at admission@ucf.edu.
---

Tours of the Rosen College of Hospitality Management campus begin with a 15-minute information session, followed by a 45-minute walking tour of the campus led by a Rosen College student ambassador. You may preview the Rosen College Apartments during your tour. Campus tours are limited in size, so sign up early; walk-ins will be accommodated only on a space-available basis.
---

UCF Downtown campus tours begin at UnionWest in Creative Village with a 30-minute information session, followed by a 90-minute walking tour of the campus led by a UCF Downtown student ambassador. Campus tours are limited in size, so sign up early.
---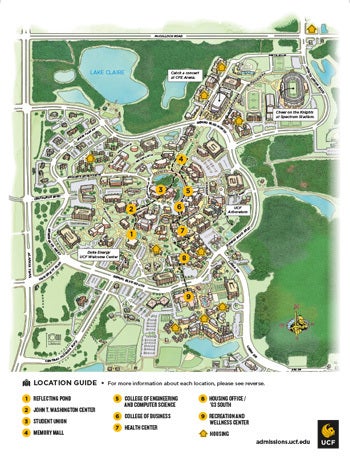 Self-guided Campus Tour
Want to explore campus on your own? This tour begins in front of Millican Hall at the Reflecting Pond, and it concludes at the Recreation and Wellness Center. There are 10 stops on the self-guided tour.
Download the Self-Guided Tour Map
Open Houses
Knight For A Day Open Houses

Join the students, faculty and staff of UCF for a daylong open house event. This is your opportunity to learn first-hand about our campus, academic programs, student life, financial aid and much more. Check-in begins at 8 a.m. and activities are scheduled between 9 a.m. and 3 p.m. View a sample agenda and check our our FAQs for more information. Registration is required and space is limited, so we encourage you to sign up early.
NOTE: If you are viewing this page in Safari, please switch to Chrome, Edge or Firefox to register for an open house.
---
When

Select Saturdays from July through January

Where

Check in at the Student Union

Duration

6 hours
Registration is required.
---

Take a Virtual Tour of Campus
There's a lot to see and do at UCF. And being familiar with our campuses — whether you're taking classes at the main campus, Rosen College of Hospitality Management or UCF Downtown — helps you take advantage of everything we offer. Find out what it's like to be a Knight.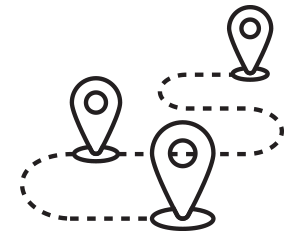 Starting Points
Become familiar with the places you'll immediately need to know.
Heart of Campus
Hang with friends, access resources or grab a bite in these spaces.
Recreation and Academics
Connect with others at our recreation area, Greek housing and academic buildings.
Athletics Village
Here are the spots where our biggest and most exciting gatherings happen.
Health and Wellness Resources
Access help and stay healthy through dedicated departments.
Housing, Fitness and Safety
Get a look at housing options, our expansive gym and police department.
UCF Downtown
View the campus, classrooms and services offered at UCF Downtown.
Rosen College of Hospitality Management
Tour the facilities and services offered at our Hospitality Management campus.
Questions? We've Got Answers.
Take part in a virtual info session and learn why UCF is the best choice for you. Whether you want to cover the application process with an admissions counselor or talk with current Knights about what campus is really like, we've got something just for you.
Sign up for a virtual info session