Making sure a university has a program for your passion is one of the first things you do as a prospective student. And with nearly 100 undergraduate programs, UCF does more than offer options — we provide opportunities. Our expert advisors will help you choose your path and stay on track.
Undergraduate Degrees
Arts and Humanities
Business
Community Innovation and Education
Engineering and Computer Science
Health Professions and Sciences
Medicine
Nursing
Optics and Photonics
Rosen Hospitality Management
Sciences
Undergraduate Studies
Pre-professional Programs
Business Economics (BSBA) – Pre-Law
Pre-chiropractic
Pre-dental
Pre-medical
Pre-optometry
Pre-osteopathy
Pre-pharmacy
Pre-podiatry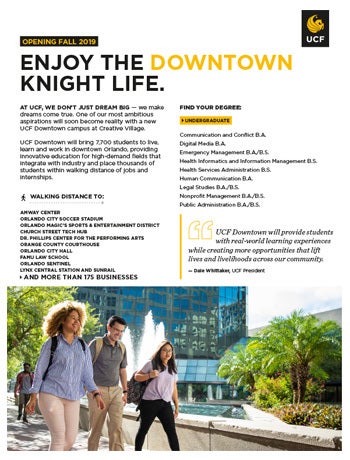 UCF Downtown
UCF Downtown is a game-changing campus in the heart of our great city that creates the opportunity for 7,700 students to live, learn and work in downtown Orlando. Our state-of-the-art campus is the home base for a variety of degree programs including those focused on civic engagement and government, safety and justice, community well-being, content creation, digital art and communication.
Visit UCF Downtown
Transfer to UCF Online
Offering some of the nation's Best Online Bachelor's Programs according to U.S. News & World Report, UCF Online is a convenient and affordable way to complete your undergraduate degree. Take advantage of flexible class schedules with fully online courses taught by the same faculty who teach on campus. And with access to important resources like online tutors and academic advising, UCF provides the support you need to succeed as an online student.
Visit UCF Online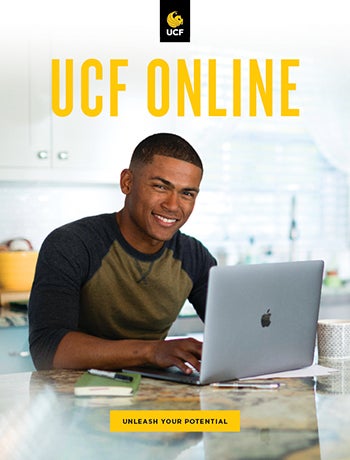 UCF Colleges
Read about our 12 undergraduate colleges, the bachelor's degrees that are offered by each, award-winning faculty, groundbreaking research and exciting opportunities — there's so much to experience and learn at Florida's largest university.