Program at a Glance
Program

Bachelor

College(s)

Department(s)

Electrical & Computer Engr

4
Years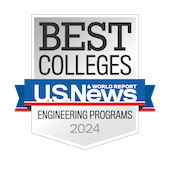 Help Power the Technology that Shapes Our Daily Lives
As an electrical engineering major, you'll revolutionize the way we live. Society depends on electrical engineers to create, design, produce, operate and maintain the world's equipment and services as well as to solve future life challenges with advances in science and technology.
Choose from four tracks available to align your educational path with your personal and professional goals. Throughout your coursework, explore the theory and methods related to the design, analysis and implementation of electrical engineering. You'll also gain first-hand experience in applying principles and practices to real-world scenarios. Upon graduation, you'll be ready to seek a wide variety of opportunities within the electrical engineering field in organizations of all sizes.
Communications and Signal Processing Track
Develop and apply theory and algorithms in the broad fields of communications, networked systems and signal processing. In this track, you'll have a variety of technical electives to choose from including wireless communication, satellite communication, communication networks, smart grid networks and image processing.
Comprehensive Track
In this track, you'll explore fundamental electrical engineering concepts. Cover key areas in the discipline such as communications and signal processing, controls, power and energy systems, electromagnetics, microelectronics, electronics, embedded systems and software, etc. Technical electives also provide more depth in one or more areas of electrical engineering.
Power and Renewable Energy Track
Gain an in-depth understanding of power system operation and control, renewable energy integration, machines, microgrid design and operation, power markets and data analytics. In this track, you'll have an opportunity for hands-on training in smart grid technologies. Choose from a diverse range of technical electives that cover the areas of power and renewable energy.
RF and Microwaves Track
In this track, you'll have the opportunity to take technical elective courses covering a wide range of topics in applied electromagnetics such as antennas, computational electromagnetics, high-speed circuits and systems, bioelectromagnetics, radar, remote sensing and wireless sensors.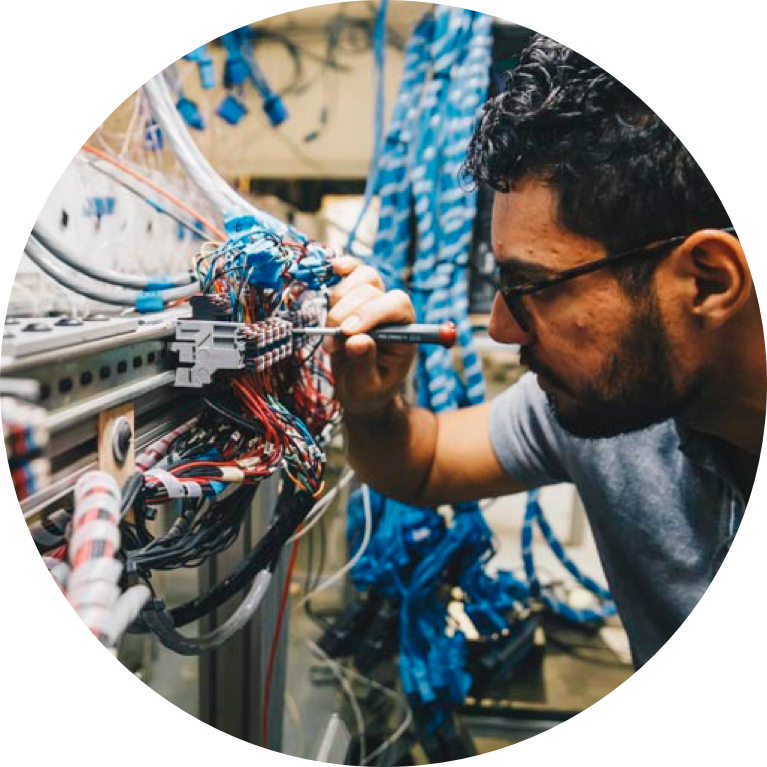 Highlights

U.S. News & World Report ranks UCF as the No. 71 Best Engineering School in the nation.

Our electrical engineering bachelor's program has a long and respected history since its start in 1967.

The job outlook for electrical engineering grads is expected to grow 14% over the next decade.

The average annual salary of electrical engineering grads is $100,000.
Undergraduate
Application Deadlines
Fall

May 1

Spring

November 1

Summer

March 1
Fall

July 1

Spring

November 1

Summer

March 1
Fall

March 1

Spring

September 1

Summer

January 1
Start Your Application Today
Ready to get started? Take the next step to save your spot at UCF.
2
Short on time? You can start your application today and come back later to finish.
Course Overview
Junior Design
Develop preparatory skills for senior design: Engineering design requirements specifications, test equipment utilization, microcontroller development tool usage, schematic capture and PCB design tools.
Linear Circuits I & II
Analyze linear circuits, AC analysis, power calculations, first order RL, RC circuits, three phase circuits. The course includes recitation and exploration of areas of study within electrical and computer engineering. The second course looks at second order RLC circuit response, Laplace transform, frequency selective circuits, Fourier series; two port networks.
Engineering Analysis and Computation
Gain an understanding of engineering analysis and computation with structured constructs. Subscripted variables, functions, input/output. Applications in embedded systems and examples in numerical methods.
Electrical Engineering Skills You'll Learn
Identify, formulate and solve complex electrical engineering problems by applying principles of engineering, science and mathematics.
Apply engineering design to produce solutions that meet specified needs.
Communicate effectively with a range of audiences and collaborate with various teams to establish goals and meet objectives.
Develop and conduct appropriate experimentation, analyze and interpret data, and use engineering judgment to draw conclusions.
Acquire and apply new knowledge as needed, using appropriate learning strategies.
Utilize contemporary modeling and simulation tools.
Career Opportunities
Electrical Engineer
Circuits Engineer
Power Systems Engineer
Project Engineer
Controls Engineer
Computer Hardware Engineer
Engineering Manager
---
University of Central Florida Colleges