High school guidance and college counselors are essential in helping students prepare for and succeed at UCF. We've compiled the resources you need to help students during their undergraduate admissions journey.
Counselor Recommendation Form
The Counselor Recommendation Form is an optional part of the admission process. Letters of recommendation from teachers may be submitted in lieu of the form. Recommendations can be submitted one of three ways:
Sending Transcripts
The Office of Undergraduate Admissions can accept official transcripts through U.S. Mail or electronically when sent directly from your institution through a secure delivery service. UCF does not accept PDF transcripts emailed to us directly.
Electronic transcripts can only be accepted as official if they are delivered through one of the following approved transcript service providers:
NOTE: If the transcript delivery service asks you to provide an email address to send transcripts to, please use myapplicationdocs@ucf.edu.
*When sending a transcript through one of the above service providers, their system may indicate that it has been delivered; however, we ask for two to three weeks to process these documents. Instead of sending duplicates, please ask students to verify receipt of the transcript through their application status on myUCF.
Hard copy transcripts may be sent to:
UCF Undergraduate Admissions
P.O. Box 160111
Orlando, FL 32816-0111
SAT Update
The redesigned SAT was launched by the College Board in March 2016. UCF accepts both old SAT and redesigned SAT scores.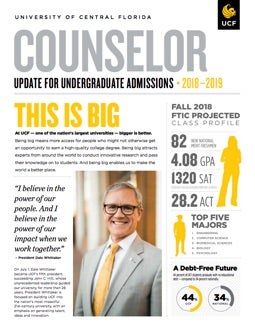 Counselor Newsletter
We continuously update our counselor email list. If you are a high school guidance or college counselor and wish to receive the counselor newsletter, please send your name, title, school, mailing address, email address and telephone number to Elizabeth Costello.