Program at a Glance
Program

Bachelor

College(s)

Department(s)

Optics and Photonics

4
years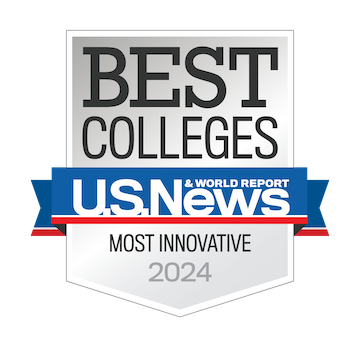 A High-tech Program for a Laser-focused Career
The Bachelor of Science in Photonic Science and Engineering degree prepares the next generation of engineers for the growing optics and photonics industry. Offered jointly by the College of Optics and Photonics and the College of Engineering and Computer Science, it's the only bachelor's of its kind in Florida — at a university that's a leader in research and education in optical and photonic science and engineering.
Here, you'll learn from world-renowned faculty, gain strong connections to industry and have the opportunity to take part in the active undergraduate student organization, the Society of Optics Students. Courses include lecture and laboratory activities to provide you with both the robust knowledge and real-world experience that top employers seek. Your studies are designed to prepare you for a rewarding career while fulfilling the rapidly growing needs of an industry that is finding applications in nearly every part of everyday life.
Graduates of the program have many opportunities available. With more than 35,000 U.S. companies in the field, you can explore industries including biomedical, aerospace, communication, energy production, data storage, defense and national security, information processing and advanced manufacturing. And for those looking to pursue an advanced degree, UCF's Master of Science in Optics and Photonics is ranked nationally as one of the top 15 programs by U.S. News and World Report.
Related Programs: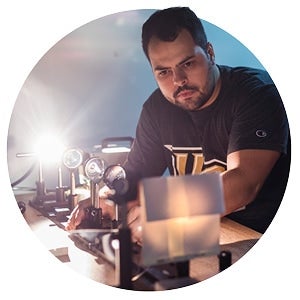 Highlights

The College of Optics and Photonics has a current membership of 70+ companies in its Industrial Affiliates Program.

Over the years, CREOL faculty have produced more than 260 patents and spun off 26 companies.

Projected job growth in photonics and engineering is 5%.

Median earnings for photonics and engineering graduates is $70,000.
Undergraduate
Application Deadlines
Fall

May 1

Spring

November 1

Summer

March 1
Fall

July 1

Spring

November 1

Summer

March 1
Fall

March 1

Spring

September 1

Summer

January 1
Start Your Application Today
Ready to get started? Take the next step to save your spot at UCF.
2
Short on time? You can start your application today and come back later to finish.
Course Overview
Laser Engineering and Laboratory
Cover basic laser phenomena, including the photon nature of light, absorption and spontaneous and stimulated emission of light, fluorescence, optical amplifiers, optical resonators and nonlinear optical wave conversion.
Fiber-Optic Communications and Laboratory
Gain an understanding of the principles and design of fiber-optic communication systems, including the integrated-optic and optoelectronic devices used in transmitters and receivers.
Imaging and Display and Laboratory
Get a first-hand look at mathematical and physical models of two- and three-dimensional imaging systems including gazing, scanning, interferometric, tomographic, and hyperspectral systems.
Photonics Knowledge You'll Learn
Gain in-depth knowledge and hands-on experience with advanced photonics concepts allowing you to have a career in a multitude of companies.
Determine how systems should work, identify any complex problems that may arise and use creativity to develop new solutions.
Gain an understanding of other fields to increase communication, collaboration and project management among teams within various industrial environments.
Learn how to work on an interdisciplinary team.
Career Opportunities
Photonics Engineer
Engineering Manager
Optical Engineer
Quality Engineer
Site Reliability Engineer
Validation Engineer
---
University of Central Florida Colleges