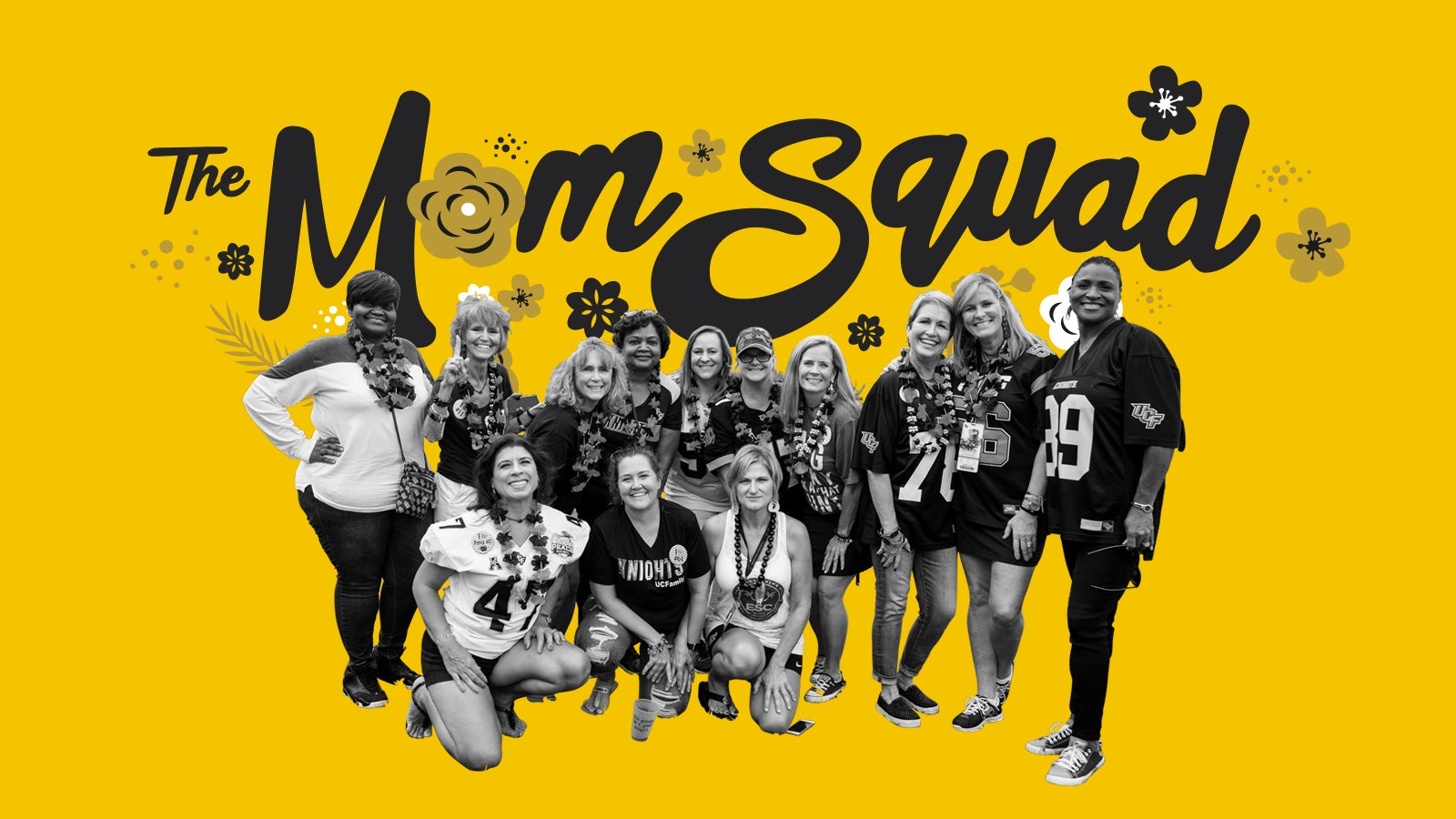 The Moms Behind UCF Football's Success
It started with selfies at tailgates — and turned into a family.
Winter 2018 | By Jenna Marina Lee
Donned in her son Anthony's No. 89 jersey, Harriet Roberson moves with purpose toward Gate 16 of Spectrum Stadium.
"We've got to get the moms together for a prayer," she says as she heads toward the parents and families of UCF's football players who arrived for the American Athletic Conference championship game that's set to kick off in less than two hours.
And while she succeeds in huddling up several members of the UCF Mom Squad, on this day everyone has an invitation to become an honorary member of the group.
"Anyone that wants to participate can participate — doesn't matter whether you're a mom or a dad or an aunt or an uncle or a friend. If you want to participate, you're welcome to join us," says Renee Washington, a minister at Mount Hermon Baptist Church in Avondale, Louisiana, and the grandmother of UCF junior linebacker Nate Evans.
Surrounded by a circle of moms, families and fans alike, Washington begins to pray aloud. For the next 4 minutes she asks God to watch over injured junior quarterback McKenzie Milton. ("We have one that has been injured, but he will not stay down.") For the next man up, freshman quarterback Darriel Mack Jr. ("Father, he will have courage. He will have strength. His eyes will see every man on the field.") And for their 119 sons, the UCF Knights.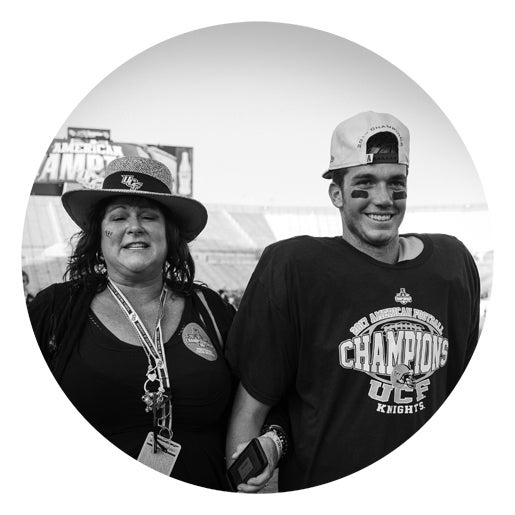 "This is not an accident. We are not an accident. We were appointed for this time," she says. "They are not just one person. They're a team. The unified UCF, undefeatable [24-game] winning team. All the games have been beautiful. Lord, I ask right now that you declare a victory today. Protect every player on the field."
The group claps. They cry. They hug. And then they put their game faces on.
"Our boys have a lot of heart. They play for each other. They play for the coaches and their fans, and they play for the love of the game. They are there to support one another, and that's what we are there for— to support them in that," says Julie Loudermilk, mother of senior punter Mac Loudermilk '18. "I love those boys like I love my own son. We embrace the meaning of the UCF family."
Loudermilk says she bonded with a small group of moms early on, but she credits Roberson for growing the UCF Mom Squad into the dozens of members it is today.
The Robersons are from Virginia but followed Anthony to Orlando when he joined the team in 2016. Roberson is affectionately known as a "selfie queen" and used photos as ice breakers as she continued to meet more parents at tailgates, during games or while greeting the team outside the locker room after their victories.
"Our selfies started getting bigger and bigger. There was one game we were at, maybe the SMU game last year, and more and more moms jumped into the photo," she says.
"We took this picture, and one of the staff photographers for UCF said, 'Wow look at this — this is like the Mom Squad.' I thought, 'Wow, that is a cool name for us.' And we just rolled with it."
The squad's exposure got a bump early this season when they were interviewed on the Today show by news anchor Craig Melvin. A small group of them planned a trip to New York City before they traveled to Connecticut for UCF's first game of the 2018 season.
While they've enjoyed cheering on their sons, meeting fellow fans and forming friendships, the Mom Squad is about more than that. When redshirt sophomore defensive back Aaron Robinson was concussed during the opening kickoff against UConn and needed to be taken by stretcher off the field, his mother was watching her nightmare unfold on the television screen. Although he would eventually return to the field later in the season, he required a two-day stay in the hospital until being cleared medically to return to Orlando.
Robinson's mother couldn't make the trip to Connecticut, so the UCF Mom Squad delivered. "I feel like the whole team is my son. If something is wrong with them, something is wrong with me," says freshman quarterback Darriel Mack Jr.'s mother, Hope Mack, who was in the stands when Robinson took the hit. "I told my husband, 'We have got to go see about this baby. I'm not leaving until we go. I don't care what it takes. We need to stay another day if we have to so I can lay my eyes on him and I know he's OK.' "
---
"I feel like the whole team is my son."

Hope Mack, mother of freshman quarterback Darriel Mack Jr.
---
The Macks had never met Robinson or his mother before that moment. They took a hamburger to the hospital with them, and Mack insisted the player eat it while she spoke to his mom to reassure her, the way only a parent could."I knew if it was me, I would want someone to contact me and tell me how my son is really doing," Mack says. "[His mother] was a wreck. She was panicked. I said, 'I'm here with your son. Don't worry, he's doing well. It's not what it looked like. He is eating; he's talking; he's laughing.'" The families have bonded ever since. Robinson says the Macks communicate with him regularly and have welcomed his mother into the squad.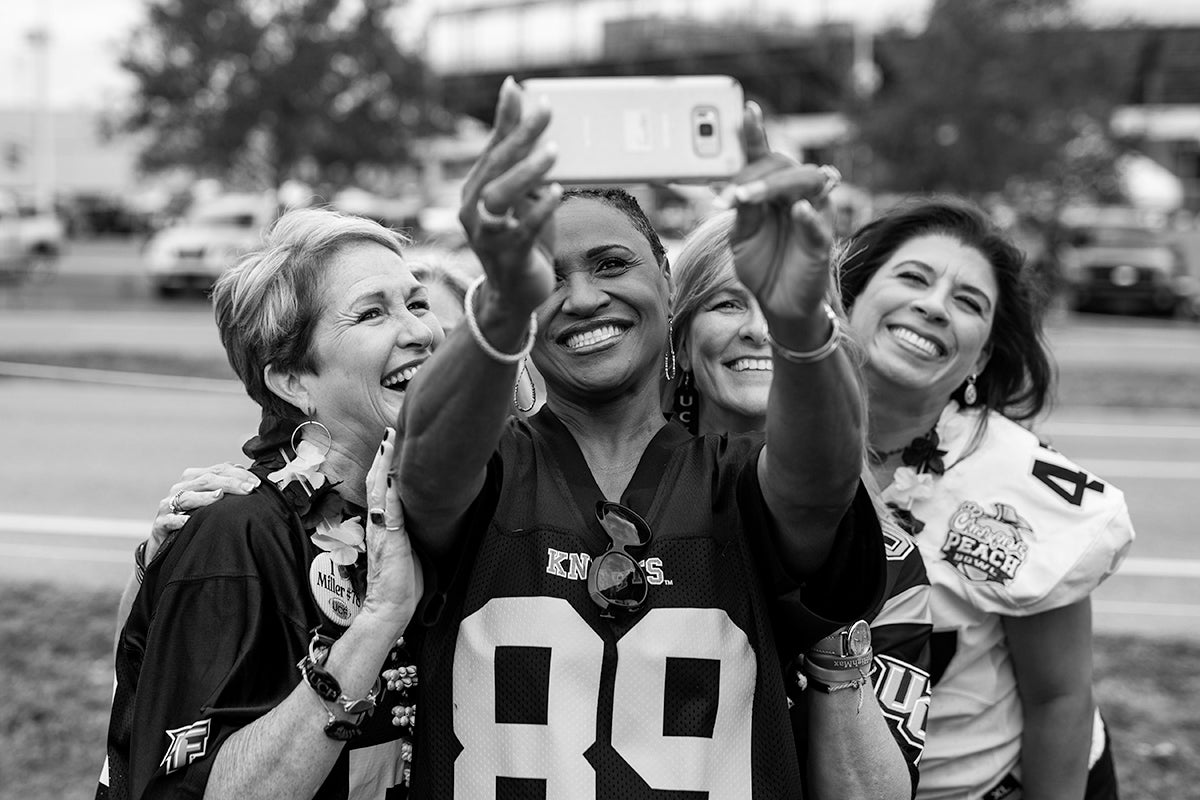 "I feel like I gained some more support outside of my family," he says. The squad has also banded together for community-service initiatives such as pooling resources to send to Puerto Rico after Hurricane Maria. Or spearheading a drive to donate hygiene products to the Knights Pantry on campus.
When they traveled to the Fiesta Bowl, they sorted diapers, decorated birthday gift bags and assembled first aid kits for foster children and their families through the nonprofit organization Arizona Helping Hands.
"It's so special that we have so many people who have open, caring hearts that want to do for others," says Roberson. "It's a really big family and there are so many things we can do, especially making a difference in the community."
To hear the prayer led by Renee Washington, watch this video: