While visiting Phoenix for the PlayStation Fiesta Bowl, more than 70 people from the UCF community pitched in to volunteer at Arizona Helping Hands on the morning of New Year's Eve. The group included faculty and staff, the spirit team along with Knightro, the Board of Trustees, parents of football student-athletes, the Phoenix UCF Alumni Club, President Dale Whittaker and his wife, Mary.
The non-profit organization formed 20 years ago and is the largest provider of essential needs for children in foster care and their families in the state of Arizona.
"My heart was touched so much by this. It's so special that we have so many people who have open caring hearts that want to do for others," says Harriet Roberson, mother of tight end Anthony Roberson. "I would love to start something like this in Orlando. Even if we started on a small scale, doing a diaper drive. I just love what they're doing. It's amazing, so if we could do a little bit in our area to help we definitely want to do that."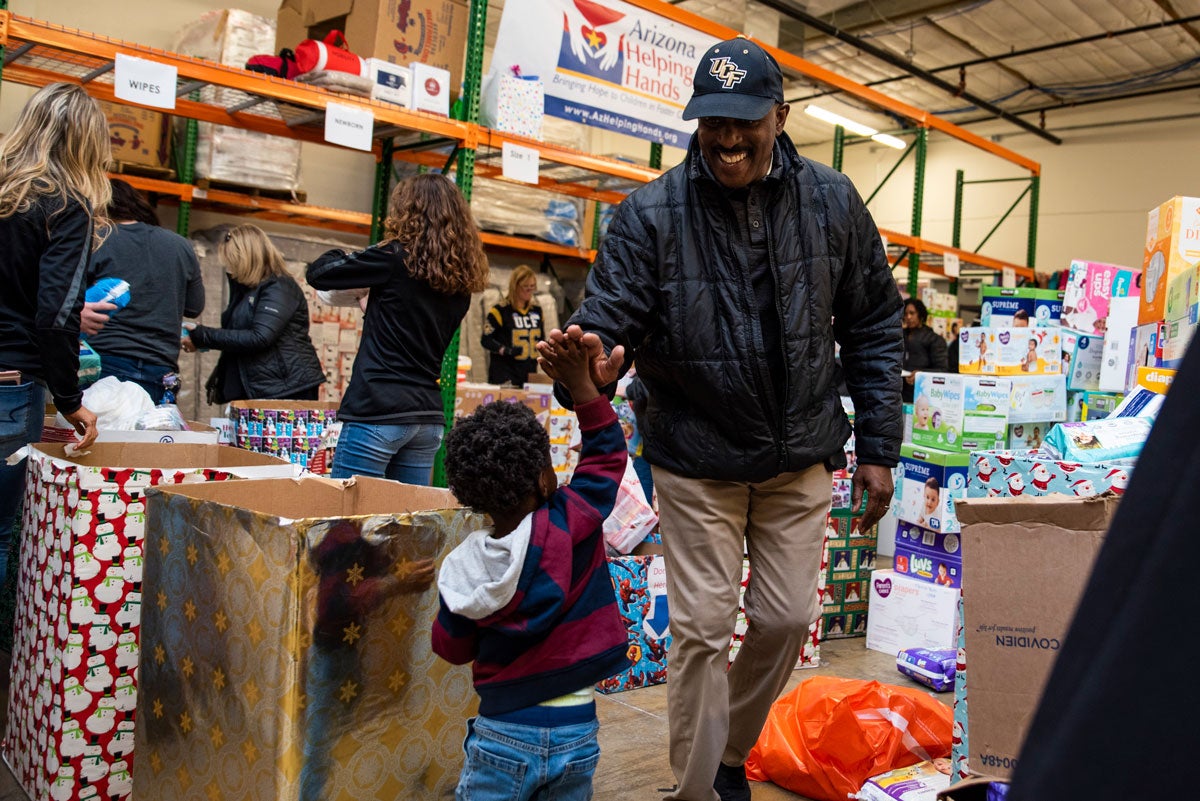 The group divided and conquered several projects. Some sorted and quantified diapers from a recent diaper drive. Others tapped into their artistic side and decorated 85 gift bags used for birthday presents for foster children. Some sorted toys and others assembled 173 first aid kits for families.
Several members of the group also donated more than $1,000 in gift cards that will be given to teenagers on their birthdays.
The project was especially meaningful for Lindsay Bettis, a senior marketing major and member of the spirit team, who used to help throw birthday parties for foster children in her hometown.
"To be able to help in an even bigger arena is amazing," she says. "I think it shows how much of a community UCF is. We do many community service events back in Orlando, so everywhere we go we try to make a difference."
It was also a special experience for the chair of the Phoenix UCF Alumni Club, Chris Fleming '06, who is excited to welcome the influx of Knights fans to his city. He moved to Phoenix three years ago for his job as a regional sales manager but is still a season-ticket holder for both football and men's basketball and an avid fan.
"I think when people see Phoenix, they don't necessarily think there's that many alumni, but we get upwards of 50 people at our watch parties. According to LinkedIn, there's 500 alumni in the valley," he says. "We're 2,200 miles away, but we're still screaming and yelling at televisions on game days. My big goal is to get the awareness out and let people know they have a home here in Phoenix."
He also says the club will continue to work the Knights started Monday and build their relationship with Arizona Helping Hands.