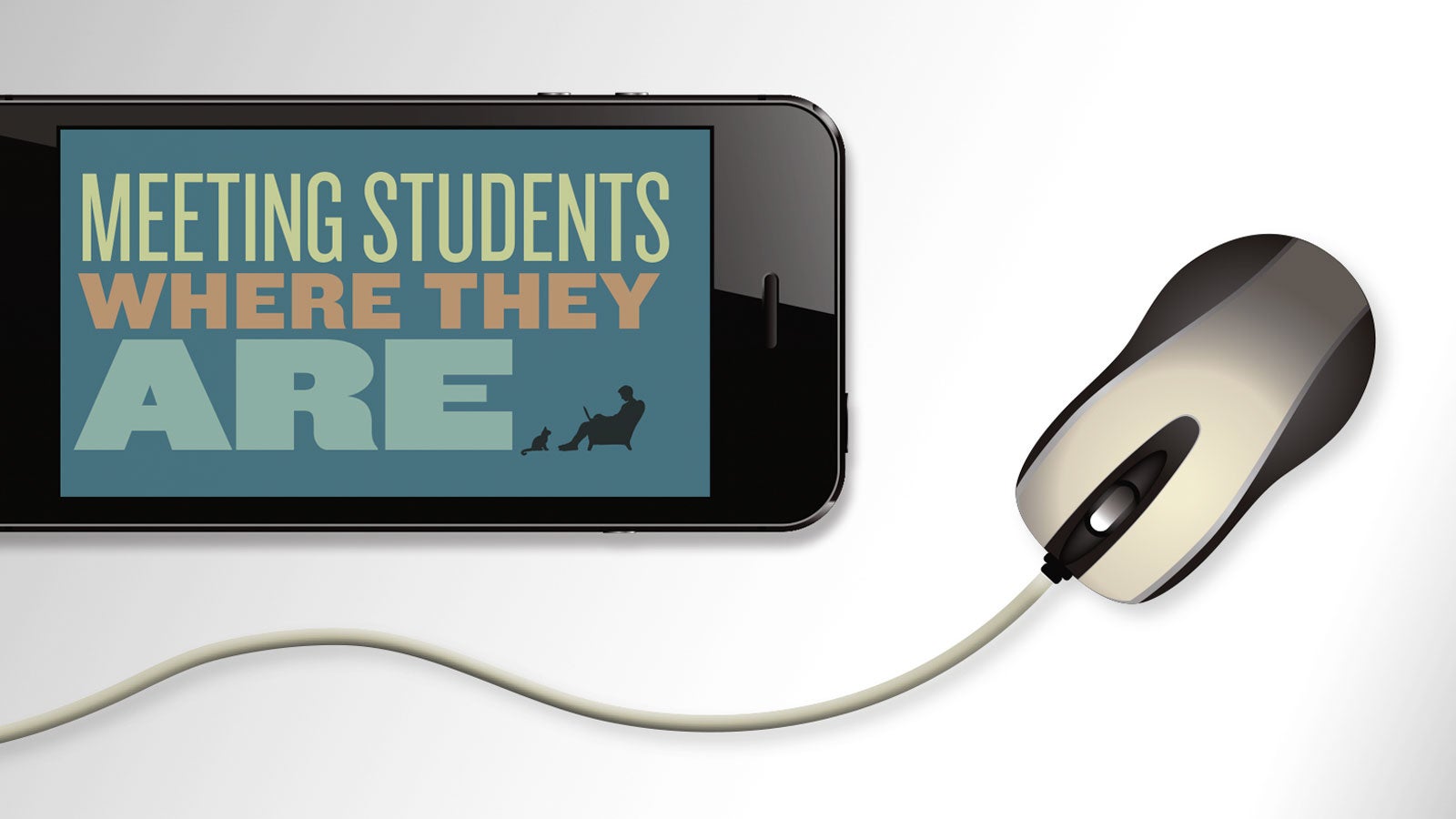 A Quality Education When and Where You Want It
Online education may have its detractors in higher education, but across the nation, students are driving a shift from classroom to digital learning. And UCF is all in.
Fall 2017 | By Maureen Harmon
Bryce Nelson, a first-generation college student, had a full class schedule when he started at UCF. He was doing OK, but he knew he could be doing better. The problem was, he simply couldn't make the time. In addition to his full course load of online and on-campus classes, he was working two jobs. Not working just wasn't an option.
"I needed to work 35 to 40 hours a week just to survive," Nelson says. And that meant a lot of juggling with his UCF schedule, his work-study position as an event lead in the alumni center and his full-time job at Publix. All that, and he was facing the tough decision of changing his major from marketing to communication.
So Nelson headed to his mentor's office and laid out the issue for him. How could he improve? That's when he learned that he could pursue a communication degree entirely online, doing course modules, homework and discussion on his own schedule. Suddenly, new possibilities opened up.
"It's what you make of it," says Nelson. "In person, you can have the interaction with the teacher, but just because you're online doesn't mean you can't do the same thing." Nelson points to his professors' online office hours, and the fact that because he's local, he still heads to campus regularly and participates in the social life, including his role in Delta Sigma Pi, a business fraternity.
This need for students to learn — how and when they want — is fueling a national movement. "I meet with college students across the country every year, and without exception, they all stress the importance of having flexibility in pursuing their degree or credential," says Allan Golston, president of the United States Program of the Bill & Melinda Gates Foundation, the arm of the philanthropic organization that oversees educational opportunities across the nation.
National movement or not, online education has its detractors, especially in higher education. There are those who argue that face-to-face learning is simply better, allowing for in depth conversation and in-person debate.
Proponents, however, argue that digital learning provides access to education for students, such as Nelson, who may not otherwise be able to pursue it — a major driving force of the UCF mission. "It's not a thought experiment," says Provost and Executive Vice President A. Dale Whittaker. "Online education is an innovation that allows us to meet students' life needs at a price point they can afford, with the quality that matches some of the most elite institutions."
---
"Online education is an innovation that allows us to meet students' life needs at a price point they can afford, with the quality that matches some of the most elite institutions."

A. Dale Whittaker, provost and executive vice president
---
Offering one of the lowest price tags in higher education, UCF needed to make sure it was living up to its strategic goal of providing a quality education to as many students as possible. To do that, administrators and faculty decided to go where students needed them to be.
"Simply put, online education is the opportunity to bring a high-quality education to students who otherwise would not be able to access it," says Tom Cavanagh, vice provost for digital learning at UCF. "I think we do a great service by bringing UCF to them."
If you look across any college campus at any moment, you'll see students looking at screens — whether it's a laptop, tablet or smartphone. There's no doubt that students are living a good part of their lives online. "So we started offering online sections," says Whittaker, and they took off. "All of the growth in online education has been driven by students."
So how does UCF give students what they want, how they want it, in terms of a quality education? Several ways. While technology is in every classroom these days in one form or another, students can live on or near campus and choose to either attend face-to-face courses, take courses both in classrooms and online (which is called blended learning), or take all their courses online; or they can live anywhere in the world and pursue a degree exclusively over the internet through UCF Online.
While all options have plenty of strengths to offer, data from a study conducted by an outside consulting group show that the students who choose blended learning have the best results — and UCF's numbers reflect that too. More than 20 years of data confirm that adding digital learning to students' mix of classes accelerates the time needed to earn a degree. UCF students who take a large portion of their courses online — from 40 to 60 percent — on average graduate in less than four years, compared to 4.3 years for those who take only traditional, face-to-face courses.
Students in blended learning courses, says Cavanagh, have more success, achieving higher grades. "[Blended learning classes] also have the lowest withdrawal rates, and they have the highest end-of-course evaluation," he says. "That's pretty compelling."
"At its best," says Golston, "online learning is about seizing the opportunity to do things in online instruction that you can't do face-to-face." For Amanda Groff, an associate lecturer in archaeology who teaches all of her courses online, that means leveraging the technology students are already using by having course discussions through closed social media groups; it means instructional video; it means in-depth learning modules.
"I think back to 2008 when I taught my first online course, and I look at my courses today, and it's like night and day," Groff says. "The strides, the technologies that have been developed just in these last 10 years are unbelievable, and it makes online education exciting and fun for me."
When it comes to judging an online course's quality, UCF approaches the process just as they would any course. First, more than 80 percent of all UCF's online courses are taught by full-time faculty and must go through the same departmental review process as any face-to-face course. Second, UCF created the Center for Distributed Learning, an organization dedicated to educating faculty in how to teach online courses effectively.
"I think that we can leverage online learning as a laboratory to innovate the way we teach and to experiment with new technologies and new methods to engage students in more interesting and effective ways," Cavanagh says.
---
"I think that we can leverage online learning as a laboratory to innovate the way we teach and to experiment with new technologies and new methods to engage students in more interesting and effective ways."

Tom Cavanagh, vice provost for digital learning at UCF
---
All faculty members hoping to build online courses must complete 80 hours of professional development with an instructional designer, and the university provides 35 hours of training for faculty who want to teach existing online courses.
"Basically, instructional designers are a great support system," Groff says. "If we have a really interesting idea that we want to introduce into our coursework, they show us how it translates in an online environment."
Though she teaches all of her courses online these days, Groff is still on campus several days a week to work and hold office hours. Sometimes students drop by to see her in person; others set up phone appointments.
"She makes learning the subjects interesting, informative and interactive," says Tracy Lovingood, one of Groff's students. "She's always open to answering any questions … in addition to presenting the most up-to-date information. Dr. Groff sets the bar high as far as online classes go."
UCF recognized that effort by presenting Groff with the Chuck D. Dziuban Award for Excellence in Online Teaching in 2012. This year's winner was Kenneth Hanson, associate professor of Judaic studies, who created a series of videos in which he explored the history of the diaspora, the Holocaust and other topics. "In many cases, he donned costumes and performed in character to bring it to life for his students," Cavanagh says. "The committee thought it was just wonderful."
The work that Hanson, Groff and UCF at large are doing in the online education industry caught the attention of the Bill & Melinda Gates Foundation. The foundation recognized the differences being made by about 30 universities in their approach to online learning. Three of them — Georgia State, Arizona State and UCF — were what the foundation referred to as "mega-universities" in online instruction. As a way to influence other colleges and universities, the foundation began publishing studies on how well online education works, especially when it comes to making higher education accessible to more people.
"The foundation has a broader strategy around postsecondary success, improving equitable outcomes and closing attainment gaps in U.S. higher education," says Rahim Rajan, senior program office in the postsecondary success strategy at the Gates Foundation. "Our goal is to erase and eradicate those gaps so that all students can succeed, and right now that's not the case. Institutions like UCF are really at the forefront of leading that charge."
As for UCF's own data: Students accessing the university's online degrees tend to be older and from lower-income families. Women outnumber men in online coursework, and it's a go-to for transfer students. The best part: These students tend to score better in an online environment than they do in face-to-face courses."Closing college attainment gaps by race and income means increasing student success without limiting access," Golston says. "It can be done, and UCF is committed to doing that. And they've used approaches that could serve as a blueprint for other institutions."
---
"[UCF has] used approaches that could serve as a blueprint for other institutions."

Allan Golston, president of the United States Program of the Bill & Melinda Gates Foundation
---
When Golston visited UCF's campus recently, he spoke with a first-generation senior. "He talked about how he felt like there were systems in place designed to help students just like him. He had had an experience at another college before coming to UCF and felt that they weren't as invested in seeing him graduate," Golston says. "For a student to recognize that the institution is invested in his success and putting systems in place to address his specific needs is powerful testament to the work UCF is doing."
UCF is learning that online education isn't just about making a college degree possible, it's also about making it affordable. Students who graduate in less than four years have lower overall tuition bills.
Then there are issues of space constraint — a building and a campus can only hold so many students and faculty members. "Online education allows us to scale way beyond what our physical facilities allow," Whittaker says. "We are built to teach about 40,000 students." But online education allows UCF to reach 66,000 students in search of an education. Over 42 percent of UCF's annual student credit hours are in online modalities, which equals more than 650,000 hours of learning — a number that continues to grow at a minimum of 2 percent per year, driving overall university growth.
What does all of this mean for the future of online education at UCF? First, it's a promise that Whittaker hopes to keep. "The first promise of our strategic plan is that we become the most educated region in Florida in terms of the number of people who have a four-year degree or better," he says. "That's going to have to happen by dramatically increasing access, especially among folks in the lower half of family-income brackets. That's done, I believe, through UCF Online, which offers fully online programs at a discount."
Whittaker also hopes that in 20 years, digital versus classroom learning won't be a topic of debate at all. "I hope we won't be having this discussion," he says. "In other words, we will be talking about how technology increases a faculty member's ability to reach students through more intimate and individualized learning. I hope we won't be talking about whether something is online or face-to-face. It will be so blended that you won't be able to distinguish the difference."
For Bryce Nelson, the difference is clear and compelling. An online education allows him to make his own schedule, sometimes completing a week's worth of coursework on his days off. Could he have pursued his degree the more traditional way — juggling his jobs with attending classes in person? Sure. But given that fact, his schedule would inevitably put his education second. He knows the online route is right for him. And his grades, which have climbed since moving his coursework entirely online, are proof enough for him. These days, he's not just getting by at UCF. He's thriving.