Type

Online Bachelor's

College

Sciences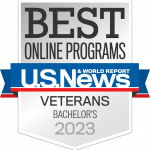 Understand and resolve disputes at all levels
Disagreement exists at all levels of society. We experience it within ourselves, our families, our communities and our world. It also allows us to grow and change, when we know the right steps for resolution. With your bachelor's degree in communication and conflict you'll be equipped to guide people to resolution, no matter the disagreement.
A degree through UCF Online will guide you through an understanding of communication at all levels, from interpersonal to intercultural. You'll participate in conflict-resolution training and learn how to navigate the tricky waters of negotiation in a real-world context. Your online communication courses will prepare you for a career in a variety of fields, including counseling, family law and human resources.
UCF Online's B.A. in Communication and Conflict is offered entirely online and, as a graduate of the program, you'll be prepared to enter a variety of career fields or to pursue graduate studies in topics ranging from communication to law. Get started today.
Related Online Programs
Career Opportunities
arbitrator
counselor
dispute resolution administrator
employee assistance provider
family law facilitator
foreclosure mediation coordinator
human resources administrator