Florida's hurricane season is active through June 1 through Nov. 30 and now is the time to familiarize yourself with UCF's hurricane policies and develop a personal safety plan.
The National Oceanic and Atmospheric Administration predict a 30% chance of an above-normal 2023 hurricane season. NOAA is forecasting a likely range of 12 to 17 named storms (winds of 39 mph or higher), of which five to nine could become hurricanes (winds of 74 mph or higher), including one to four major hurricanes (category 3, 4 or 5; with winds of 111 mph or higher).
University and Personal Planning
At UCF, teams plan and train for hurricane season year-round. UCF's Emergency Management team works hard to prevent, prepare for, manage and recover from a variety of threats to UCF, including severe weather.
In 2019, UCF renewed its designation as a StormReady university through the National Weather Service.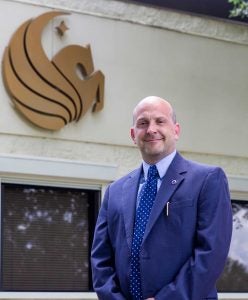 In addition to the work being done at the central level, led by the Department of Emergency Management, we encourage all departments to evaluate their own hurricane procedures and staffing plans at this time, in advance of an imminent storm.
When tropical weather systems are threatening, Emergency Management is in communication with our local National Weather Service office in Melbourne, NOAA and the National Hurricane Center. If a serious storm or hurricane threatens our region, Governor Ron DeSantis and UCF President Alexander N. Cartwright have the authority to cancel classes or close campuses. UCF often does so in consultation with other area colleges, school districts and government officials.
We encourage students and UCF employees to put together their own hurricane safety kits and to create a plan with their families and loved ones should a storm impact Central Florida.
Prepping a Hurricane Kit
Knights should assemble a hurricane kit, which should provide enough essentials to survive at least three days. Kits should include:
Water
Nonperishable food
Weather radio
Flashlight
First aid kit
Batteries
Can opener
Cash
Cell phone charge
Identification cards
Any necessary prescription medications
This year's Disaster Preparedness Sales Tax Holiday extends through Friday, June 9. This 14-day tax holiday allows Floridians to prepare for hurricane season while saving money on essential disaster preparedness items.
How to Stay Informed
The UCF Alert text and email message system will be used to keep the university community notified of severe weather threats. All students and employees automatically are signed up to receive these messages, and settings can be updated via myUCF. A parent, spouse or other secondary contact's email address also can be added, allowing them to receive the updates.
In addition to UCF Alert messages, details about any class cancelations, impact to services or campus closures will be shared on the UCF homepage, and @UCF and @UCFPolice on social media. Faculty members also are encouraged to post any changes to class assignments due to campus closures on Webcourses.
UCF has been impacted by hurricanes before, and we have been able to weather those storms while maintaining our strong commitment to academic excellence and student success.
While we hope for a hurricane-free season, it is always best to prepare and educate yourself in advance of a storm, especially in time such as now that requires extra considerations and flexibility.
Let's each do our part by staying aware and prepared, and together, we'll make UCF a safer place for all of us.