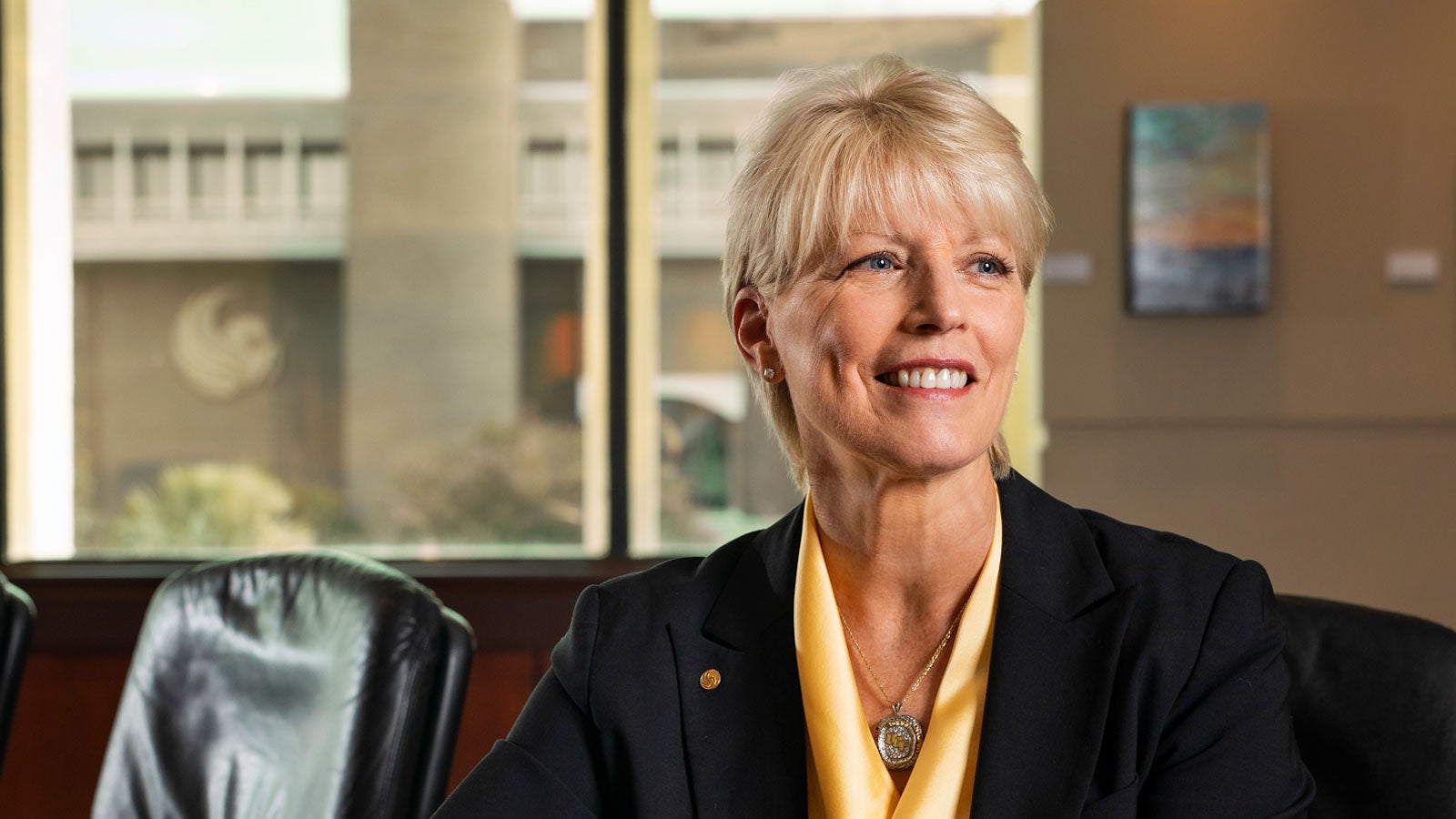 UCF's new chair for the Board of Trustees opens up about personal passions and professional practices.
Fall 2019 | By Laura J. Cole
UCF Trustee Chair Bev Seay believes we'd all be better off if we knew more about computing and data analytics. That's not to say everyone should be computer scientists or data analysts, but we should have an appreciation of how both impact our work.
"I would like to see all UCF students have the opportunity to gain a level of understanding of computing and data analytics in their chosen fields," Seay says. "The shortage in both areas is pervasive, so if we can prepare our students to become subject matter experts in their field plus provide those skills, they'll have far more career possibilities."
It's not surprising considering both play a role in everything from the shows we stream, the games we play and the news we consume to how we communicate, create and operate. Seay admits she may be biased. After all, everything from her career to her volunteer work to the legacy she's passing on to her daughters and granddaughters revolves around computing.
So it's natural that Seay brings that perspective and passion to her new role as chair of the UCF Board of Trustees.
"Computing is what I know," Seay says. "But I also know business, and I want to make sure we're preparing our students for as many career opportunities as possible."
On preparing students for jobs
"I'm very interested in the question of whether higher ed is doing its job to prepare students for careers and the future. We can teach them the mechanics of their education, but it's just as important to offer experiential learning, such as internships, so they understand how what they're learning is applied in the real world."
On why she's committed to UCF
"This is my community, and what goes on here is very important to me. When I moved to Orlando, many people in the community helped me, and I want to give back. In a sense, I feel like we've grown together."
On shifting from industry to higher education
"When I was in industry, I saw the value of being close to the university, whether we were funding research, hiring graduates, working with the faculty or doing community projects together. It was natural for me to become involved."
On what she's most proud of from her career
"At SAIC, we worked closely with UCF, the community, the customers and our industry partners to make Central Florida a global center of modeling and simulation. I'm very proud that we were able to achieve that as a community."
On UCF's future
"Our strategic plans ought to be closely tied to the strategic plans of Central Florida and the broader Florida community. Being here for our citizens at every stage of their lives is really what we're about and why we're here."
Read more about Seay, preparing students for jobs, the importance of women in STEM and the future of UCF.