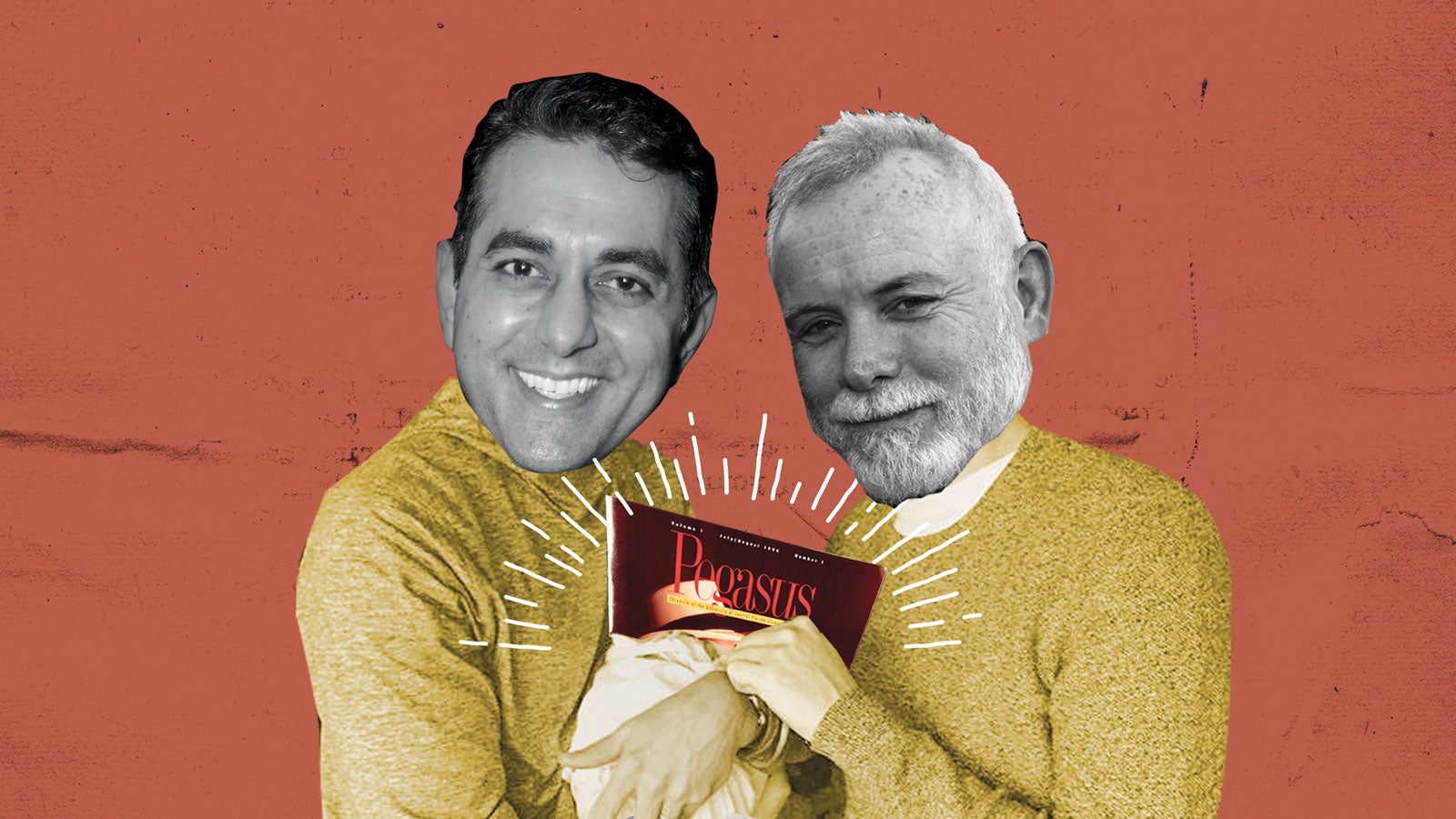 Twenty-five years ago, Jim Hobart '91 and Mike Hinn '92 took UCF's Reach for the Stars motto to heart — and haven't stopped since.
Fall 2019 | By Mike Hinn '92 and Jim Hobart '91
When you're young and inexperienced, you often don't realize there are hurdles between you and success. But it's often that lack of experience that causes you to sidestep those challenges and keep progressing.
This was the case 25 years ago when this magazine took its first baby steps. And now, we feel like the proud parents whose idea has turned into an award-winning publication that finds its way into the mailboxes of more than 230,000 alumni.
Yes, today we know it's crazy to think about a world without almost instant access to everyone and everything. But at the time the vision for Pegasus was born, we just wanted to create a publication that would keep all UCF alumni connected. We knew UCF had a story to tell, but we wanted to go further. We wanted to share stories that reminded us that we were part of something bigger, something special.
UCF connected us — to each other, to memories, to new beginnings and to a world of opportunity.
As students, we were active in several clubs and organizations. Between the two of us, we covered just about every walk of student life, from the orientation team to campus activities to student government to fraternity life with Lambda Chi Alpha. Little did we know at the time that we were meeting future clients, business partners, employees and, most of all, lifelong friends.
When we graduated, we had to stay connected. We asked Tom Messina '84, executive director of the UCF Alumni Association at the time, if he could use some volunteers. We jumped in and helped with Homecoming, program ideas and other projects. We discovered we were not alone in our love of our alma mater and that many alumni before us had the same passion. Roger Pynn '73, Laura Pooser '75, Michael Candelaria '83 and others paved the way for alumni communications and created a strong foundation and community to build on.
When Pegasus was created, UCF had more than 60,000 alumni but not a meaningful way to share the community's news with them.
The UCF Alumni Association loved the idea of a magazine, but had little budget to pull it off. To two naïve upstarts, however, this sounded like a fun challenge.
Things then started to get fast and furious. With our fresh diplomas in hand, we started Knight Images (now Knight Agency), partnered with Messina and the UCF Alumni Association, sold advertising and launched a self-funded magazine. At the end of that first year in 1994, we introduced some simple websites, which felt very fancy back then. This helped us expand both our agency and Pegasus into the next generation of marketing and communications.
We like to think our shared philosophy of doing well by doing good paid off, and we were now officially "businessmen." (And if you know us, you know we use that term very loosely.)
Over the next 17 years, alumni from all over contributed and worked on Pegasus. Two key members on the team at the beginning were Michael Dodd Foristall '94, who started as an intern, and John Speake '95, who contributed in the earliest days of Pegasus.
When Pegasus grew up and moved in-house to the UCF marketing department at 18 years old, we were very much like proud parents.
As we have watched the magazine flourish the past seven years, we are reminded that Reach for the Stars is more than UCF's motto — it's a compass for everyone to follow.
Thank you to all those along the way, especially Messina and the UCF Alumni Association for believing in the magazine's potential and giving two young entrepreneurs an opportunity to create a future — and stay forever connected with fellow Knights and the university where we spent some of the best years of our lives.
---
Mike Hinn '92 is CEO of Knight Agency, and Jim Hobart '91 is owner of Macbeth Studio. Both live in Orlando and continue to Reach for the Stars (and cause trouble together).