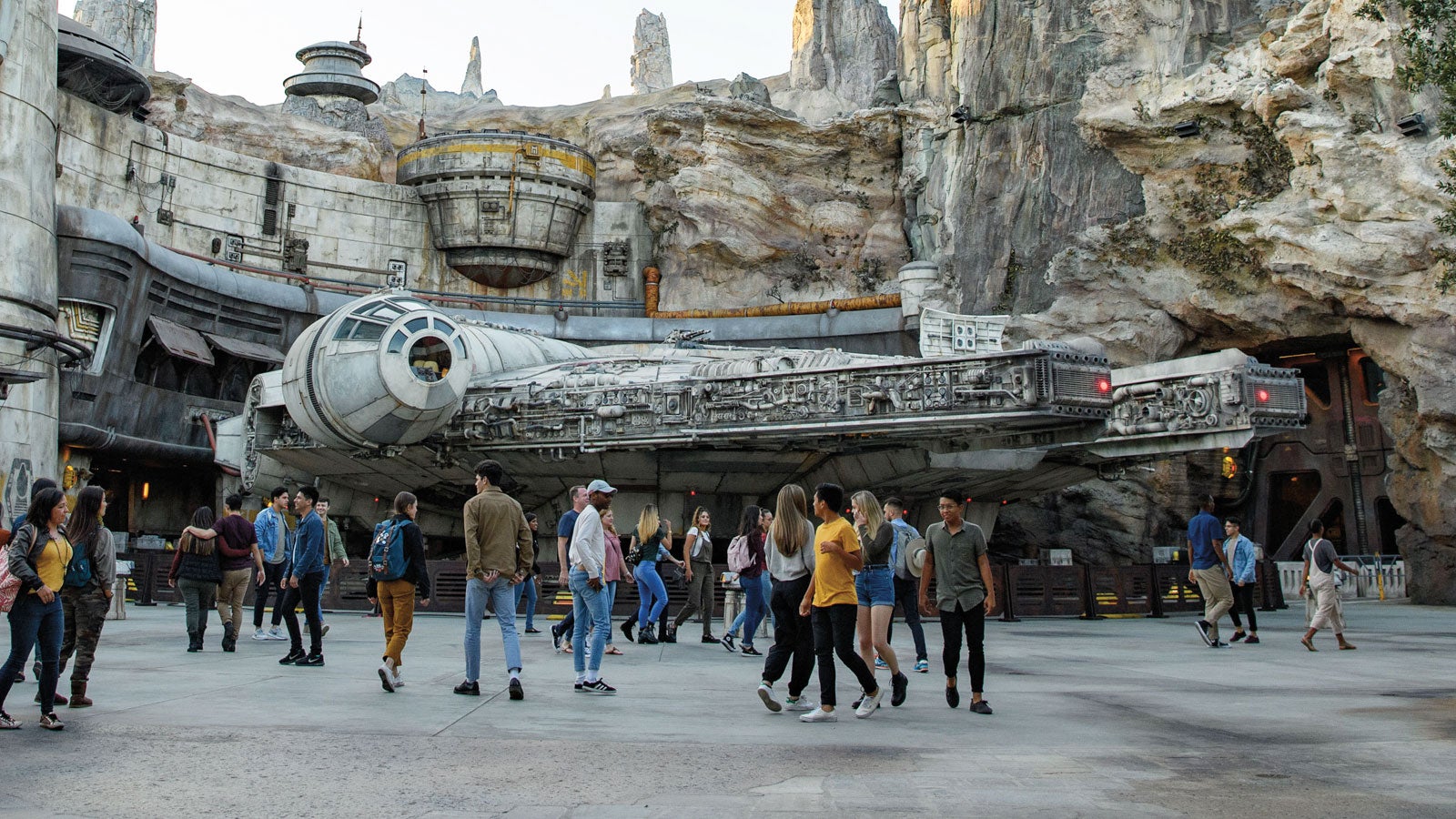 How Jacqueline (Cade) King '12 helped dreams come true for generations of Star Wars fans.
Fall 2019 | By Nicole Dudenhoefer '17
What seemed to be a distant fantasy for Star Wars fans is now an exciting possibility in a not-so-faraway galaxy: flying the Millennium Falcon.
Within the past year, the 14-acre Star Wars: Galaxy's Edge has been added to both Walt Disney World Resort near Orlando and Disneyland Resort in Anaheim, California. Among the attraction's immersive experiences is Millennium Falcon: Smugglers Run, a simulation ride that allows up to six people working together as pilots, gunners and engineers to complete a mission in real time.
One of the leaders on the Walt Disney Imagineering team behind the ride is civil engineering grad Jacqueline (Cade) King '12. While a senior at UCF, she was connected to an internship opportunity with Disney through the American Society of Civil Engineers student organization. Once she graduated, King's role at Disney evolved before she landed the gig as an attraction producer for Smugglers Run.
"I went to school to build bridges, and I ended up building spaceships," says King, who grew up watching Star Wars films with her family. "Working with Imagineering is one of the best jobs you could ask for. No day is the same."
King's job is to ensure the creative vision of the project is delivered on time and on budget. Acting as a liaison between Imagineering and other teams, she oversaw aspects on the project from major conceptual developments to the smallest painted elements.
"We've all had that dream of flying the Millennium Falcon, and meeting those expectations was one of the most exciting and challenging parts of the project," King says.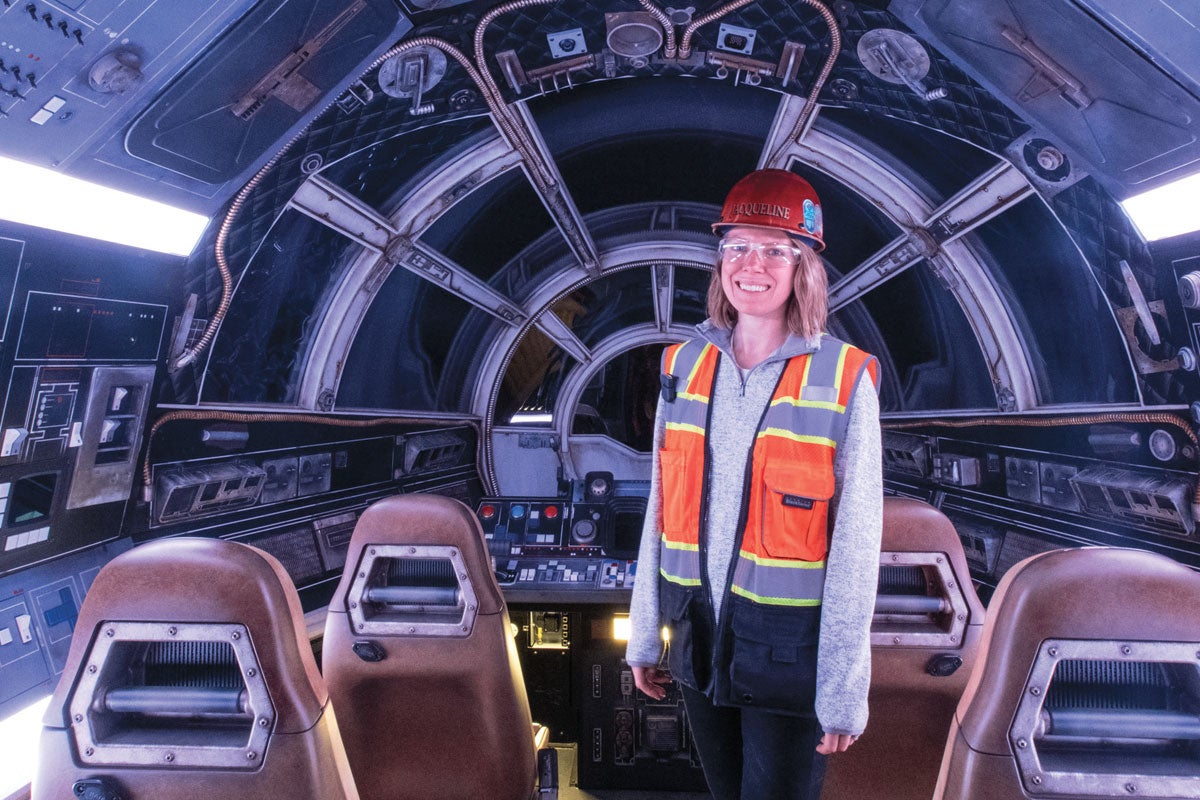 King on the new themed experience and ride:
The Force Is Strong in her Family
While creating Smugglers Run, King's team became tightknit. Her husband, mechanical engineering grad Gabriel King '15, also worked on Galaxy's Edge. Ultimately, King says for her, Star Wars is all about bonding. "Watching all of those characters come together, they truly become more than friends, they become a family. The Millennium Falcon becomes the home base everyone unites in."
---
Traveling Through Hyperspace
Seeing Galaxy's Edge finally come together was a surreal experience for King, and she says your journey through the land will be too. "The amount of detail the entire team put into making you feel like you've truly entered a different world is astounding. Our partners worked really hard to take you out of the theme park and into Batuu."
---
Fastest Hunk of Junk in the Galaxy
For four years, King worked with Disney and the Lucasfilm teams to get every detail of the ride right. From studying the films to poring over 20-foot drawings of the Falcon, her team was able to create the nearly 110-foot-long spacecraft to scale. "This is the first time anybody has seen the Millennium Falcon as expected from the films. You don't have to pretend you're anywhere because you're truly there."
---
More than a Bucket of Bolts
Developing the technology behind the ride to deliver real-time feedback was a huge undertaking, King says. Disney worked with Epic Games to make it happen. "We had to make sure the game engine could process all of the visuals at the quality we wanted, as well as have six guests control the vehicle and make sure they're working toward the same goal."
---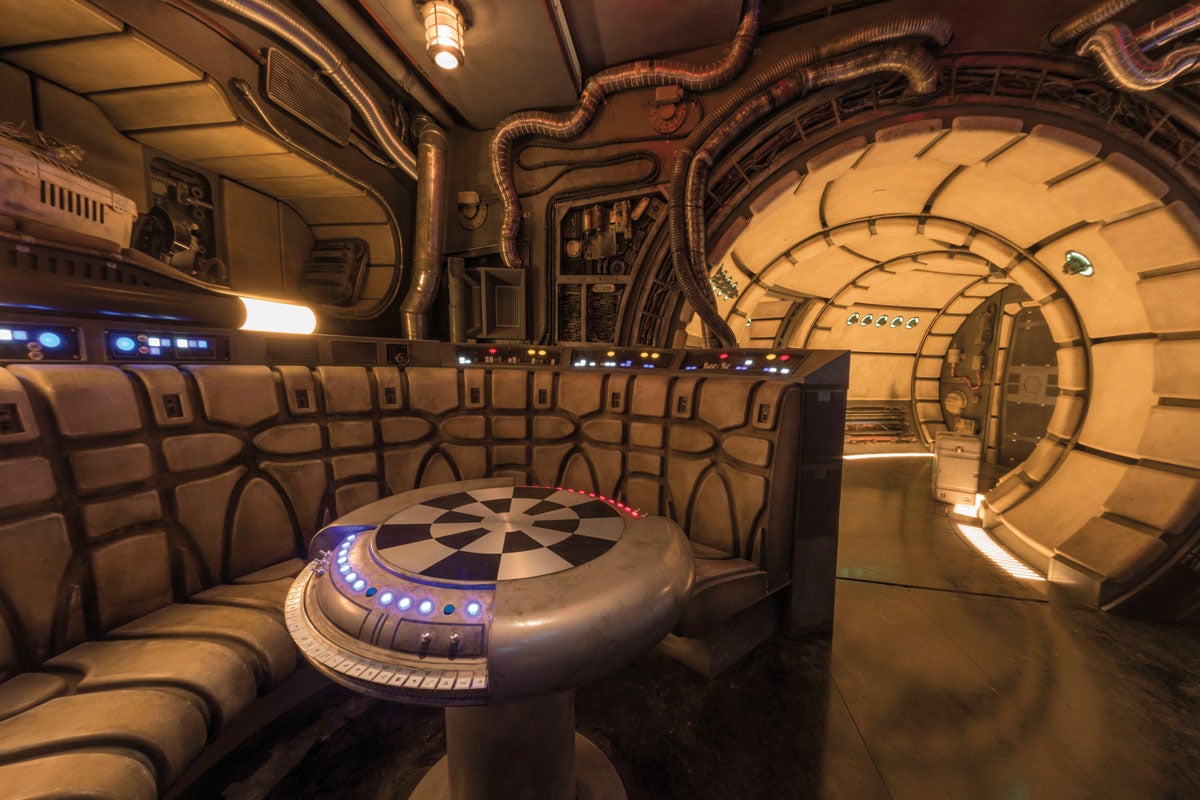 Let the Wookiee Win
While waiting to board the spacecraft, riders pass the iconic location where Chewbacca and R2-D2 played a holographic chess game. "On the ride you can also unlock another Easter egg we call 'Wookiee Mode.' It actually allows Chewie to communicate with you throughout the entire mission.
---
Stay on Target
With about 200 controls in the Millennium Falcon, some riders may feel overwhelmed. King says it's important to keep in mind the sense of realism behind the ride. "Pilots should make sure they are not hitting objects, gunners should focus on shooting everything coming at you, and engineers should keep reeling in the cargo."