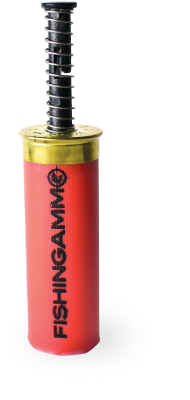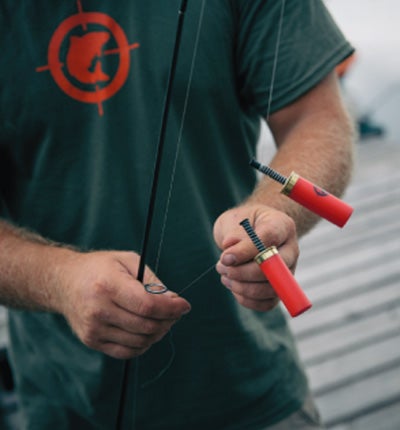 When Swimming with Sharks, Bring Your Ammo
Alumnus takes on reality show entrepreneurs with bang-up product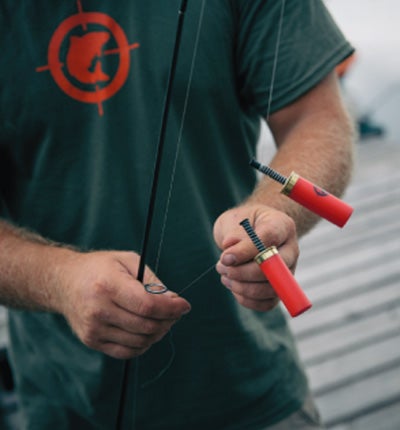 In April, Jeff Stafford, '04, and his business partner Dusty Holloway took on the sharks on the business reality show "Shark Tank" and persuaded billionaire investor Mark Cuban to purchase a 33 percent stake in their Oviedo-based company, Fishing Ammo, for $80,000. Stafford and Holloway pitched their signature product, the Shell Bobber, a fishing bobber made from a shotgun shell. The product combines two of the world's most popular outdoor sports — hunting and fishing.
Stafford, a software salesman, and Holloway, a licensed surveyor, were duck hunting when Stafford saw an empty shotgun shell floating in the water and came up with the idea for the Shell Bobber. Holloway, an engineering major from the University of Florida, crafted a prototype, and Stafford, who studied marketing and international business, began selling the product locally in 2012. "He made about 100 of them, and the first place I sold them, the lady loved it," Stafford says. "I was sending Dusty photos of the sales receipts saying, 'I think we are on to something here.'"
When "Shark Tank" held a casting call in Orlando, Stafford joined the throngs of entrepreneurs eager for a spot on the show. "I got there late," he says. "The line was wrapped around the hotel, and I thought we should leave because I was supposed to work that day."
Stafford and Holloway asked the investors on "Shark Tank" for money, in part, to help move the business out of Stafford's garage. They were busy moving into their new 3,000-square-foot facility when Pegasus caught up with the longtime friends to talk about what it's like to be reality show stars and to find out what's next for the two entrepreneurs.