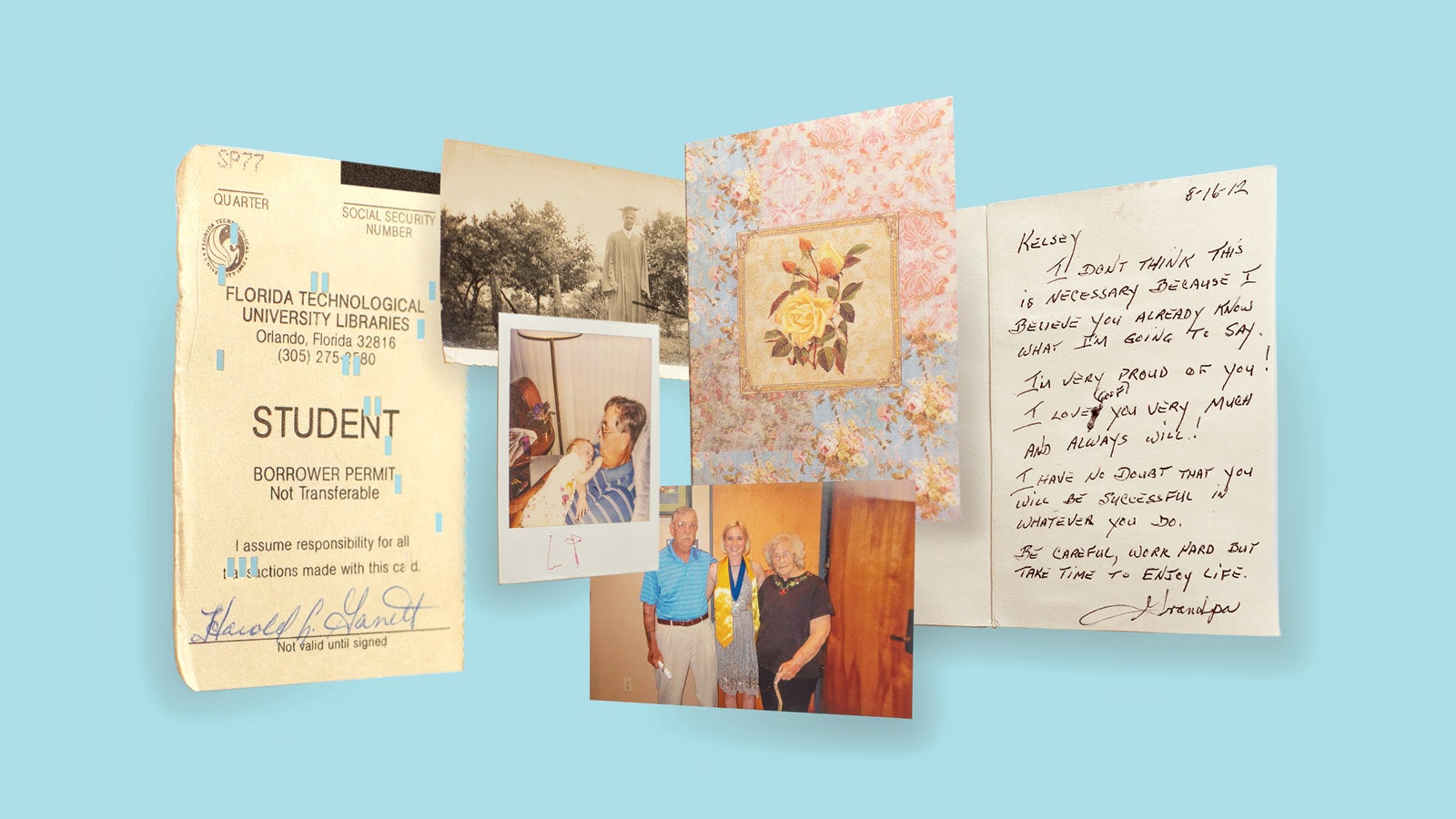 A library card with a story to tell
Summer 2020 | By Jenna Marina Lee 
At first glance, Kelsey Moscater '15 '20MBA wasn't entirely sure what she had discovered tucked away in her worn copy of War and Peace this spring.
The index card she unearthed was definitely old. But would a Social Security number really be listed on a library card? Still, the unmistakable 18 punched holes confirmed it: She had just found the Florida Technological University student library card of her late grandfather, Harold Garrett '75.
The timing couldn't have been more perfect.
"I cried," says Moscater, who earned her MBA in May while working as UCF Advancement's assistant director of communication strategy.
---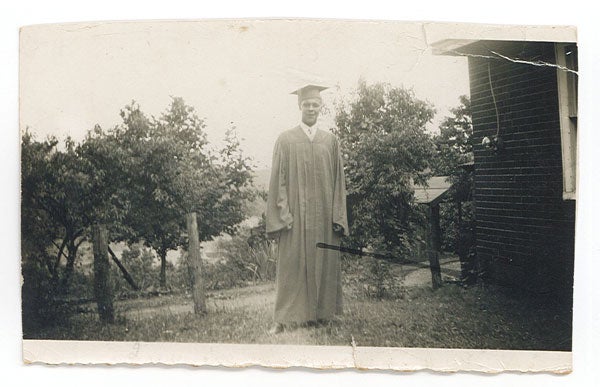 Foreshadowing Hope
"When I found it, I was really stressing about finishing up my last semester of grad school, especially with everything that's happened in the past few months," Moscater says. "He is the only person in my family besides me with a college degree. He would have understood more than anyone the hard work I put into this. It just felt like a big sign — like he was here with me telling me that everything was going to be OK."
---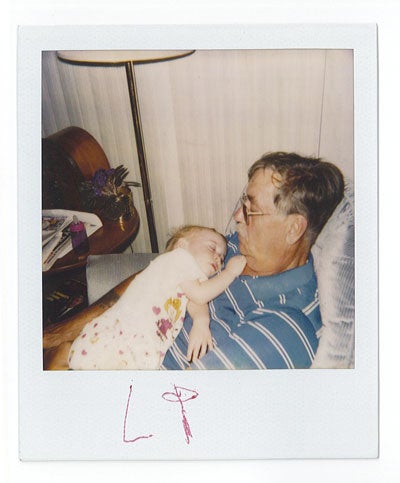 Backstory
After serving 24 years in the U.S. Navy, Garrett settled in Winter Springs and earned his degree in accounting from FTU. He worked as an auditor for the Orange County school board while raising four daughters, among them Moscater's mother. As the youngest of Garrett's six grandchildren, Moscater says he had a soft spot for her as the baby of the family. "He read to me every day when I was a kid. The Magic Tree House series was one of our favorites. He instilled in me a love of books and reading. He was my world," she says.
---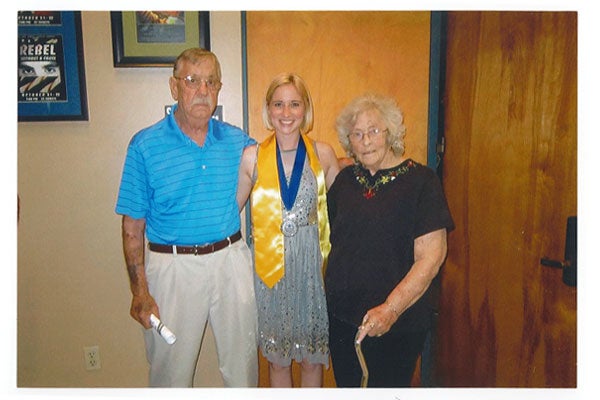 Plot Twist
Moscater received acceptance letters from Florida State University and UCF, but FSU offered a scholarship for four years with all expenses paid. The choice seemed like a no-brainer. But then her grandfather was diagnosed with cancer, and she made the decision to stay closer to home. "I figured out if I took out a loan and continued to work my part-time job as a hostess, I could cover the UCF tuition," she says. "To me, it was worth it because I could pop in for visits on the weekends and talk about my classes and share my experience with him."
---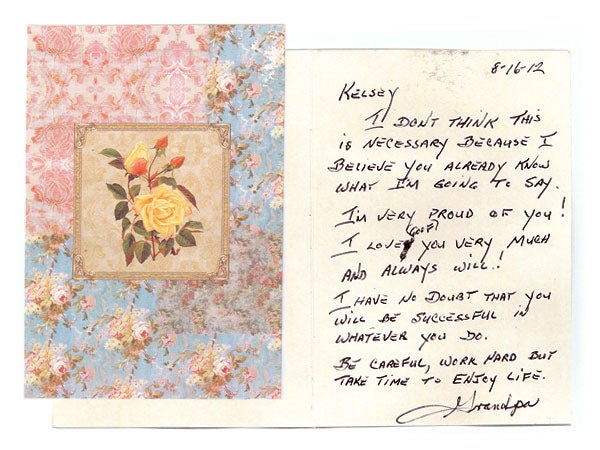 Bookends
Before her grandfather died during her freshman year, he gave Moscater a handwritten card that she now keeps with the library card. She says the two seem like the perfect bookends to her college experience. "I love you very much and always will!" he wrote. "I have no doubt that you will be successful in whatever you do."
---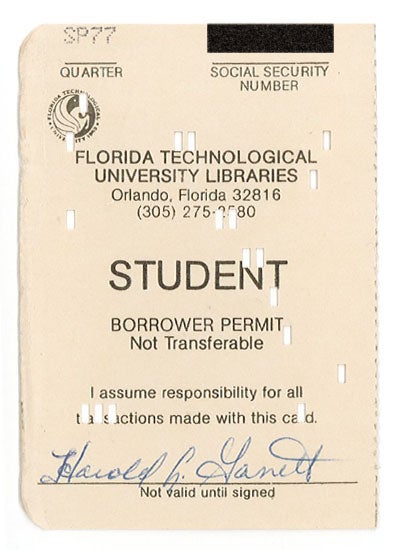 Life of a Library Card
UCF library cards have experienced many iterations over the years, and as recently as 2000 they used Social Security numbers as ID numbers. In 1995, student IDs replaced library cards and provided access to services, including the library, long-distance calling, meal plans and athletic events. Today, more than 290,000 items ranging from traditional books to laptops are borrowed annually through UCF Libraries.
---